Two artists. One space. Unlimited possibilities.
These were the core takeaways of my chat with Whitney Anderson Rooney and Courtney Phillips, co-owners and new residents of the RAMP level studio, Antonym Collective, within 78th Street Studios in Gordon Square's Arts District.
For the pair, acquiring a studio space was the next logical step. Rooney, an interior design consultant and artist based in Ohio City, wanted an office-type setting to host clients and brainstorm all things color schemes and home decor. Phillips, a leathercrafting fashion designer with a passion for ethically-sourced and utilized materials, was inspired to have a larger space to workshop and display upcoming designs.
"I think it's something that a lot of artists and creators can relate to. You start with forming a small business out of your home and then you outgrow that space," says Rooney.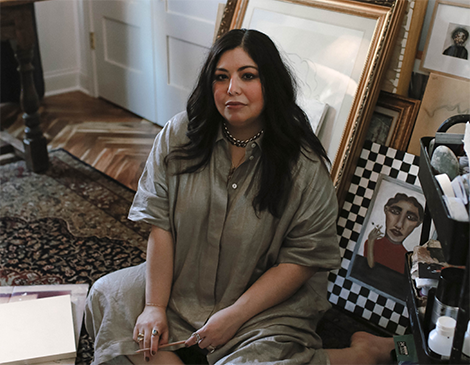 (Photo by Rachel Kayza/Align Agency)
Rooney and Phillips aren't strangers to this process. Their years working at the Cleveland-based design house FOUNT enabled them to cultivate their individual skills as artists and entrepreneurs, while also allowing them the chance to observe each other's strengths.
"I don't know how to sew," laughs Rooney. "I am not a designer in that sense at all. I was one of [FOUNT's] first employees when they opened in Gordon Square. I started working in what they called 'the cutting room' where the leather would be prepped. Think of it as step two. Courtney was step one as head designer. She was the one prototyping and creating patterns. My role started with working around those [pattern] markings and hand-painting accent pieces for the hardware of the bags."
Within Rooney's three years at FOUNT however, her role quickly evolved into managing the corresponding digital storefront, handling shipping and customer service. "That whole department was sort of my own thing and I found that I actually really loved working on the operational side of things, so that was a really good fit for me. I think it is what ultimately led me to want to be an entrepreneur, before I even realized what my space was going to be."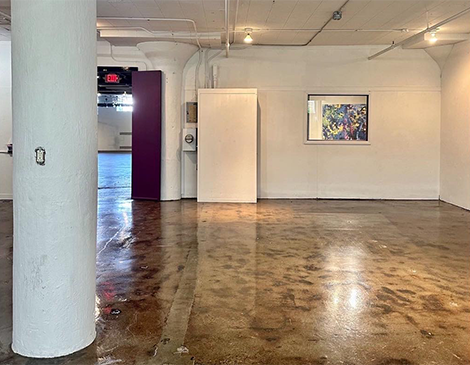 (Photo by Whitney Anderson Rooney)
For Phillips, leaving FOUNT marked a transition in both her professional and personal life. "I had been there for all of my 20s. I was ready for a new project and honestly, I actually wasn't sure what I was going to be doing exactly."
Her leap of faith paid off with Harkin, her own handbag and accessories brand she launched as a means to bolster her passion for utilizing sustainably-made leather goods. Starting from a couple of requests for custom-crafted products, Harkin soured to success.
"It grew pretty quickly. I left FOUNT in September of 2022, and started to get a few questions from people wondering if I was able to create custom pieces. Word spread, and I just knew that this would end up being an important opportunity to follow through with. Everything just came together from that point with Harkin on. I remember it being right in time for Christmas last year. Then January came and [Whitney] brought up her idea for a studio space," shares Phillips. "The timing was organically perfect."
Rooney's idea was straightforward enough. Secure a set studio and not let a bit of it go to waste in terms of time or physical space.
"Of course the studio would be a spot for Courtney and I. We both individually meet with clients, custom create and workshop ideas, on her end for leather goods with Harkin and for me with interior design consulting, but this studio can be even more than that. When creators and small business owners outgrow their current space, the next step is typically to rent a studio solo, or open up a retail storefront. Those options are pretty daunting for a lot of people," says Rooney. "The purpose of Antonym Collective is to be a stepping stone — sort of like an intermediary spot where someone could have a full-fledged business out of the space without being on their own."
When it came time to pick a name for their studio, it was this against-the-grain mindset that spawned their winning pick. Labeling the space "Antonym Collective" spoke straight to the heart of their goal: to foster community amongst artists — especially those up-and-coming — while staying true to themselves and their creative processes.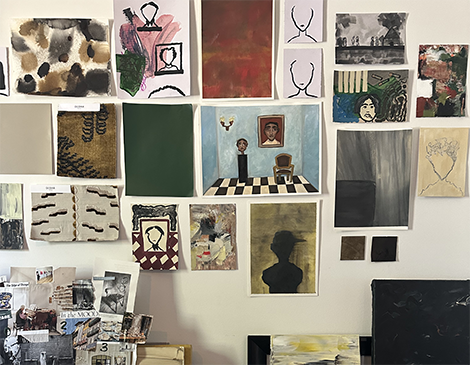 (Photo by Rachel Kayza/Align Agency)
"There's a smaller room within our studio space that's sectioned off," Rooney says. "We want to have short-term residencies there. Basically, someone can come in and rent the space for a month, two months, three months, and not worry about the typical year- or two-year lease commitment. We have another space for people to host pop-ups during Third Fridays among other events and Courtney has plans to open up community workshops. We've got approximately 1,500-square-feet of space, so there's a lot of flex in there."
With so much in the works, it's easiest to keep up with Rooney and Phillips through Antonym Collective's social media feeds, as well as their personal brand accounts linked below.
Friday's launch day pop-up will run from 5 p.m. to 9 p.m. and will feature local ceramics brand, Earthen + Goose. Courtney Phillips (Harkin) socials found here. Whitney Anderson Rooney (WAR Art + Interiors) socials found here.
Start your day the best way by signing up for our free daily newsletter. Arriving in your inbox every morning to keep you in the loop on the best guides, home and style tips, and news briefs for all things Cleveland. Click here to subscribe.