Cleveland's upward swing has left some of us with an identity crisis. Who are we if not loveable losers destined to push our burdens up a hill like some pierogi-eating Sisyphus? Do the bright lights of national attention wash out what makes us — us? Instead of racking up a hefty psychiatrist bill, we recruited comedian Mike Polk Jr. to probe our psyche — because comedy can be the best medicine.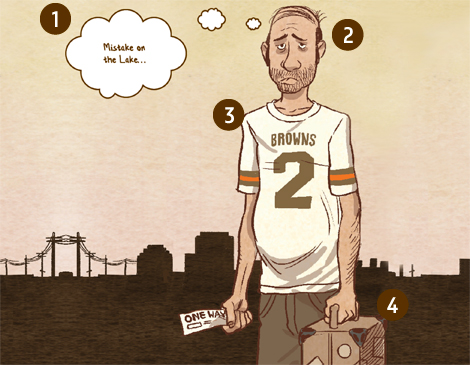 1. Name blame: A generation of Cleveland jokes and Mistake on the Lake labels is bound to warp your perceptions. To cope, we treated any sleight or admission of weakness as being shameful. "[Clevelanders saw] it as an indictment of their life choices," Polk says.
2. Lost city: Gloomy imprinting — even about sports — from an early age resulted in a cloudy disposition. "We grew up being told we were losers our whole lives," Polk says.
3. Dread lock: After the city's default in the late '70s, the rise and fall of the Flats and a half-century without a major sports championship, doubt and paranoia became a way of life. "The Clevelander in me who grew up here and has been disappointed so many times," Polk says, "part of me is always waiting for the rug to get pulled out."
4. Left alone: Our abandonment issues — BP, the Browns — elevated our frustration over an emptying city. That culminated in Polk's Hastily Made Cleveland Tourism videos in 2009, which people still express love and frustration over. "They'll say, 'I can't believe you portrayed Cleveland in the light,' " he says. "Wasn't hard. I swung a camera. I barely left a corner."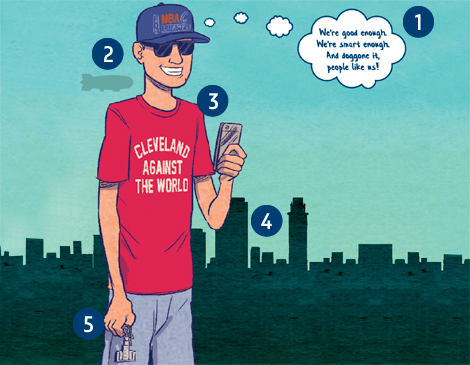 1. Self-help: Now we control our own perceptions, Polk says. It's like the city puts on a giant Stuart Smalley wig, looks in the mirror and says: "We're good enough. We're smart enough. And doggone it, people like us." "That helps a lot and can actually make a change," Polk says. "It's a self-fulfilling prophecy."
2. Top hat: Want to see someone's face light up like the Larry O'Brien trophy? Wear a Cavs championship hat and watch as "I really like your hat" compliments pour in. "What people are saying is, 'I really like seeing your hat,' " Polk says. "That's what they're excited about."
3. Dress to impress: Need physical evidence of us being cool with ourselves? Look at everyone's shirts. "What triggers a pride where all of a sudden you want to wear T-shirts with your city's name on it?" Polk wonders. "You don't see people in New York City wearing 'I Love NY' T-shirts. But we needed it more than them."
4. Shifting sand: The Cavs NBA championship (despite impossible odds) and the successful Republican National Convention (despite predictions of chaos) reinforce something Polk has noticed in the past few years. "People now are comfortable embracing the underdog status," he says. "Cleveland is a dive bar. You love it and you don't give a shit what other people think about it."
5. Moving up: With the swarm of people filling emptied out downtown warehouses-turned-apartments, the city is looking more vibrant. "We're almost at capacity as far as rentals," Polk says. "I don't know what that means exactly, but it sounds great and that's important that it sounds great."
Forgiving LeBron James for leaving in 2010 may seem obvious — of course you welcome back the best basketball player in the world. But Polk says it's indicative of a larger trait of Clevelanders that often gets overlooked. "There are so many flawed people here," he says. "We are not an elegant metropolis. We make mistakes. We're not so spoiled that we can't forgive."