Irishtown Bend is turning a corner.
At a kickoff event on Friday, the Port of Cleveland celebrated the area's future transformation into a 23-acre park.
The tenuous bit of land, located on a dramatic bend of the Cuyahoga River, was first a home to many of Cleveland's Irish immigrants in the 1800s, then, decades later, it turned into an abandoned, razed space prone to landslides due to fill material placed on the hill in the '60s.
"Those of us who have heard engineers talk about it — many, many times we don't sleep at night, especially when it rains heavily, as it's done the last couple of nights," said Will Friedman, the President and CEO of Port of Cleveland, at a podium in a tent behind the Cleveland Rowing Foundation. "There is a very real risk and threat that we are beginning to avert today."
READ MORE: Journeys on the Cuyahoga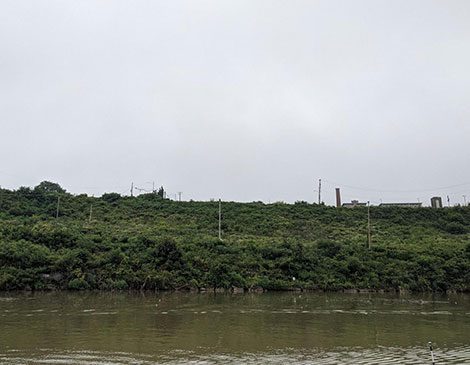 That hill — overgrown with bushes and vines, and visible in the mist behind Friedman as he spoke — will soon be stabilized by Cincinnati-based company Goettle Inc. First, that pesky fill material from the '60s will be removed; the material that has already caused a host of issues and concerns. In 2007, a slope failure closed Riverbed Street. Potential slope failures could also harm a key city sewer line, and — potentially most disastrously — close shipping channels in the river. (Check out Port of Cleveland's animation that depicts a doomy, worst-case scenario landslide.)
As a part of the hill's stabilization, 2,100 feet of bulkhead will be repaired on the edge of the river and the 1940s-era Westerly Low Level Interceptor sewer line will also receive a permanent repair.
"As we stand here today, 185 feet of this pipe is being slowly crushed by the gradual failure of this hillside," said Kyle Dreyfuss-Wells, the CEO of Northeast Ohio Regional Sewer District, at the kickoff event. "We need a permanent fix, and that is why we are so supportive of this work."
The stabilization project will cost $60 million. Large contributions to the project come in the form of:
$14 million in federal funds
$14.5 million from the State of Ohio
$19 million from the Northeast Ohio Regional Sewer District, Cuyahoga County and the City of Cleveland
Construction on the stabilization is slated to take 18 to 24 months, according to a news release.
As the podium welcomed a range of speakers (a list which included Ohio U.S. Senator Sherrod Brown, Cleveland Mayor Justin Bibb, Cleveland City Council Blaine Griffin, Cuyahoga County Executive Chris Ronayne and more), examples of activity on the Cuyahoga River literally drifted by in the background. Stand up paddle boarders rowed by, and at one point a crew of cheering CLE Tiki Barge patrons interrupted Brown's speech. As if on queue, the American Courage freighter drifted by slowly at the beginning of the event.
The industrial and economic impacts of saving Irishtown Bend were common themes for Friday's presenters.
"We all know the importance of this project for protecting jobs. Stabilizing the hillside protects a marine corridor that supports over 20,000 jobs and over $4 billion of local economy," said Grace Gallucci, the executive director and CEO of the Northeast Ohio Areawide Coordinating Agency. "For economic, environmental and quality-of-life reasons, I'm proud of the fact that the NOACA board, representing its five counties and the city of Cleveland, has consistently and wholeheartedly supported this effort."
RELATED: What Role Does Lake Erie Play in Cleveland's Climate Future?
After stabilization, the park's next development stages will bring that price tag up to more than $100 million. The green space, adjacent to the popular Ohio City neighborhood, will have walking paths with views of both the river and the city skyline, plus a restaurant.
"This project will dramatically change the Cleveland landscape," City Council's Kerry McCormack said in a news release. "It is a symbol of Cleveland's history and a positive reflection of where Cleveland is going. This is so much more than a major infrastructure project, it is also the foundation for equitable access to new high-quality public green space for Cleveland residents, including thousands living in public housing, and visitors of all different backgrounds."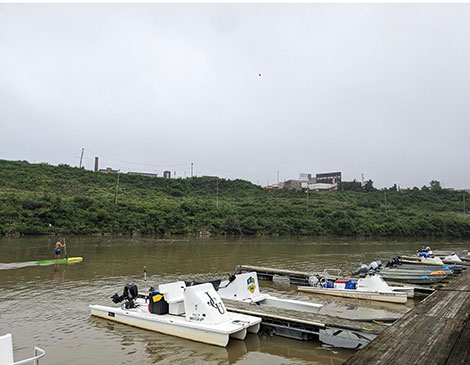 Want to stay up to date on the latest happenings in Northeast Ohio? Sign up for our
Cleveland Magazine Daily
newsletter, which is delivered to your email inbox six times a week.
Subscribe today.