Warner & Swasey's graffiti-tatted husk once manufactured telescopes at 5701 Carnegie Ave. Yet, where urban epitaphs scrawl MidTown's biggest eyesore, so do incantations of rebirth.
"I think of it as my Shrek project," says Geoff Milz, Pennrose's director of development for Ohio. "It's a monster that everybody wants to win."
Milz reimagines Warner & Swasey as 140 residential units, an 18-month construction project with a $66.3 million price tag. The project, dating to 2017, received major encouragement last December.
Through the Ohio Department of Development's Ohio Historic Preservation Tax Credit Program, 60 projects throughout Ohio were collectively awarded $81,693,579 in historic tax credits. Seven in Northeast Ohio transform once iconic Cleveland buildings into residential spaces. Two of them are in MidTown.
"I think MidTown's going to be the story of the next 20 years in Cleveland," says Shawn Neece, Renew Partner development member, who's co-developing the Agora Complex with Sabor Group USA into 13 loft apartments with $242,800 tax credits. (Completion of the complex's current West Tower conversion into 34 units is expected next January.)
An estimated 2,200 live in MidTown, says Ashley Shaw, MidTown Cleveland's executive director.
"It's hard to experience a place from behind the steering wheel," Shaw says, dismantling MidTown's "drive-through" image. "The Agora and Warner & Swasey would provide both market rate and workforce housing, which would hit [MidTown's] gaps. Diversity in housing options is what creates a healthy neighborhood."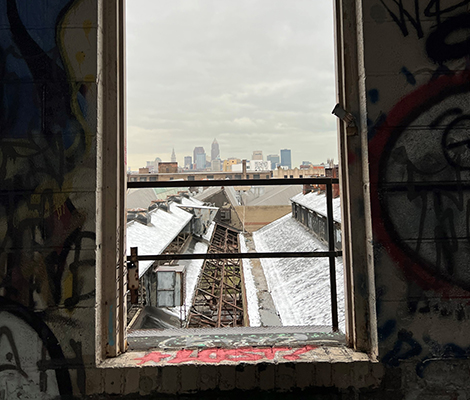 Meanwhile in Cleveland Heights, WXZ Development vice president Matthew Wymer hopes to resurrect the city's 1920s commercial district. A resident since 2005, Wymer awaited OHPTC for a trio of Taylor Tudors on South Taylor Road. With $5,955,232 OHPTC, construction begins this summer for 44 mixed-appeal apartments on the tudors' upper floors. The first floors, ranging from 5,144 to 8,103 square feet, will be commercial space.
More OHPTC projects shaking off Cleveland's rust: the Havyn Apartments on East 89th St., Glenville's 1373 East Blvd. Apartment Building, downtown's Erieview Tower and Ohio City's YWCA at 3105 Franklin Blvd.
In 2021, Bluelofts scored $5 million OHPTC to transform 45 Erieview's 16 floors into a residential utopia, complete with a rooftop pool and lounge.
Ike Bams, co-founder of the Dallas-based developer, believes 20,000 to 30,000 people will find Cleveland in coming years as it transitions from manufacturing to tech.
Bams' claims seem seconded: Renew Partners and Sabor Group USA are constructing 64 more units on East 70th Street.
As a part of the YWCA's conversion into 37 apartments, 49 new units will be built; South Taylor Road will see a 200-some apartment complex.
Here's to the future, Cleveland — built on good bones.