This morning, Eaton Corp. chairman and CEO Craig Arnold stood alongside his senior leadership team and rang in the new market day from New York Stock Exchange's pearly balcony — literally.
The Cleveland-based company was given the distinction of ringing the market's famous bell in celebration of 100 years on the NYSE. Eaton is one of only 32 companies that can claim this achievement.
To date, more than 91,000 are employed by Eaton across 170 countries. In 2022, Eaton earned about $20.8 billion in revenues, roughly 90% of which derive from aerospace and electrical enterprises.
Adaptability appears to be one of the key factors to Eaton's success. Joseph Eaton and Viggo Torbensen started the corporation as Torbensen Gear and Axle Co. in 1911. As the name suggests, the company focused on truck axles in anticipation of an automotive future. It would find its way to Cleveland in 1915 after spending four years in Bloomfield, New Jersey.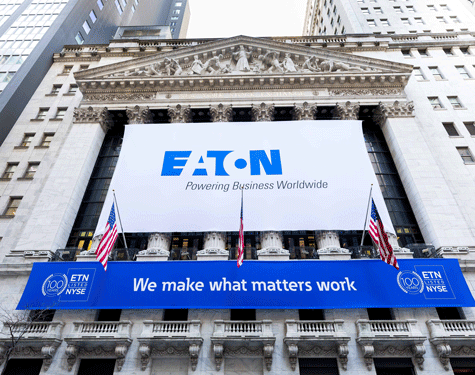 After a stint as a Republic Motor Truck Co. subsidiary, Eaton would purchase control of the company in 1922. In 1923, the same year it became a public company, its name changed to Eaton Axles and Spring Co. It wouldn't be called Eaton Corp. until 1971.
Eaton continually diversified. In the 1970s, Eaton further acquired industry and manufacturing companies. In 1994, Eaton bumped its sales by at least $1 billion after acquiring Westinghouse Corp. for $1.1 billion. The move simultaneously helped Eaton break into the electronics industry. Aeroquip-Vickers was purchased later in 1999 for $1.7 billion.
Today, Eaton's market ranges from vehicle components to commercial aerospace and military defense, though major shifts are being made by the company to focus on electrical solutions, digitization and energy efficiency. By 2030, Eaton has pledged to become carbon neutral.
"I'm proud of the culture we've built and all that our company and its people have achieved," Arnold wrote in a press release. "And I believe our best days are still ahead as we enter a growth cycle driven by the transformational global growth trends of energy transition, electrification and the digitalization of society."
Stay up to date on all things Northeast Ohio with our free weekly "In the CLE" newsletter. Arriving in your inbox every Wednesday, this weekend to-do list fills you in on everything from concerts to the latest news. Click here to subscribe.