Bum, bum, bum, bum — the enduring drumbeat of John Adams, who died this week at age 71, has come to an end.
Every team has super fans, but few fanbases have a heartbeat. Since 1973, Adams' thumps have served as the soundtrack of Municipal Stadium, then Jacob's Field, then Progressive Field. At nearly 4,000 games, the 26-inch bass drum, which he reportedly purchased for $25 in 1973 and updated but never replaced, faded from black to worn maple wood. Adams and his drum only missed about 50 games in nearly as many years. Together, they saw postseason triumphs, World Series heartbreaks and even outlandish events like the infamous Ten Cent Beer Night. Through it all, Cleveland's heart beat on.
"I march to the beat of my own drum," Adams said in a 2005 interview with Cleveland Magazine, "and I think the spirit of Cleveland is the same."
Even when health problems had Adams too weak to sit in his iconic spot in the bleachers for the past three seasons, the Guardians piped a recording of his playing through the speakers and marked his seat with a plaque. Last season, the organization inducted him into the stadium's hall of fame at Heritage Park, where they erected a bronze drum statue in his honor. After all, what is a Cleveland Guardians game without John Adams?
But many Guardians fans never knew about Adams' other fandom: Northeast Ohio's local music scene.
Adams grew up playing drums in his high school marching band and orchestra. Later, he served as president of the Cleveland Blues Society and sat in as a drummer on jam sessions with blues, jazz, country and rock players. Often, he'd be seen in attendance at local shows most nights of the week — when he wasn't at a ballgame, that is.
Most musicians remember him in the same way as stadium goers: a passionate, pleasant superfan.
"This is my town because my heart is here," Adams said in an interview with Cleveland Magazine. "I'm in love with the folks that live here."
And those folks loved him back. Read on for some tributes about Adams from fellow local musicians.
A wake and service for Adams will take place this weekend. Calling hours will be 3-7 p.m. on Friday, Feb. 3 at Ferfolia Funeral Home, 356 W. Aurora Road, Sagamore Hills. A funeral mass will be at 10 a.m. on Saturday, Feb. 4 at Cathedral of St. John the Evangelist at East 9th Street and Superior Ave. in downtown Cleveland.
In lieu of flowers, friends and community members can donate to the John J. Adams Scholarship Fund, which will support students studying the arts.
Patrick Carney, The Black Keys
Patrick Carney, the drummer of The Black Keys, performed with Adams once, and even filled in for the drummer at the baseball team's home opener in 2021. Carney shared a tribute to Adams on Instagram:
"Rest In Peace John Adams. John woke up one day in 1973 and for some odd reason decided to take his drum to the bleachers at municipal stadium. He beat the drum from that point on for every Cleveland Guardians home game (missing only 40 odd games) until his health declined in late 2020. John was a true Ohio eccentric and a wonderful person. He will be greatly missed and I feel very lucky to have gotten to sit with him for a game."
In a message, Carney added: "He was a 20th century Johnny Appleseed type. Folk hero. It's the John Adams of the world that keep it interesting."
Bob Frank, Cleveland Blues Society co-founder, blues musician
From 4 to 8 p.m. on Sunday, April 16, the Cleveland Blues Society will host a celebration of life concert for Adams at the Beachland Ballroom. CBS co-founder Bob Frank reflected on the musician's role with the music organization.
"John, myself, and five other folks were the founding members of the Cleveland Blues Society. We served as the original ad hoc board then went on to make up the original board. John later served as the president for a term. John also originated the Blues Cruise which happens every year aboard the Goodtime III. He was also one of the originators of the scholarship fund.
"I worked extensively with John during those early years of the CBS. He was tireless in his efforts to get the organization going and often used his "celebrity" to promote the organization and its events. "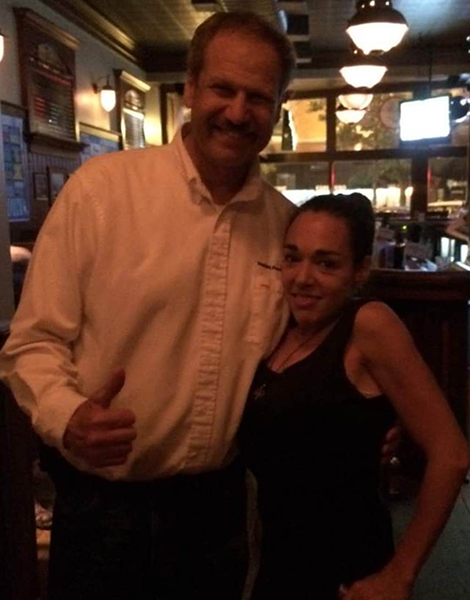 (Photo courtesy Kathy Cavanaugh)
Tracy Marie, singer-songwriter:
Local musician, advocate and festival programmer Tracy Marie befriended Adams through the Cleveland Blues Society and through events like Breastfest, a longtime charity concert she's put on.
"John made everyone he encountered feel like a close friend. If you were out with him, you'd see multiple people come up to say hi and ask for a picture. It was like being with a Hollywood celebrity. He was always humble. His face would light up, and you could tell he loved it. He supported the local music scene and helped launch the Cleveland Blues Society from the ground up. John had a way of creating his own place in baseball history as well as a legacy in Cleveland's music economy."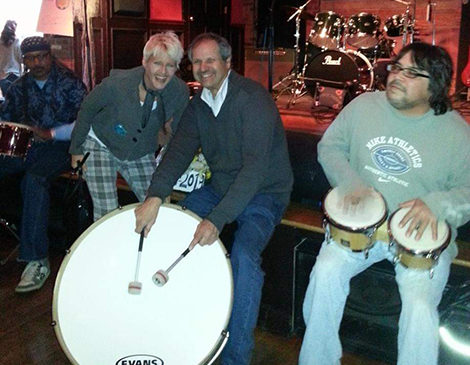 (Photo courtesy Dot Martin)
John "Scooter" Lincoln, Stone Cold Killers:
When not performing at Progressive Field, Adams would regularly perform at and attend jam nights at Cleveland bars; that's how John "Scooter" Lincoln first met the drummer.
"I met John Adams at the Moonlite Tavern jam night years ago. His infectious smile the day I met him — I knew already, from day one, we were gonna be fast friends. I knew who he was from being a super Indians fan and the rally drum team champion; he was a local celebrity and most beloved. Week after week John would show up to play the jams and would be willing to sit in and play with any of us on spur of the moment. I was very lucky he had sat in on drums with our band, the Stone Cold Killers, numerous times, when our drummer was not available. We were an all-original band. John fit right in with us and said he loved playing our music because he could cut loose on the drums. He also was the reason I joined, for a time, the Cleveland Blues Society. I had not seen John since he got sick. We all loved him and will miss him greatly."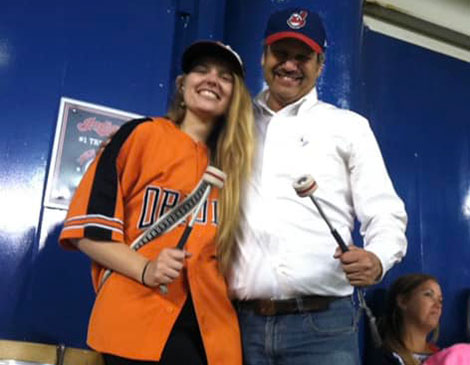 (Photo courtesy Taylor Lamborn)
Taylor Lamborn, singer-songwriter
Some musicians weren't aware of Adams' history when they first met the drummer. That was the case for singer-songwriter Taylor Lamborn, who first encountered Adams at a jam night. She shared a tribute to the musician on social media after learning about his death.
"As a Cleveland transplant, I had no idea who I was talking to when I first met John at a Blues Jam night in 2012. He was just a guy with the same name as our second president and I gave him a hard time for it. Little did I know, I was sharing space with a local Cleveland legend. He helped introduce me to the Cleveland Blues Society and I wrote a bunch of my favorite songs preparing for the CBS contest, many I still play today. And for the longest time I still had no real idea of the breadth of his impact on baseball. He was the "drummer guy" to me too.
"One of my favorite memories was when he brought me out to a country jam night at a local coffee shop to experience the most energy-packed room filled with people four times my age. Aside from me, I'm pretty sure John was the youngest guy there by well over a decade but everyone just lit up, the love was so real in that space. It was one of my favorite listening experiences to date. John also pointed out that a pedal steel player from the Bluegrass Hall of Fame was in the room, I wish I knew his name, but I remember his playing, that's for sure. So as John did, he talked me into getting up and singing along for a few songs. He also convinced me to play the 50/50 raffle and I picked a winning ticket. It's safe to say he didn't lead me astray that night.
"And then I had my first experience of going to a game with him and it all made so much more sense. It was right after Great Lakes Brewing Company named the beer after him and so he was on an extra big high that day. Signing shirts and every 10 steps I was asked to take another picture of a fan with him. That's how so many of you remember him, and it was beautiful to experience. Every single time after that, I went to a game, he let me come hit the drum, no matter who I brought with me and even when I was in my Orioles gear. What I'll appreciate most was that he kept supporting the local music scene, though. I was so grateful when he'd come out to shows and jam nights until he got too sick. We've missed him terribly these past few years.
"Today Cleveland baseball lost its heartbeat, and we all lost a really wonderful friend. Rest Easy, John."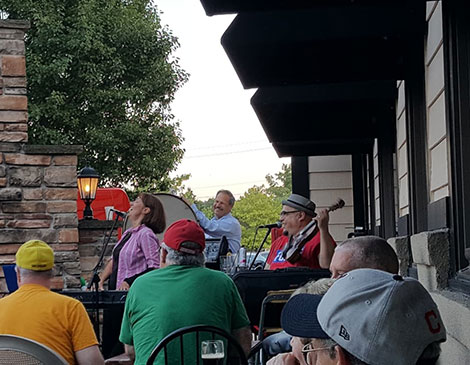 (Photo courtesy Paul Baker)
Paul Baker, Brigid's Cross
Though Paul Baker first met Adams as a kid, it took him several more decades until he befriended him as an adult — when he moved across the street from the Guardians drummer, and became his neighbor.
"I first met John as a little boy, about 9 or 10 years old. My dad had taken me down to Municipal Stadium because I was supposed to play the National Anthem on my violin. There was a double booking, and I got bumped. We got to see a free game out of it, and I had my first brief encounter with him then. Just a quick hello, as Mudcat Grant was taking us to our seats. As an adult, I started seeing John about town at various music functions and learned that he was way more than just an avid Tribe fan. John had chops and was a driving force behind the Cleveland Blues scene.
"We, quite by happenstance, moved across the street from him about 13 years ago and were neighbors for 10 years, so we really met then. He became a great neighbor, good friend and supporter of our band, Brigid's Cross. Every once in awhile he would show up for one of our shows, and he was always gracious with his time and drum with our supporters, and even willing to jam with us, which was always so much fun! We've also worked with John at Harvest Recording Studios for a project for Debbie and Bob Carothers.
"He was always willing to help a neighbor and have a chat about darn near anything. I can honestly say he was what I missed most about moving away from Brecksville. And now he will be so missed, but forever remembered by all of us. Safe home, John!"