On a chilly Sunday in May, Sylvia Korey creeps down the west tower's spiral stair for firewood. The kindle is flanked against a wall in a hallway downstairs, strides from a 60-by-25-foot pool. In the family room, she sets the fodder ablaze. She sits beside the crackling fireplace with a book and a cup of coffee.
"My family room with the big fireplace. That's the number one thing I will miss," Korey says. "And the Aga stove!"
After eight years in and out of court, Korey has been forced to scrap her luxury condominium plans for Roundwood Manor, her 55,000-square-foot mansion in Hunting Valley's prestigious Daisy Hill neighborhood.
Since 2002, Korey has struggled to find a new owner. Gradually, she realized the manor's immensity was a buyer's deterrent — unless, of course, the buyer didn't care about the house.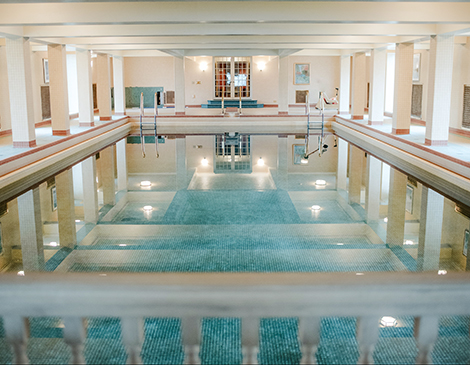 Fearing the historic once-home and business hotel of O.P. and M.J. Van Sweringen would succumb to the wrecking ball, Korey believed she found a solution in 2014, after reading an article about repurposing country homes in Princeton, New Jersey. She, too, would transform Roundwood Manor into luxury condominiums.
But in 2015, Korey was denied an exemption to Hunting Valley's zoning code, which requires each single-family residence to sit on a minimum of 5 acres. However extraordinary, Korey could not convince the court that the 1938 village ordinance lacked constitutionality to her proposed use. On Dec. 8, 2022, the Cuyahoga County Eighth District Court of Appeals affirmed the trial judge. This past January, Korey urged the Ohio Supreme Court to take her case. It was denied.
"I just might have been ahead of my time," Korey chuckles. "We will see. There's a big movement in saving these old, historic, architecturally significant homes."
To Korey's benefit, the court did acknowledge Roundwood Manor has four existing dwelling units from "lawful nonconforming prior uses." With this, Korey was finally able to interpret the difference between her proposed condos and the five-residence apartment building nearby on 8.3 acres, originally the manor's garage.
"They don't want condominiums because then you have to purchase the condominium and each family would need five acres for a condominium. But here, just like the garages across the street, they have rental units. Those people are not owners," says Korey.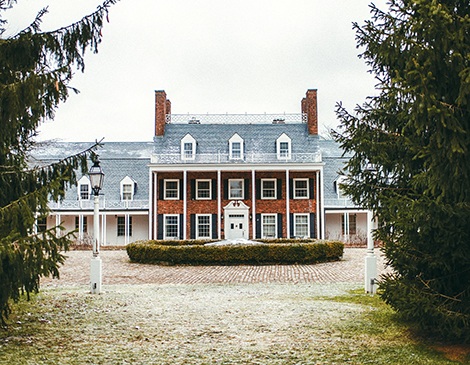 At 68, Korey says she's too old to embark on a landlording enterprise, even if she wanted to. Her main focus has always been to preserve the house for a new owner. In the past year, Korey says she's shown the home to at least three potential buyers. Had a single-family buyer come along, Korey says she would have "nixed the condominium idea totally."
Chestnut Hill Realty, Inc. (Roundwood Manor's new realtor) has a good record for selling luxurious, historically significant homes in Northeast Ohio. In November 2021, Chestnut Hill sold William G. Mather's 115-year-old lakeshore mansion, Gwinn Estate, for $5.3 million. For $4.5 million, Roundwood Manor is its next challenge.
Roundwood Manor has a lot of boxes to tick for the right buyer. The dwelling units are just one opportunity. The property lends itself well for large gatherings. Its five bays can store up to 13 vehicles; ideal for a car collector, Korey says. Not wanting to dissuade buyers or stifle a new owner's creativity, she has decided not to place a deed restriction on the manor at this time.
After 35 years, Korey hopes to stay in the area. Although, she notes with a bit of irony, there aren't many options available to scale down to.
"I would have certainly stayed in one of the [Roundwood Manor] condos," Korey says. "My friends are here. My roots are here. I really love the area. I love the closeness to the shopping, to the medical facility, to the airport, to downtown. It's just so ideal."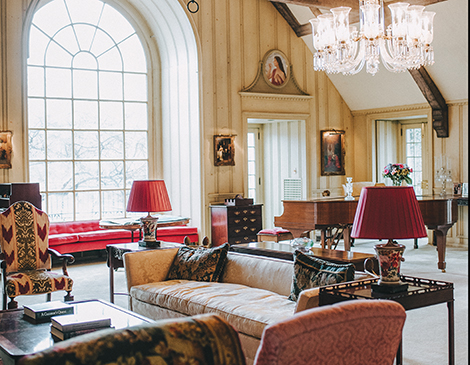 In the least, Korey hopes her trial has shed a light on historic preservation. Though she would like to be involved in documenting Roundwood Manor's history further, she is unsure to what capacity.
"Legislature has to change. They can influence this revival of a historic place or the death of a historic place. I really believe with all my heart that it's the right thing to do. This house has to be preserved and it has to be honored for the future," Korey says. "In England you have homes that are 300-400 years old. Roundwood Manor is built with the finest commercial standard in terms of workmanship and materials. You cannot find these things today. This house will be here for another 500 years."
The Village of Hunting Valley has the right to uphold its zoning code. But it comes with remorse that a fellowship of unit owners will not be gathering around the great fireplace on occasion, forks poised for Korey's delicious French Apple Pie. Perhaps, after all, there is something to having an Aga stove.