On Thursday — Starbucks' annual Red Cup Day event — some Starbucks workers in Northeast Ohio went on strike, bringing attention to working conditions and the corporation's lack of bargaining for contracts with existing unionized stores.
At Crocker Park, four workers stood outside on Detroit Road, near the development's Promenade section, at around 10:30 a.m. They said that earlier in the morning they had to move locations from their starting point at 6 a.m., closer to their store, since Crocker Park is private property.
Their store, located at 269 Main St., unionized last September. Starbucks has not reached a union contract with the store, or the other seven unionized locations in Northeast Ohio, or more than 360 unionized shops in the country.
The strikes followed last year's expansive Red Cup Day strikes, which also took place on Nov. 16. They also followed an announcement from Starbucks that it would implement incremental pay bumps starting in 2024 at non-unionized stores, meaning that unionized stores might not receive those new benefits.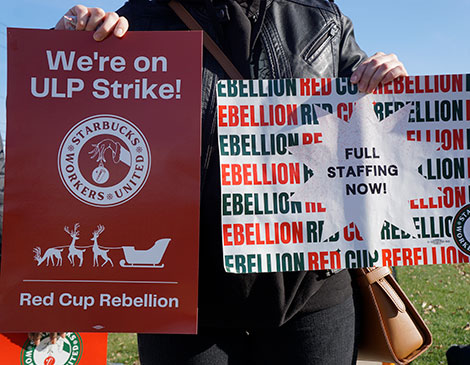 It was barista Sam Gallaher's first time on the picket line, since starting work as a barista at the Crocker location in June. Before that, Gallaher worked at other Starbucks locations in Pennsylvania.
"We are out here because we've been chronically understaffed," Gallaher says. "A lot of baristas have been missing their breaks at our store. We've not had good communication with our manager and district manager. Generally, we've really not felt supported."
Those concerns were echoed by Cameron Stefan, a shift supervisor at the same Starbucks location, who has been working there since May. Thursday's event marked Stefan's third strike at the store, and the second strike this month; the Red Cup Day strike followed a walkout on Nov. 4.
"Today, overall, a big thing is to show corporate that we're still union strong and that we want a contract, that we want to bargain with them, and that we are coming to the table," Stefan says. "More locally, we're out here just to show our district manager that we want to talk about our conditions."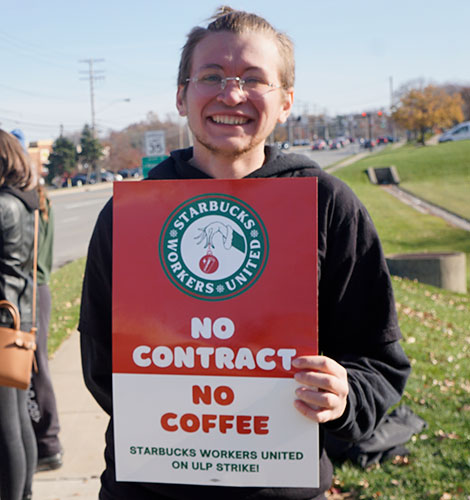 Response to the strike was mostly positive, Gallaher and Stefan said; a few employees from a nearby Chick-Fil-A stopped by early in the day to offer the group food.
Stefan said several other strikes took place at Starbucks stores in Northeast Ohio, including one in University Circle, which had disbanded by 10:30 a.m., and one at a non-unionized location at Strongsville's SouthPark Mall.
The Playhouse Square store in downtown Cleveland, which is not unionized, also had a handful of people outside in support of Starbucks unionization efforts, standing on the corner of E. 14th St. and Euclid Ave. The small group held signs and chanted in front of the shop, which remained open, before disbanding later in the morning.
RELATED: Inside Starbucks Workers' Union Push in Northeast Ohio
Start your day the best way by signing up for our free daily newsletter. Arriving in your inbox every morning to keep you in the loop on the best guides, home and style tips, and news briefs for all things Cleveland. Click here to subscribe.