The Artist. Mehretu was born in 1970 in Addis Ababa, Ethiopia, to an Ethiopian father and American mother. She grew up in East Lansing, Michigan, studied at Kalamazoo College and the Rhode Island School of Design and is now based in New York.
Last year the Whitney Museum of American Art hosted a retrospective of her work, which today fetches big bucks. She's even designed a line of American Express cards.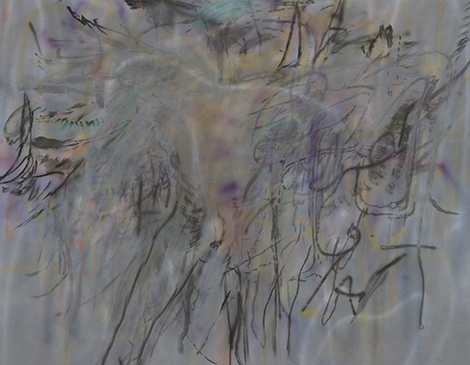 The Location. Mehretu picked the 21-story wall of the Standard Building during a visit to Cleveland in 2020, according to FRONT executive director Fred Bidwell. "What resonated with her was the fact that it's at the front doorstep of the city and at the crossroads of history, with the Old Stone Church in the foreground," he says, adding she was also drawn by Cleveland's past on the Underground Railroad.
"It's about picking up ideas from history and thinking about how they would resonate in a formal way for a visitor on the ground," adds Prem Krishnamurthy, FRONT's artistic director.
The Process. Mehretu will conceive the mural over the course of the triennial's run, spending time engaging with Clevelanders before figuring out what the finished design will look like.
FRONT hired Colossal Media, a Brooklyn, New York-based company that specializes in photorealistic billboards, to complete the mural by 2023. Bidwell says the artists will "paint the entire thing by hand, not spray cans," a process that will take anywhere from 30 to 45 days.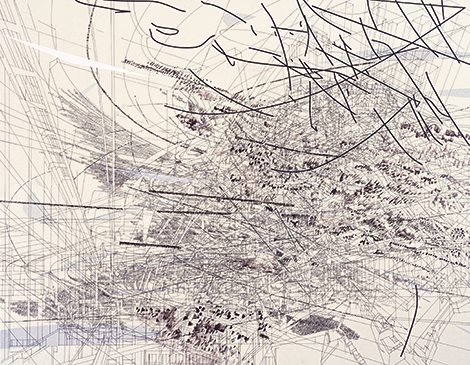 The Art. Mehretu's work is a dynamic and colorful fusion of drawing and painting with hints of graffiti. She propels lines and swirls across the surface but also suspends them in layers, creating a graceful chaos that's often rooted thematically in her interest in photographic material and contemporary politics.
The mural is one of the latest efforts by FRONT to create the world's largest outdoor exhibition of museum-grade abstract art. "We have not set ourselves small goals," says FRONT's deputy director Sarah Laska
The Money. Bidwell says the mural will cost somewhere in the mid six figures. But Scott Mueller, the CEO of Dealer Tire and a FRONT trustee, has agreed to a challenge grant to cover half of the cost. "We're optimistic that we can raise the rest of the money based on the excitement that's been created," Bidwell says.
The Conversation. Mehretu's art won't appeal to everyone, a risk built into public art. But like Free Stamp, Bidwell is hopeful that Clevelanders will embrace her mural not just as a stunning work of art but also as a much-needed curative for a downtown that could use a bit of color.
"We recognize not everyone will love it, but we think most people will," he says. "It's an idea big enough, from an artist who's smart enough, to repair a blemish on the city: a blank wall."