Allie LaForce and Joe Smith's journey to having a baby free of Huntington's disease, chronicled in the August issue of Cleveland Magazine, has come to a wonderful end. The Vermilion native, a sideline reporter for the NBA on TNT, MLB on TBS and the NCAA March Madness tournament, and her MLB pitcher husband welcomed their first child, Jacob Michael, at 1:51 a.m. Nov. 10.
Smith's maternal grandmother and mother died of HD, a fatal genetic disorder that causes a progressive breakdown of nerve cells in the brain. He has a 50-percent chance of developing it. If he develops it, any children he and LaForce conceive naturally have a 50-percent chance of developing it, too. Jacob was conceived via in-vitro fertilization with preimplantation genetic testing
The 6-pound 15-ounce boy was born at Cleveland Clinic Akron General Hospital, a location chosen so LaForce's doctor sister AuBree, a family medicine resident there, could deliver him. "We were both high school and college athletes, and she knew how to get the absolute best pushes out of me!" LaForce says via e-mail. The couple named Jacob after the place where they first met in 2011: the Cleveland Guardians' home ballpark, then known as Jacobs Field. LaForce was a Fox 8 sports reporter; Smith was with the then-Cleveland Indians.
"Jacob wasn't even in our final few favorite names," LaForce says. "But I asked Joe what he thought when he saw him. He said, 'Jacob.' And I said, 'Me, too!'"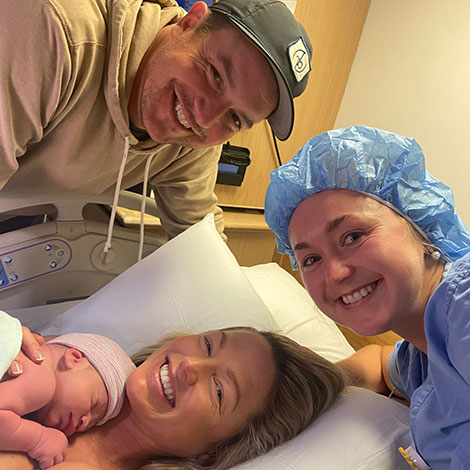 LaForce was in labor for 14 hours, (She asked for an epidural halfway through.) But she insists she was smiling the entire time, supported by her family. Her father Wade and brother Jack as well as mother Lesa, aunt Connie and sister-in-law Lexi were in the delivery room with her, Smith, AuBree and the rest of the delivery team. LaForce describes the clan as extremely close, knit together by everything from surgeries to cancer to loss. "We are stronger together," she says. "They are my soldiers." And as the pictures attest, LaForce never even broke a sweat, a boon she attributes to being blessed with good health.

"I worked out through pregnancy, which I thank God for the ability to do," she adds. "He gave me strength to practice cardio, yoga. … I also practiced breathing before going in and made sure to eat all of the necessary nutrients through my pregnancy."

Adjusting to parenthood has been remarkably easy for both mother and father. LaForce reports that Jacob is an active baby who loves people, "a great eater, burper, snuggler and best friend." "Compared to moving 29 times [during our relationship] and both working full time, this is a different level of peace and comfort that we are beyond grateful for," she says. "Being home together has been everything to us." She does plan to return to work, although no date has been set for her to do so.

"I can't wait for Daddy to show Jacob Mommy working on TV!" she says. "I expect him to join me on the road from time to time, too!"

Read more about Allie LaForce and Joe Smith's journey here.