This spring, Geraldo Rivera announced he would no longer be doing his show, Geraldo in Cleveland, on WTAM, citing increased duties with Fox News, particularly his role as one of the hosts on The Five. But it's not a complete breakup with Northeast Ohio. Rivera still lives in Shaker Heights with his wife, Erica, and their daughter, Solita (a sophomore at Hawken School). "We've become Clevelanders," he says.
First impression: Rivera's first real exposure to Cleveland came in the early 1980s, while he was a reporter for 20/20. A story he did on Summit County Probate Judge James V. Barbuto sparked a $20 million lawsuit (it was settled out of court). "Everyone sued me, and I was in federal court in what seemed to be the coldest winter ever," he recalls. "I had a very grim exposure to Cleveland. Fortunately, it's gotten better since."
Getting out of the house: During the pandemic, Rivera hosted radio shows from his den and recorded TV appearances at home, as well. But since then, things have opened up, and he's spending more time in New York — a small price to pay for having the most-watched show on cable television. "I never expected to have a hit show this late in life," he says. "I think I'm the only 79-year-old who ever signed a new three-year contract."
Lengthy commute: Rivera spends at least three days a week in New York City for his work on Fox News but the TV personality says he can get from the studio to his Shaker Heights home in four hours — when everything goes right. "I get a knot in my stomach when I have to travel and I see it's raining."
Coming home: Erica, who briefly joined the interview, says she used the lake to sell Rivera on the move to her hometown. "My dad took Geraldo around Bratenahl, and he fell in love with the waterfront," she says. "My parents were concerned it was so far from their home, but my mother said, 'It's closer than New York City.'"
Bucolic splendor: Their home in Shaker Heights is just 2 miles from the Cleveland city limits, but Rivera marvels at its pastoral setting. "Right next to us, we have what amounts to the Hundred Acre Wood," he says, referencing the fabled landscape in Winnie-the-Pooh. "We're rich with critters. We have hawks, all kinds of deer and I can hear coyotes at night."
An avid yachtsman: Rivera has a 36-foot Hinckley picnic boat (they're made in Maine), which he keeps docked at the Shoreby Club in Bratenahl. He takes it out regularly, having traveled to Mackinac Island, Buffalo and Detroit, and loves living on the Great Lakes. "Lake Erie is hugely underrated. It's kind of shocking that more people don't take advantage of it.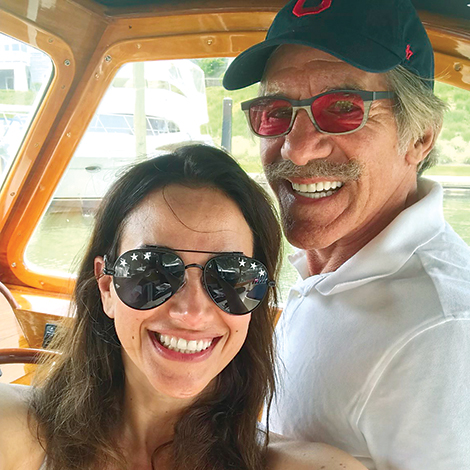 Hopping on the bandwagon: Rivera and his family made the move to Shaker Heights in 2017, and even though he's a native New Yorker, he's warmed to Cleveland's sports teams. Of course, it didn't hurt that both the Guardians and Cavs were having great seasons. But it's not hard for him to root for the Browns either. "I do love an underdog," he says. "I really thought it was the dawn of a new era when Baker Mayfield was drafted.

A busy social calendar: He and Erica have at least one social engagement every weekend. They're not big on cooking, he says, so they like to go places like The Fairmount in Cleveland Heights or Sara's Place in Gates Mills. If they're entertaining someone from out of town, they might take them to the Marble Room downtown. "There's a surprisingly rich restaurant scene," he says.
Raising the bar: His tastes in restaurants may tend toward the upscale, but Rivera loves having a nightcap at the Harbor Inn in the Flats, which bills itself as Cleveland's oldest dive bar. "It's my favorite bar in America. Possibly the world."
Can't beat Trump: Even though he and Trump no longer speak, he understands the sway the 45th president still has. "I was friends with Trump for almost my whole adult life," he says. "I knew him since the '70s. He just really disappointed me with the rejection of the election, and he endangered the Constitution in a way that's alarming to me."
On the links: When Geraldo's not on the water, he can be found at the Shaker Heights Country Club — typically with his daughter. "I suck at golf, but she's on the Hawken team, so I feel like it's my duty as a father."
Best location in the nation: He's heard all the jokes about Cleveland — and he doesn't believe any of them. "Cleveland has an unfortunate inferiority complex. People almost anticipate some complaint about it. I have no complaints about Cleveland."