I must have driven by that house dozens of times. I never noticed it. To enter, we step through wet leaves, mud, thorny bushes and into a once-white bathtub. The gaping hole serving as our portal threatens to eat the entire wall.
Local photographer Johnny Joo looks almost at home; it's his fourth time back to photograph the place.
This deflated home sits just behind the tree line on Canal Road, directly across from the Wilson Feed Mill. The Wilsons themselves owned the property — evidenced by the curly iron "W" welded onto the storm door — but the house has been vacant for more than a decade.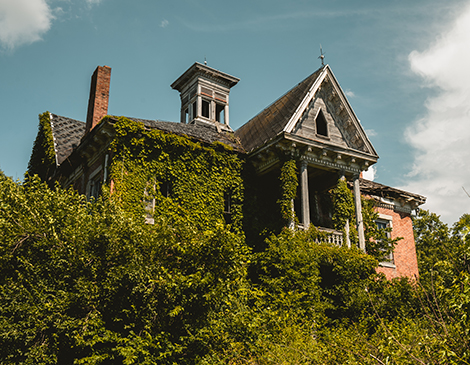 By the dozens, family homes like this one emptied in the wake of 2008's foreclosure crisis. A 2020 report from Cuyahoga Land Bank claimed that more than 500 abandoned apartment buildings sit idle in Cleveland — awaiting demolition or simply forgotten.
"When it's warm, you can really smell the house," says Joo, whose photography particularly features abandoned structures.
The scent of wood, plaster and wallpaper that hasn't been dry in years overwhelms me for a moment. The air feels thick and damp. As we make our way into the house, we avoid rusted nails, wasps and bowing sections of wood. Joo recalls a time when his foot broke through a rotten bit of floor; another when his friend fell waist deep. I'm suddenly hyper-aware of my 250-pound steps.
Our Goonies-esque adventure turns surreal when we round a corner and I notice the grand piano, years out of tune and crusted with dust. Left behind. Also among the detritus: framed paintings, moldy books, an ornate rug hung like a tapestry.
Joo wastes no time. Brandishing a film camera, he gets to work capturing various angles of the house. He's focused. He becomes quiet. In between shots he pieces together a story in his head. Why did they leave the piano? Is this room an office? Was this one a nursery?
He stops for a moment, helping a sluggish bumble bee find the gap in a window, muttering words of encouragement as it scuttles along the sill. A peacefulness takes the room. This is exactly where Joo wants to be.

Quelling the Anxiety
He told me earlier about his social anxiety. Every day, people expect things of you. You must act a certain way or fulfill certain roles. We all have inescapable responsibilities. For Joo, photographing caved-in walls, moldy beds and smashed windows calms the roar. Here, where so many pass by without taking note, the pressure evaporates. There are no unpaid bills, no meetings to attend. Like a liminal space between lost and found, "no one knows you're there," Joo says.
He moves through this fantasy like Indiana Jones in an ancient tomb. Discovery sparks joy, a sense of adventure, as he breathes new life into a forgotten bit of time.
This is how Joo makes a living — photographing the abandoned structures and urban decay littered throughout the rust belt. His camera snaps the past back to the present, preserving tiny pieces of history and Americana. His work — hosted on his blog Architectural Afterlife and in photo books, including Forgotten Dreams — takes people back in time.
"It's like modern urban archaeology," Joo says. "I figured, 'Okay, where can I take this? Can I write a story about this? Can I piece it together with other stuff? How can I make a story from it?' And I just kept doing that."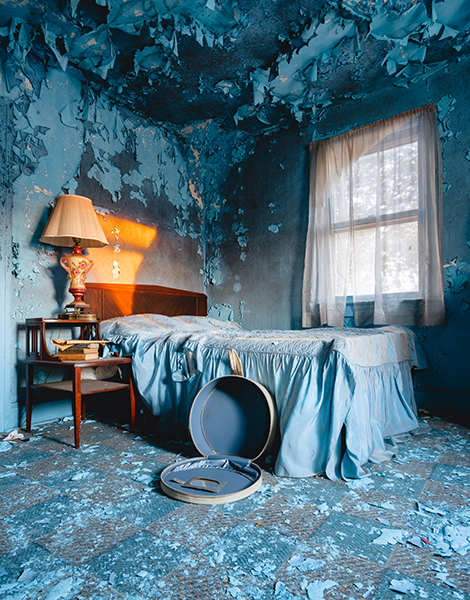 Eventually, that pursuit put dinner on the table, selling the moments captured to companies like BuzzFeed or collecting them into photo books for his website.
Many, if not most, of Joo's photos focus on Ohio, reclaimed by nature in the absence of people. Scrolling through his blog conjures familiar names — the cracking concrete bleachers of Akron's Rubber Bowl stadium, or the overgrown Johnny Appleseed Amphitheater in Ashland — alongside provocative unfamiliar titles, such as "White Mesa — a town contaminated by greed," depicting Joo's journey into the Ute reservation in Utah.
Long before the profit, however, Joo explored for curiosity's sake. Fueled by horror games like Silent Hill and Fallout, abandoned places felt eerie and mysterious; they created a space where the recognizable turned otherworldly.
Joo recalls his first journey into an abandoned farm in 2006.
"I really liked when we went into that first farmhouse — I went in with my mom — and I just thought it was really cool how everything was kind of tilted, you know, weird," Joo says. "You walk in at an angle and it looks creepy. And it had this really good feeling to it . . . like you were separated from people. And that's one of the things I like the most still, to this day, about it."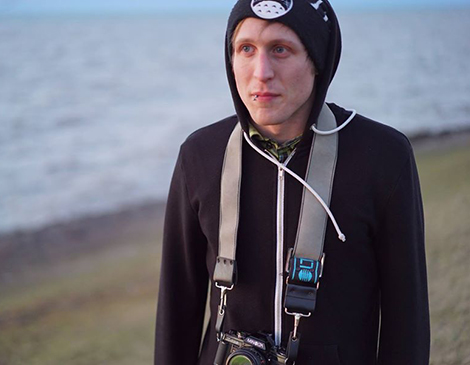 Around the same time, Joo first delved into photography. He enrolled in Mentor High School's black and white photo class, expecting something laid back and artsy. Instead, the course provided a challenge — photography required focus and tempered skill — and engaged him more as a result.
The class utilized traditional film processing — picture red-lit rooms where people dunk blank pages into chemical solutions to produce an image — and Joo credits this tactile, heavily involved style for inciting his passion. Loading the film, working in the darkroom, making prints, provided a sense of ownership.
That artistic passion for photography quickly seeped outside of the initial class. An art teacher at a Euclid High School supplementary program, Edith Mellen, noted Joo's burgeoning drive and raw talent for photography. You could tell he was going to be a photographer, she says, remembering Joo's excitement.
As a student, Mellen describes Joo as misunderstood. He exemplified the counter-cultural 'emo' kid of the late aughts: dark hair, darker clothes, metal spike-adorned belts and all.
He was "trying to find where he fit in; where his passion was going to be," Mellen remembers. This prompted her to make more opportunities for Joo's photography. She even loaned him a camera for the year.
"So that's how it all kind of began," Mellen says. "You know, he wasn't the greatest drawer, but he could draw if you asked him to. He was more interested once I got him hooked on that camera — it didn't stop. I'm like, 'Johnny, just take this camera and go take some pictures,' because he was really interested in it. I was just super impressed with the way he was shooting objects or still lifes."


Finding the Path
Joo continued shooting well after high school. He envisioned a career in art, with no strong idea of where to begin. So, he worked entry-level jobs and photographed urban decay in his free time.
Things felt uncertain. Shooting abandoned structures fueled him, but he assumed the subject lacked public interest. More than likely, he would spend the early part of his career shooting weddings, events and the occasional senior portrait.
Eight years after the pivotal farmhouse excursion, Joo worked for Jakprints in Cleveland — printing designs on hoodies and T-shirts by the hundreds — when the company unexpectedly fired him in 2014. At the time, he maintained his photography only as a passionate hobby. He planned on printing a photo book. Friends and family would buy it, but it couldn't sustain him. Making ends meet meant finding another job within the week, and sudden unemployment left Joo exhausted and nervous. However, in what he refers to as a "perfect movie" moment, opportunity knocked.
Mere hours after getting fired, Joo noticed an email from BuzzFeed. They found photos of his explorations into abandoned malls. They wanted every shot. With just a few hundred dollars to his name and little to no financial traction as a photographer, he needed chances like these. But Joo felt more preoccupied with finding another job, any job, than the opportunity now pounding at his door.
He sent over the photos, went to bed and thought nothing more of it.
"I woke up and I have all these missed phone calls, missed emails from different news places, like 'we want to buy your photos for this story,'" Joo says. "And then my friends are texting me. They're like, 'I just saw your photos on this thing!' And I go look at the article and it's got, like, two million views."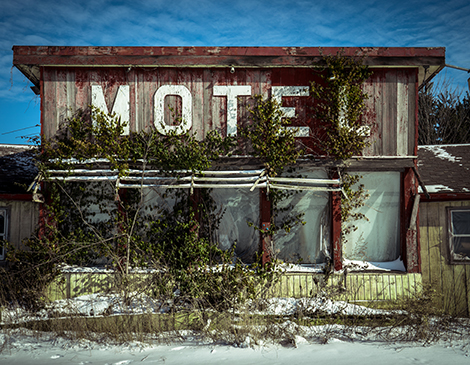 Overnight, seemingly everyone wanted his work. Barely a week had gone by after the mall photos blew up when Huffington Post reached out to Joo, wanting to tell a story about his photography and upcoming photobook. He hoped to leverage the opportunity to sell more copies.
The article ran, and instead of the anticipated 20 or so sales, Joo sold 100 books at $90 each.
His momentum couldn't stop there. The photobooks made a meager profit, but going full-time remained out of reach. Then, another knock came less than six months later when Steris, a purveyor of medical equipment, reached out to Joo to shoot their headquarters in Mentor. The company offered him more than he'd ever been paid for his work — $16,000 — a stark contrast from his recent earnings.
"It was enough to cover my bills for five months at the time," says Joo. "So, I took that five months and I used that whole entire five months — like the minute I woke up to the minute I went to bed — just learning how I could turn my art into more of a business."
For help, Joo reached out to local artists like Derek Hess — whose manager responded — inquiring about gallery events and self-promotion. He figured, "who better to really reach out to than a Cleveland artist that I look up to?"


Responsibility and Preservation
As we make our way back through the bathroom, I ask Joo what story he's pieced together about the house. He tells me he already knows the history. But he won't post it yet. Many more people see Joo's work now; many more people will know about this house once it's online.
"I want to post to share the history," Joo says, "but then someone will be like, coming and smashing the piano."
Another eight years have passed since the amazing year he lost his job. Now Joo's work bears more weight — protecting the dying worlds he inhabits. Despite the added responsibility, he sounds relieved.
He works full time. He doesn't shoot senior portraits or weddings (usually). He's produced more than 10 photo books, with more on the way. On occasion, he visits Mellen's class to teach.
"I've actually had these moments that I never thought I would have," says Joo. "This 13-year-old kid in Alabama, I got him into photography. And so by doing that . . . I got him into something that now he loves — that just feels cool. Without even trying to, I have made a change."