This election day is nothing short of historic. Already, nearly 100 million early votes have been cast in the United States — more than double that of 2016. Here in Ohio, a record-breaking 3.4 million votes have been cast, as Ohio's 18 electoral college votes give it swing-state status. Yesterday, former vice president Joe Biden made a last-second push against President Donald Trump with a speech at Burke Lakefront Airport. But from a series of hotly contested judges races to the Cleveland Municipal School District Levy, Issue 68, there are plenty of local stakes, as well. So this Election Day, we're hitting the pavement to explore the sights, sounds, pageantry and stakes of the 2020 general election.
Live Updates
8:50 p.m. - The polls officially closed in Ohio at 7:30 p.m., unless of course you got in line and are still waiting in line. In that case, stay in line. But if the two Lakewood polling locations we visited in the final hour of voting are any indication, there wasn't much of a late-night rush to match the early morning fervor. For all the fear and anxiety leading up to Election Day, also nonexistent, at least from what we saw, was the doomsday scenario: voter intimidation, violence or anything other than dutiful displays of democracy. Early estimates say about 600,000 people voted in Cuyahoga County. And now, their votes are making their way into a room in Cuyahoga County's Board of Elections warehouse, where, in the full and uncomfortable view of a passel of not-at-all rabid reporters, they do the work of tabulating the votes, some clad in suits and one in full-on Uncle Sam costume. For those that want to track them, local results are being posted live on the Cuyahoga County Board of Elections web site. Today, we visited seven polling places and had conversations with at least two dozen voters, all of them excited to vote. Having done their part they, and we, wait now to see what will come of it. Good night. – Sheehan & Dillon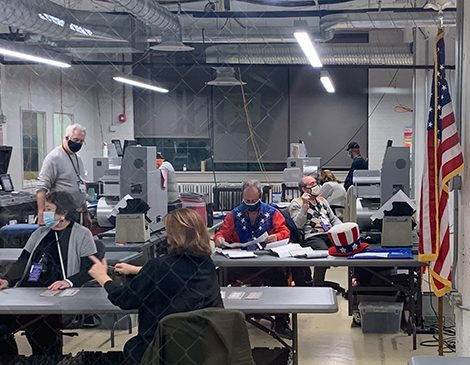 7:29 p.m. – At 7:29 p.m., as Cuyahoga County Board Of Elections volunteers prepared to lock the ballot drop-off box for the final time in 2020, an SUV pulled into the driveway of Campus International High School. I couldn't see his face but I recognized the driver as he frantically waved his ballot, his say in the most consequential election of his lifetime, in the air. The driver was me. Or at least, I'd been him a million times before. Waiting until the last second. Unable to find the piece of paper that he'd put in a special place where he'd never lost it, only to have to tear his house apart for hours looking for it. Or, against his friends' and families' better suggestions, simply waiting and procrastinating until the last possible second. Kudos to you, sir. You got it done. And man, it sure feels sweeter that way. Doesn't it? -Dillon
4:45 p.m. – At Fairfax Recreation Center on Cleveland's East Side, voters were much more supportive of issue 68, the Cleveland school levy, than what I saw on the West Side this morning (see below for that). Marietta Bush, who limped on a foot cast into the community center to vote for Biden, said she was voting for the levy, even though her only child was her "four-legged dog." LeBron and Juryvetch Ford, also Biden supporters, said they were both voting for the levy as well. "We live in Cleveland and we have kids," said Juryvetch. "We know what's best for them." Dennis Morgan, who cast his presidential vote via absentee ballot weeks ago but happened to be walking past the community center, said he voted for Jo Jorgenson, the libertarian presidential candidate. He was also supporting issue 68. He has grandchildren who have graduated from CMSD schools, and other grandchildren about to enter them. "The public schools, they need the help," Morgan said. Ward 5 councilwoman Phyllis Cleveland, who was visiting the community center, which is located just over the border from her ward, said that though Ward 5 has lagged behind in turnout (as of 4:30, it was the lowest in the city), she still had high hopes for issue 68 there. "The people I've talked to, they overwhelmingly support it," Cleveland said. "They support our children, and our schools." A brief coda: if you want to learn more about the background of issue 68, read my 2016 feature about the Cleveland Plan and the last time a school levy was up for a vote. - Sheehan
4:30 p.m. - It's hard not to feel comfortable around Alana Garrett-Ferguson, a bubbly 28-year-old who is spending her day handing out care packages at polling places such as Fairfax Recreation Center. The bags of snacks, drinks, masks and election protection literature are her way of easing the burden of waiting in long lines to vote and clearing up any confusion that might arise near the closing of the polls. "We learned that so many voters were waiting in long lines," says the 28-year-old, "so we just wanted to give community members the things that they needed to make voting a little more comfortable." Typically, however, Garrett-Ferguson fights for the reproductive rights of Black women in Ohio as an organizer for New Voices For Reproductive Rights. But as a young activist, she sees herself as carrying the torch for her forebears in the women's suffrage movement, who fought for a woman's right to vote in 1920 and the Civil Rights Movement, who provided the push for the Voters Rights Act of 1968. "It is one of our essential freedoms," she says. "Especially in this year's critical election, we're voting for health care, we're voting for criminal justice reform. At the local level, we have the power to keep someone like [Judge John P. O'Donnell], who let off the cops who did the 137 shots into Malissa Williams and Timothy Russell, which remains a sore point for our community, off the bench." The efforts of Garrett-Ferguson, who grew up in the Fairfax community and attends the Catholic church just across the street from Fairfax Recreation Center, are especially poignant at a polling location with the lowest voter turnout as of 4:30 p.m. on Election Day. After watching the lives of so many members of her community destroyed by encounters with the criminal justice system, she's urging her neighbors to make their voices heard. "Do not allow the ambiguity around the ballots, voter suppression or what the media says to make you think your vote doesn't matter because you have a voice here in Cleveland," she says. "We have to make sure we're voting and we have to make sure we're making voting more accessible and fun for everybody." -Dillon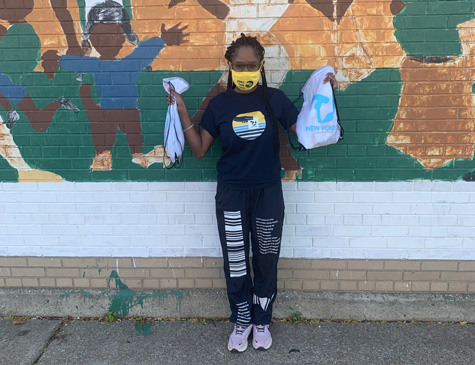 2:30 p.m. - You might think you know who Sally Tatnall is voting for based on the first presidential ballot she cast in 1960 — for Richard Nixon. But you'd be wrong. "I'm sorry to say this," says the feisty 83-year-old Lyndhurst resident, as she waited in an hour-long line at the Lyndhurst Community Center to vote today with her daughter and granddaughter. "I don't know why I voted for him, but I did." This time around, Tatnall is voting for Joe Biden. "I've never seen an election as critical as this," she says. "It's time to remove who's there. It's too much, too much." Regardless of who you vote for, however, Sally wants you to just get out and vote. "Anybody who doesn't vote today and can, that's a shame." -Dillon
2 p.m. – Christina McCreight can claim a rare title: perhaps the only Clevelander to bring a poop bag to the polls today. Standing in a long but swift-moving line outside the Lyndhurst Community Center, McCreight did her best to corral her rambunctious one-year-old Golden Retriever puppy, Winnie, who jumped and yipped as she waited to cast her vote. A rescue from the Canton area, Winnie is the latest addition to the McCreight's lively household. A single mom of four kids (and one other dog), McCreight has a son who is joining the military, and so she agonized over her vote. She prayed about it yesterday evening before arriving at her choice. "Biden, but it's a hard one," she said. "Whoever will be president, I will support. I'm not extreme either way." Winnie, for the record, cast a decisive vote for a small pile of nearby leaves. - Sheehan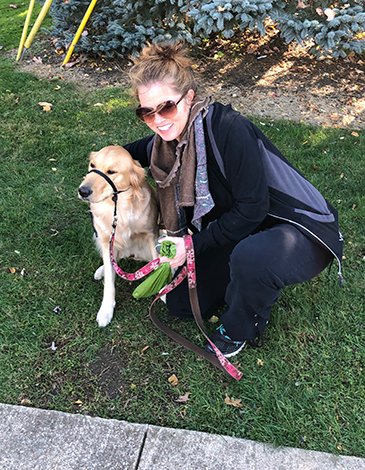 11:45 a.m. – Downtown is still clearly feeling the coronavirus downturn. As the lunch hour nears, the streets are sparsely populated. The one exception was Rocket Mortgage Fieldhouse, where a polling place has been set up. A steady stream of what looked to be mostly younger voters headed into the home of the Cleveland Cavaliers to cast their ballots. Huge screens overhead flashed cool voting-themed murals. If any of those voters were sporting this sweet Ilthy-Cavaliers collab voting apparel — and we'd like to think they were — it was, sadly, obscured by their heavy winter coats. But Downtown voters did get to take home a poster and sticker of the design. We saw one building, the Caxton Building on Huron Road, which houses GV Art & Design, in the process of being boarded up. We didn't see any other possible preparations for unrest, and the scene downtown was calm. It's warmer out now, but still cold y'all. – Sheehan & Dillon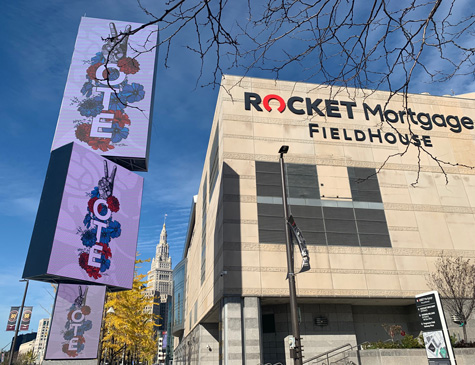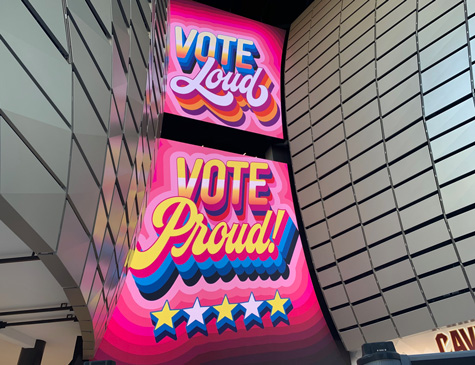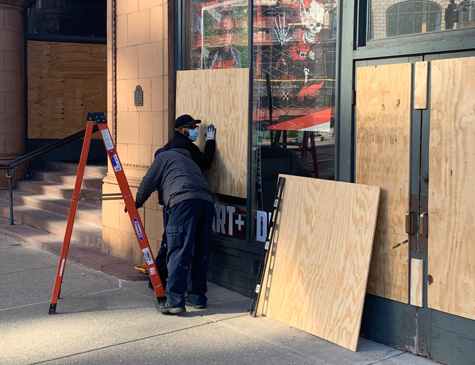 10 a.m. – Dillon and I are headed downtown to check out what's going on at Rocket Mortgage Fieldhouse. But, during a quick stopover at Cleveland Magazine's offices in Playhouse Square, I got to thinking about just how much voter enthusiasm there is out here today. You have, of course, seen all the statistics. But it's still amazing to see in person. This morning, I was waiting for a Save A Lot to open to use its bathroom. As the grocery store worker unlocked the door, the first thing the woman in front of me, who was pushing a shopping cart, asked was: "Have you voted today?" I also read a story last night about a gas station in Barberton that held an unofficial straw poll that got about 2,300 votes — over two thousand people voted in a just for fun poll in a gas station! And I just saw a post on Twitter by Declan Synnott, the owner of the beloved Parnell's Pub and a relatively new citizen, who is voting for the first time today. Everyone, it seems, is voting, which probably means that you, dear reader, should too. - Sheehan
9 a.m. – In conversations outside Gunning Recreation Center this morning, voters were dividing over issue 68, the Cleveland schools levy. On her way into the polls, Alanna Busz, who planned to vote for President Trump, said she was going to vote yes on the issue. "I have a few friends who are teachers in the Cleveland school district," Busz said. Mary Bochin, who had also just cast a ballot for Trump, said she voted against it. "They're wasting money. I'm on a fixed income, and I'm not giving all that money," Bochin said. "They give it all the time for the schools, and they don't do anything with it. No improvement." Another Trump supporter, who refused to give her name, said she planned to vote against the issue, while Donta Pinkard, a Navy veteran who said he had just cast a ballot for Biden, voted for it. "I feel like anything that can help out with education, and the future education, I'm going to support it," said Pinkard. "That makes me feel good." – Sheehan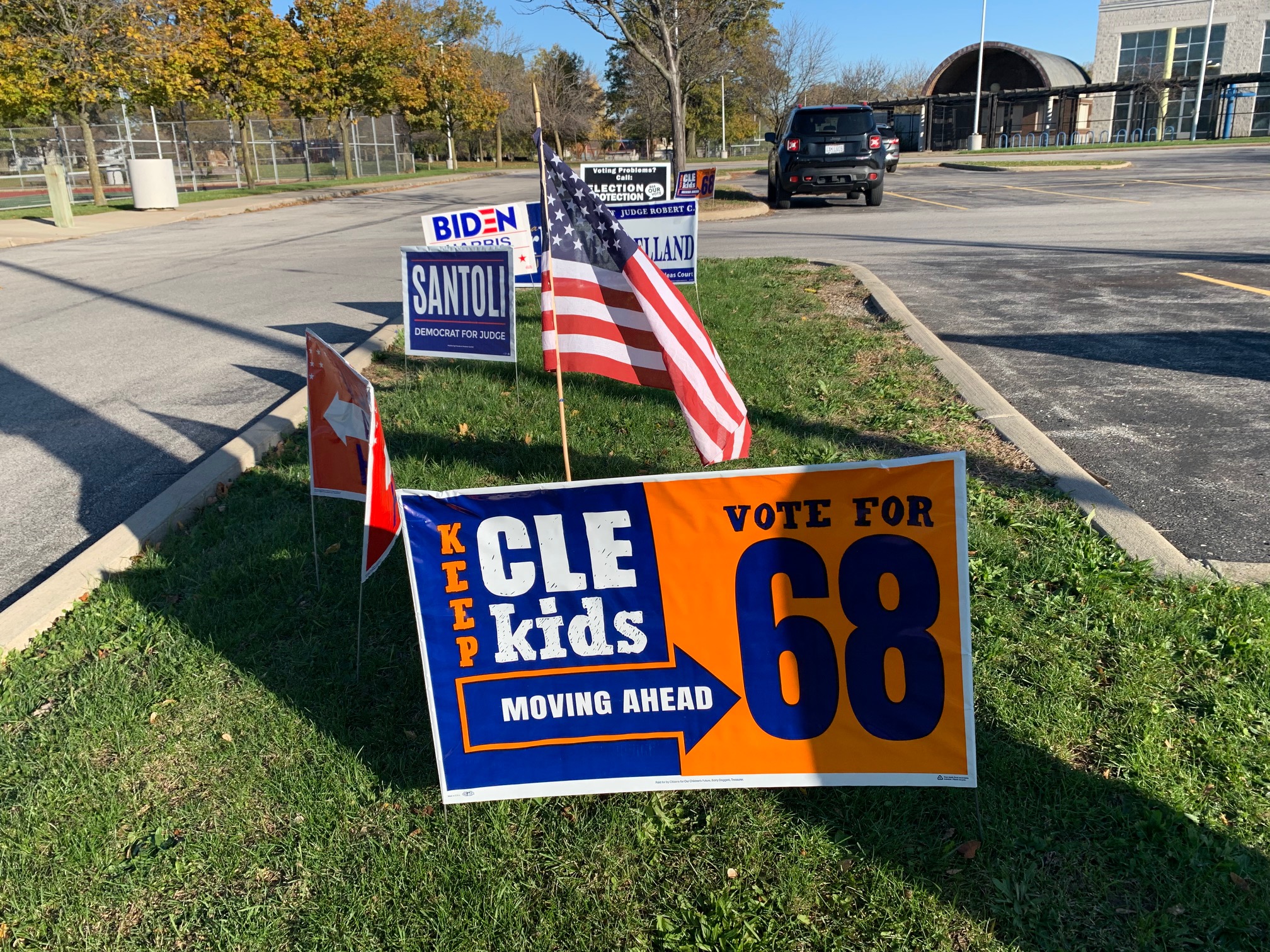 8:30 a.m. - At Gunning Recreation Center, on Cleveland's West Side, a small forest of campaign signs dotted the parking lot entrance. The line started long but then got much shorter as voters cast their ballots and headed off to work. By about 8 a.m., it was short enough that only a handful of voters had to stand outside in the cold. – Sheehan & Dillon
7 a.m. - Good morning! Polls opened at 6:30 a.m. this morning, and we are here at the Bay Village Presbyterian Church, where a long line of voters snaked into the parking lot even before the sun rose. Braving bone-numbing temperatures, and dressed in coats, parkas and hats, they got on with the business of democracy. Tom and Carol Trumen waited toward the back of the long line to vote for President Donald Trump, who they had also supported in 2016. "I've never stood in this part of the parking lot before," joked Tom. They thought about casting an absentee ballot, but decided to instead vote in person. "I don't want to say I don't trust it, but I'd rather do it in person," said Tom. "I always have." A few places ahead of them in line was Chelsea Haglage, who planned to cast a ballot for former Vice President Joe Biden. She has gotten up early to vote in previous elections, she said, but had never seen lines this long. "I wholeheartedly disagree with who is in office, or any of the stances he takes," said Haglage. - Sheehan
Cuyahoga County (Cleveland) is the only place in Ohio on the list where DOJ Civil Rights Division plans to send personnel on #ElectionDay to monitor for "compliance with the federal voting rights laws" #VOTE https://t.co/AZGpYSo79F

— Homa Bash (@HomaBashWEWS) November 2, 2020
EARLY VOTING: Here's how many people are in line at @cuyahogaboe as of about 2pm, when early in-person voting ends in Ohio today (you can still vote if you're IN line) #Election2020 #ElectionDay in Ohio — polls open 6:30am to 7:30pm pic.twitter.com/lwJmQr0we8

— Homa Bash (@HomaBashWEWS) November 2, 2020

OHIO VOTERS: As we approach Election Day, be aware of voter intimidation or disinformation efforts. We need your help to fight back.

If you witness voter intimidation or disinformation, including emails or robocalls, report it to us at Report@OhioSoS.gov or call (877) SOS-OHIO

— Ohio Secretary of State Comms Team (@SecLaRoseComms) October 21, 2020
Who And What To Follow
Associate editors Sheehan Hannan (@sheehanhannan) and Dillon Stewart (@dillstew) will be on the ground live tweeting and updating Cleveland Magazine's Instagram story. After you check out our coverage, here are some other local accounts to follow:
Homa Bash, Reporter/Anchor, WEWS
@HomaBashWEWS

Nick Castele, Reporter, Ideastream
@NickCastele
Cameron Fields, General Assignment Reporter, cleveland.com
@CameronFields_

Ohio Secretary of State Comms Team
@SecLaRoseComms
Cuyahoga County Board of Elections
@cuyahogaboe

The Cuyahoga County Board Of Elections Live Voter Turnout Widget
How To Get To The Polls
Cleveland RTA is offering free rides to the polls on Election Day thanks to a grant from the Cleveland Foundation. Non-partisan volunteer group VoterDrive is also offering rides, while Uber and Lyft are offering deals on rides to the polls. Jack Casino is also offering free parking to those voting at Rocket Mortgage FieldHouse. Click here to find out where you vote.

What To Read
A Cleveland Poll Worker Shares Why Voting Is So Important, via Cleveland Magazine
Quinnipiac Poll Of Ohio Voters Shows Joe Biden Slightly Up On Donald Trump On Eve Of Election, via cleveland.com
Ohio Shatters State Records With 3.4 Million Early Votes, But 243,000 Mail Ballots Are Still Unreturned, via cleveland.com
Ohio Voters Whose Mail Ballots Are Delayed Can Cast A Provisional Ballot As Insurance Plan, Ohio Secretary Of State Frank LaRose says, via cleveland.com
Diagnosed With Covid-19? Feeling Ill? Use Ohio's Curbside Voting Option On Election Day, via cleveland.com