If any one of Downtown's 20,500 residents can safely call themselves a Cleveland socialite, Pete Marek is the man to get away with it. Walk up Euclid, and you're likely to bump into him leaving morning yoga, catch him flirting with the bartenders at Yours Truly Restaurant or tending to vandalized storefronts on Euclid and Prospect. A "Pete Sighting." Such ubiquity has earned Marek, a 56-year-old part-owner of a Maple Heights-based chemical distribution company, the moniker "Mayor Pete" or to others, "Downtown Pete."
"He knows every single person in the city," says Grace Noall, a resident on East Fourth Street. "Well, maybe like 90%. But still, he's Downtown's biggest ally."
"I sometimes feel like Norm walking into Cheers," Marek says. "I love it. I know a shit ton of people."
Marek's 25-year voyage from stale suburban marriage to downtown bon vivant may have all begun with actor Kevin Bacon. This was 1986, Mayor George Voinovich-era Cleveland. Marek, a 20-year-old Cleveland State University student, had just seen Bacon's Quicksilver, a crime-drama about a bike messenger in the big city.
"I remember he lived in an old loft building in some warehouse in [Los Angeles]," says Marek. "I love that look: brick walls, high ceilings, big windows." He sighs in brief nostalgia. "I fell in love with the whole thought of living downtown."
That love went unrequited. Instead, Marek slowly tiptoed into family life on Cleveland's fringe. At 24, he got a job selling copy machines and moved to Old Brooklyn. He met a girl in the Flats, got married and moved 30 minutes south to Brunswick in 1997 to raise a daughter and son. Twenty-plus years clawed at Marek's suburban promise. He came to hate his life. "Homeownership seems to be an American dream," he says. "Until you own one. And then you're like, What the hell did I do this for?"
Marek and his wife divorced in 2012. His kids fled Brunswick for downtown jobs. In 2018, filled with anxiety around his life's new act, Marek went apartment hunting with his son in Ohio City. Driving on Detroit Avenue, agog at the new mid-rises, Marek's urbanite limerence kicked in. His son noticed: "He said, 'Dad! Why look at it, when you could live in it?'"
Marek laughed. "I was like, 'You know what? Damn it, that's a great idea.'" He moved into Euclid Avenue's Halle Building seven months later.
Marek's residential volley — downtown to suburbs and back again — is, perhaps, a microcosmic representation of a new era in American living. Since 2012, when new urbanist author Jeff Speck's Walkable City was published to great acclaim, the so-called Great Inversion to center city living has grown exponentially. Today, after the pandemic, a make-up-for-lost-time spike has put the onus on city planners, politicians and glint-eyed developers to respond aptly to that demand. Speck reports in the new, 10th-anniversary edition of his book that although 45% to 55% of millennials want to live in a walkable city, only 1 out of 10 do. "Unlike when I wrote Walkable City a decade ago, we now have what's understood to be a crisis in affordable housing in our cities," Speck says. "Ten years ago, that crisis was not yet fully grown or certainly not understood."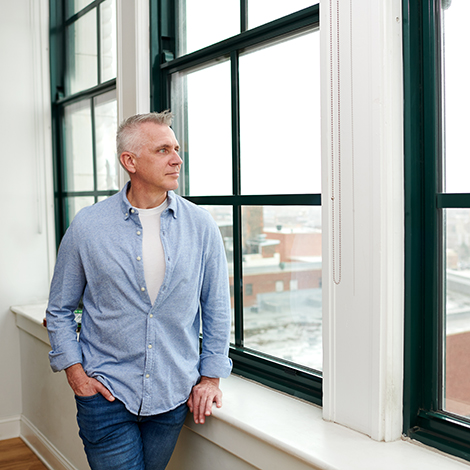 It's a Rubik's Cube that city boosters are twisting today. Depending on what report you read or what street you walk down, the outlooks lean toward promise or skepticism. On Aug. 22, the Downtown Cleveland Alliance gloated in its biannual report about a post-pandemic residential boom: from the Sherwin-Williams
HQ-influenced micro units at the Rockefeller Building to the Beaux Arts-tinged "workforce living" reviving the dusty Huntington Bank Building — a resounding "3,000-plus" planned units across some 25 projects (968 units in progress). It's Speck's classic chicken-or-egg dilemma: "You need to have the amenities to attract the people," says Michael Deemer, DCA's president, "but you need the people to establish the amenities."
Paired with Mayor Justin Bibb's administration's $500,000 lakefront master plan feasibility study, its Complete and Green Streets initiative (i.e. bike lanes and Smart Parking) and DCA's updated housing study and shining Downtown Now plan, 2023 could be the year Cleveland's boosters finally get their full credence.
But will Clevelanders buy in? Since Mayor Lawrence Halprin's booster-friendly Outcalt "Civic Center" plan in 1957 — which famously included a lakefront makeover — and Tom L. Johnson's 1903 breakout, Clevelanders have entertained a smorgasbord of eye-roll marketing rhetoric ("Cleveland, Lil' Chicago"), front-page worthy architectural drawings ("Civic Vision 2000 Downtown Plan"), and morale upping slogans (A "Plum"?) while still managing to lose nearly a half percent of its people every year.
Hence Speck's dilemma: to make Cleveland a walkable city — a vibrant, 15-minute, pedestrian haven — walkers are first needed. Reality might be different. Despite its highest foot traffic since January 2019, up to 14.4% of Downtown's offices are still vacant; 14% of its retail is empty, as is 9% of its housing. Stroll on a Friday evening from the Playhouse marquees to Public Square's fountain, and you will wonder what there is to boast about: Eighteen vacant storefronts, sparsely populated sidewalks, bare restaurant seats with DCA's neon-hued banners reading "GHOST YOUR COUCH" or "DOWNTOWN HITS DIFFERENT" waving outside in the wind.
But Downtown Pete isn't swayed. "You want to get to 30,000 people?" he says. "Just build apartments. I swear to God, they'll be filled."
Thirty-five years before starchitect I.M. Pei designed the Louvre-like pyramid for the Rock and Roll Hall of Fame, he pitched the Cleveland Development Foundation, a precursor to DCA founded in 1954, to recreate New York's Rockefeller Center on East Ninth Street.
Imagine, Pei told CDF, the Terminal Tower area was "Wall Street." Euclid was "Fifth Avenue." An early blueprint for Pei's Erieview Tower resulted in, come 1964, nearly 6,000 units of housing, accentuated by the glitzy Chesterfield. "With a couple thousand people moving in and out of the Town House every day," one backer envisioned, "there won't be much danger of East 13th Street looking like a ghost town."
Directors balked. They had seen the simmering of Halprin's $315,000 "people-oriented" Concept for Cleveland, or entertained, in 1957, the Outcalt "Civic Center" Plan's promises to extend Mall C over the rail tracks. Cleveland "isn't an apartment house town," one director complained, as retold in J. Mark Souther's Believing in Cleveland. Another said he was "perfectly content with his 50-minute commute" from Cleveland Union Terminal to Geauga County.
By 2010, Erieview sat one-third vacant. ("It's desolate," Marek says. "No reason to walk over there.") Ironically enough, after being purchased by developer James Kassouf for $17.7 million, the Tower's now being refitted into 210 hotel rooms and 227 units of apartments.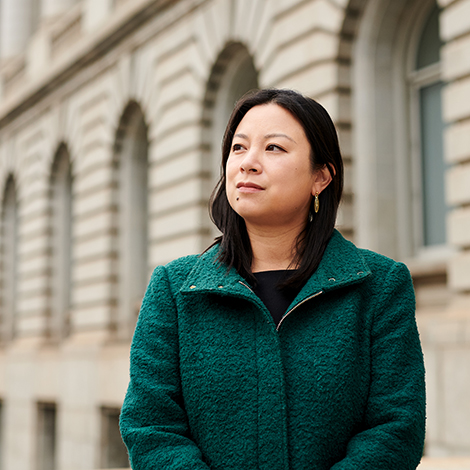 The need for a culture shift to accompany developer optimism is clear to Joyce Pan Huang, Cleveland's chief of city planning. At 37, two years Bibb's senior, Huang says she's exploring upgrading Cleveland's zoning code from Euclidean to form-based zoning, a method of redesigning districts based on walkability data — think: lofts above a dentist, a daycare and a taqueria. This complicated work is just beginning.
"We have to shift our mentality," says Huang. "Otherwise, we're going to continuously have this pop-in, pop-out, drive-in and drive-out culture. Not a neighborhood."
So, the Cleveland skeptic should ask, why Bibb? After all, Carl Stokes gave off messiah mayor vibes with his $1.5 billion "Cleveland: NOW!" plan, hired young staffers hip on making Mall C "a people place" and Downtown "people-oriented." (Like Bibb, Stokes also took heat for a snowstorm gaffe.) Yet, still — to Strongsville, Brunswick, Garfield Heights, to Texas and California — people fled. And just in December, the City of Cleveland and Bedrock announced a new plan for riverfront development in Downtown near Collision Bend with a $3.5 billion price tag.
"It's important that people in the suburbs recognize that we are a city," Bibb said in a recent phone interview with Cleveland Magazine. He vows that passing his Green Streets ordinance — "protected bike lanes, traffic calming, pedestrian walkways" — will boost Walk Scores. He plans to create a cabinet position to monitor the millions of American Rescue Plan dollars that he says will surge Downtown growth, as well as his Northeast Lakefront Master Plan. "That has never been done in Cleveland," Bibb asserts. "That's why I'm in the position to get this done now."
On Nov. 3, Bibb invited more than 100 Clevelanders to City Hall's rotunda for the first of six Lakefront Plan town halls. For an hour, Marie Keister, head of Engage Public Affairs in Dublin, steers the crowd through a cinematic retelling of Cleveland's false starts ("We've been talking about a pedestrian bridge for a long time"), followed by a table-to-table survey of our Lakefront wish list. Or, as Bibb calls it in his brief speech, "the long, long road ahead."
Marek, in a brown flannel and a cyclist's shoulder pack, is at Table Five watching the presentation as if sitting through a lecture on breathing. Also there is Christian Nohade, a 50-something security professional in a red tie and a Cavs hat. "If you end [state Route 2] at East Ninth, commuters are going to have a fit," Nohade opines, regarding a potential land bridge. "There's going to be congestion. You don't want congestion."
"Oh, please," Marek says. "Seattle knocked out an entire highway, and traffic didn't change. We have to figure out how to move people besides cars. The earth is on fire for chrissakes."
"Well, I don't know if —"
"Are you East Side or West Side?"
"Westlake."
Marek turns to the table. "I know this might blow people's minds, but some of us want to be closer to downtown, not further away." His voice rises to a clamor. "We need to put as many people in our city as possible. WE. NEED. DENSITY."
Nohade nods. He pauses, chews on Marek's words for a second or two. "That's what I love about this country," Nohade says. "We can agree to disagree, yet still have a conversation."
It was something about the Warehouse District's prewar facades — all that red brick, just lovely — that brought newlyweds Rykiel and Charles Kent to live Downtown this summer.
The other half was habit. For years, they grew their medical careers while paying $3,200 a month for a one-bedroom on Manhattan's Upper East Side (Walk Score, 98 out of 100). On June 11, about a year after Charles took the knee on the Brooklyn Bridge, they married. By July, with jobs lined up at Cleveland hospitals, he was tasked with finding housing. "In New York, neither of us had cars," says Charles. The 34-year-old sits on a couch in their apartment off West Sixth Street. "We walked to work every single day."
"It's, you could say, one of our favorite casual activities," adds Rykiel, who is 31 and pets their dog, Penny. "It's why we picked the apartment."
Though just four months into their lease, they have started to question what is often on the minds of the Downtown couple: How long exactly can we live here?
In interviews with a half dozen Downtowners, many lauded their rooftop pools and high-gloss kitchens, while scratching their heads at the lack of services and retail diversity in the surrounding blocks. Their wants seem natural corollaries to modern life: a vet or doggie daycare; a hardware store; a Target. "What about late-night food?" says Taylor Savarino, a 26-year-old resident who relocated to The Archer on West Ninth Street to "regain years lost to COVID," sitting with her dog at Lighthouse Park. "I can't eat anywhere decent past 9 or 10 o'clock."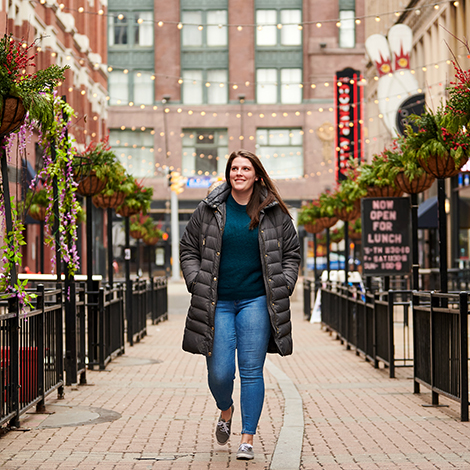 Deeper worries plague Grace Noall. She adores her $965 loft on East Fourth Street, but, 29 and engaged, she feels suburbia's tug. Pre-
parental questions abound: Will an affordable grocery store open nearby? What about a good school? Where are all the school buses anyway?
"Honestly, I don't feel like there's enough here yet," Noall says. But good friend Pete's there for the convincing. "He tries talking me out of [moving] all the time."
Such doubts rarely arise in Marek. He sees his Man About Town persona as both an advocate and credentialed critic. He rarely eats dinner in. WEWS uses Marek for Downtown comment like CNN might an ambassador. "It's changed my political views," he says. "I'm much more liberal, more forgiving." He sees his son, Kevin, who lives down the street at the Residences at 1717, more often. Coincidentally, Kevin is helping construct the new City Club Apartments.
Downtown living has also made him a better man, he says. "I think of who I used to be, the people I used to work with," he says, sitting at the bar at Yours Truly, dressed in a tight polo and clean-cut, silvering hair. As he chews his hamburger, Marek adds, "I think of them often. Just living this existence. Kids in college. Married. Sitting at the fire pit every damn night."
After lunch, Marek walks up to his apartment, which is spacious and white-walled. In the hallway is a photo of a snowed-in car (a Twitter joke), a gifted 3D map of Downtown above a "Cleveland Shrine." Over there, bike gear. By the bar, his prized 1875 press chisel which was discovered at the Cleveland Flea. Marek walks to his 10-foot windows and grabs a pair of binoculars. He looks southward, over Huron Street, toward the pitcher's mound at Progressive Field.
"You can watch balls and strikes from here," he says, lowering the binoculars. He beams. "I mean, how could anyone not love this?"
Get ahead of the weekend by signing up for our free weekly "In the CLE" newsletter — your guide to fun throughout The Land. Arriving in your inbox every Wednesday, this weekend's to-do list fills you in on everything from concerts to museum exhibits — and more. Click here to subscribe.