Editor's Note: David Plouffe's event at Cuyahoga County Library will instead be a virtual appearance. The interactive broadcast will stream on the library's YouTube page. You can find more information at cuyahogalibrary.org.

David Plouffe feels at home in Ohio. That's because as former campaign manager for then-Senator Barack Obama, Plouffe spent 2008 and 2012 "basically being bunkered" in the then-swing state of Ohio. "I remember the President saying, 'It's going to be so weird not spending so much time in Ohio,'" says Plouffe, who also worked as senior advisor to the President from 2011-2013. "When we were leaving Athens in the helicopter (after a 2012 campaign event at Ohio University), I remember the President staring out the window at the foliage in late October. He was super excited because the leaves were just spectacular." This week, Plouffe is coming back to Ohio, though he's rooting for a new candidate this time around — one that remains to be chosen. On March 12, he'll stop at Cuyahoga County Library's Parma-Snow Branch to promote his new book, A Citizen's Guide To Beating Donald Trump. This won't be a reading, Plouffe says, but a town hall-style discussion to help Cuyahoga County voters get involved and engaged in the 2020 election. "I explain things like what a presidential campaign is and how candidates get selected in swing states," he says. "I wanted the book to be something that a veteran political organizer would take a lesson or two from, but accessible enough that someone who's never been involved before, it might increase their interest, and maybe give them the confidence to get more involved." We caught up with Plouffe to find out what readers can expect from his Thursday appearance and what foes of president Trump can do to prevent his reelection.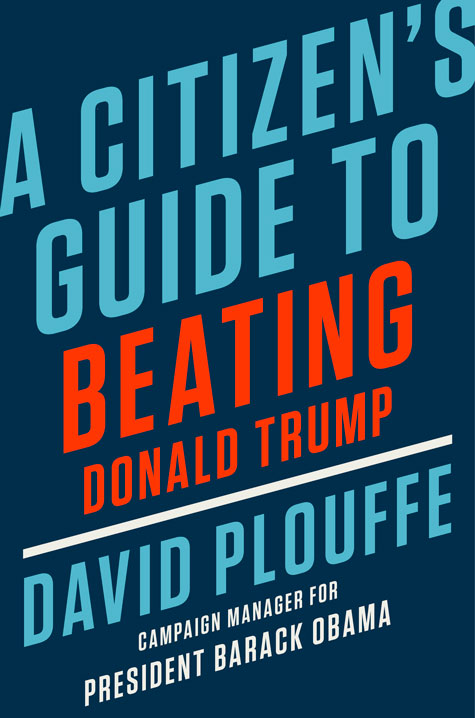 Why is beating President Donald Trump in the 2020 election so vital to you?
First of all, if we don't begin to tackle climate change and get back into the Paris Climate Accords, it may be too late. Secondly, he's already trying to turn our country into an autocracy and has no respect for institutions or rule of law. Imagine if he doesn't have to face the voters and is ratified by re-election? There will be a generation of Republican politicians who believe this is the way to get ahead, demean people and lie. That would be tragic.

Your book is framed as a guide to beating President Trump, but it's really about how to stay engaged and be effective in the electoral system. What's the first step people can take to getting involved in this election?
I think you have to make a plan for your involvement. What are the type of activities you're going to be involved with? If you live in a battleground state, are you willing to be a volunteer leader? Make sure everybody in your own network of friends and family is registered properly, but then encourage them to make a plan. And use social media as much as you can because that's the battlefield.
What's the biggest difference between running a campaign in 2008 and 2020?
Well, the big difference is just that: the power of social media platforms. You know, it has intensified every election cycle. So people need to be eager and willing to share content that they find persuasive, and even create content that they find persuasive. But you still need to also talk to people in person. There's no substitute for that. A text conversation or a cool Instagram video might be persuasive, but so is knocking on the door. A good campaign uses a lot of different touch points. But the big change is obviously just how much dominance social media has in our life and in our politics.

What lessons from your 2008 campaign to elect Obama still apply today?
Well, I'd say if you look at his elections, and if you look at 2018, where Democrats had a really strong election, it was fueled by people doing amazing activism. You're not going to win these days with a lifeless campaign. You know, Trump has a lot of passion on his side. Secondly, you need candidates who really believe in the grassroots, who think the most important people in the campaign are their volunteers because they're the most important customers in the campaign. You're not going to get voters unless you nourish and treasure those passionate volunteers. Obama instinctively got that because he was a former community organizer. He really did believe the most important people in his campaign weren't people like me. It was the volunteers on the ground in places like Cuyahoga County.
What message exists in this book for someone who might not consider themselves a Liberal or Democrat?
Well, if they're not firmly committed to beating Donald Trump, there's not going to be much. But there are lots of Republicans and Independents who are going to be active in this campaign. Those voices, who maybe even voted for Trump in 2016 and are now saying, "I'm going to vote against him this time," are going to be super powerful. Those voices and the voices of those who are not political are going to be some of the most important in this entire election.

Is Ohio still considered a swing state?
Well, it makes me sad because we fought hard for it twice in the Obama campaign. But I don't think it's gonna be at the top of the list. If Joe Biden's the nominee, who I think has got some appeal in the state, I'd imagine his campaign will take a hard look at Ohio. But it's probably not going to be the tipping point state, meaning the state that gets somebody over 270 electoral votes. It was not too long ago. You know, our nominee should do really well in the suburban areas outside Cleveland and Columbus and Cincinnati, but the question is do we have an opportunity to cut those margins in Stark County and those suburban and rural communities where Trump did really well. You know, can you get to 50% of the vote.
What states will be at the top of the list as battleground states, and what can Ohioans do to move the needle in those states?
Well, Michigan, for sure. Wisconsin, Pennsylvania, Arizona, North Carolina, maybe Florida, maybe Georgia. And then you start looking at states like Ohio and Iowa after that. Choosing your battleground states is one of the most important decisions a presidential campaign makes. If they decide Ohio is not a core one, my message would be, one, you've got a lot of important local and down-ballot races here. Secondly, if you really want to get engaged in the presidential election, you can do social media and you can make phone calls from Ohio. Also, you live within a drive of Michigan and Pennsylvania. My guess is there'll be buses that go up there. So there will be plenty of ways to help our candidate.