In August of 1909, the news of the day concerned a pair of insurgencies.
Joe Cannon, even today considered one of the most powerful men to serve as Speaker of the House, fended off a challenge from Victor Murdock. Mexican President Porfirio Diaz, planning for a summit that fall with William Howard Taft, was trying to keep a lid on a potential revolution — unsuccessfully, as it would turn out.
But news in Cleveland focused on another head of state: The King of Siam, who had just ordered a new electric vehicle from a Cleveland company, the Baker Motor Vehicle Co.
"Unquestionably, this is the most elegantly appointed automobile ever built in America," the company boasted in an ad, saying that the vehicle would be on display in Cleveland for a week before being sent to Bangkok. The car would have a top, dashboard and fenders finished in leather, and the body and running boards would be finished with ivory.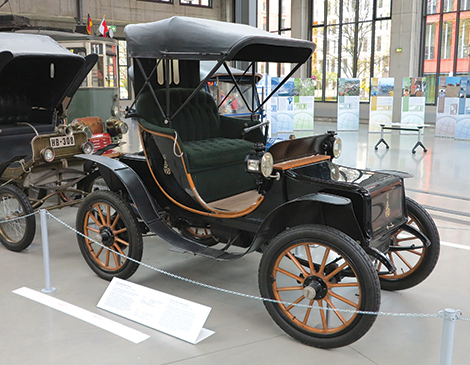 It was the latest feather in the cap for an automaker that had distinguished itself in its decade of existence. Bakers were celebrated for their luxury, and founder Walter Baker pursued — and broke — land speed records. There was a Baker Electric in the White House garage. Diamond Jim Brady owned one. And the first car purchased by Thomas Edison was a Baker Electric. He thought they would soon dominate the market. "If you continue to make your present caliber of automobile and I my present quality of battery," Edison told Baker, "the gasoline buggies will be out of existence in no time."
But before too long, Baker disappeared into a morass of mergers, continuing to make vehicles of various types, but never selling passenger cars again. The early 20th century was dotted with electric manufacturers like Baker all ending up in the automotive graveyard — undone in no small part by one of the same issues that plague electric cars today.
Walter Baker came from an innovative family. His father, George Baker, helped Thomas White found the Cleveland Sewing Machine Co. Though Walter Baker was born in New York — and his family could trace their roots back to Massachusetts and the days of the pilgrims — the family came to Cleveland so George Baker could help White start an eponymous sewing machine company. (A spinoff, White Motors Co., would also become a major player in the auto and truck manufacturing industry.)
Walter Baker formed the American Ball Bearing Co., which revolutionized wheeled vehicles. He would take a sulky with his new technology to horse tracks and set speed records in harness racing.
"Walter Baker was very, very smart," says Bradley Brownell, the director of the Crawford Auto-Aviation Museum, which has four Baker Electrics in its collection. "He did a lot of research and development with speed because he knew that speed got headlines."
In 1898, the Baker Motor Vehicle Co. was formed. The auto industry was far less developed at the time, with companies that manufactured bicycles, carriages or other products turning to auto manufacturing.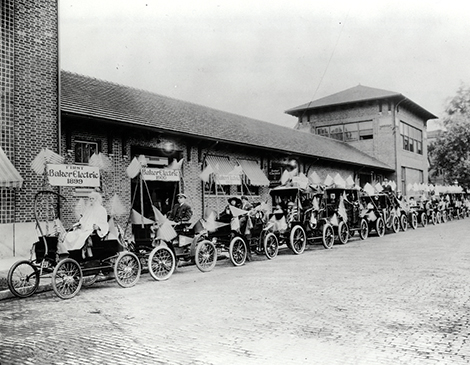 And there were several methods of propulsion at the time. There were steam-powered cars, relying on boilers that could take an hour to heat. There were gasoline-powered cars, finding a new use for a byproduct of oil refining, which, at that point, was mostly done for kerosene or paraffin for home heating and lighting. Those were nasty and smelly, and needed to be cranked to start. Occasionally, the car would backfire while starting, sending the crank into the wrist of the person starting it and usually breaking it. It happened so often that doctors started calling it a chauffeur's fracture.
Electric cars, on the other hand, were quiet and easy to start with just the push of a button. "Electric cars were primarily marketed to people who didn't want to deal with the nastiness of driving," Brownell says. "They were get-in-and-go. And they were easier to drive, too."
By 1900, thanks in part to a fleet of electrified cabs in New York City, electric cars accounted for a third of the motorized vehicles on the road. But eventually, the internal combustion engine came to rule.
In 1908, Henry Ford started making the Model T. Prior to then, cars had been vehicles for the wealthy. Ford wanted to make it possible for everyone to own a car. The Model T cost $850 when introduced, but economies of scale brought it down to about $260 by the 1920s. Even at $850, the car was still significantly cheaper than a Baker Electric, which started around $2,000.
Although Walter Baker envisioned an infrastructure of charging stations around Cleveland and ultimately the United States, it never came to pass. But soon gasoline, which had previously only been available in jugs at blacksmith shops or apothecaries, could now be purchased at garages, many of which offered repair services for cars.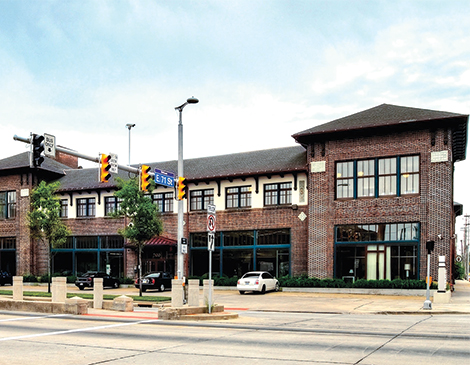 But the real death knell for electric cars, Brownell says, came in 1912. That year, Cadillac became the first car to offer an automatic starter. (Charles Kettering, also an Ohio native, received a patent for it three years later.) The combination of convenience of plentiful gas and a car that no longer needed to be cranked to start then stunted and ultimately killed the electric auto industry.
"Walter Baker was beat out by a more prolific technology," Brownell says.
In 1915, Baker merged with Rauch & Lang, a carriage company that had started building gas-powered cars a decade earlier. After a brief attempt at making a gas-
powered car with a forerunner to an automatic transmission — the Owen Magnetic — Baker R & L got out of the passenger car business entirely, focusing instead on professional vehicles like trucks, forklifts and taxis, and building auto bodies for other car companies.
Walter Baker died at his home in 1955 — a year after Baker R & L had become a subsidiary of the Otis Elevator Co. That year, American automakers manufactured a record 9.2 million vehicles. They were exclusively gas-powered.
Interest in electric cars recharged in the 1970s when Congress, seeing the effects of a gas shortage, passed a law supporting more research and development into electric vehicles. Toyota started selling the Prius, a hybrid, in Japan in 1997, and Honda introduced an electric car in 1998. But it's only been in the last decade that electric car sales have really increased.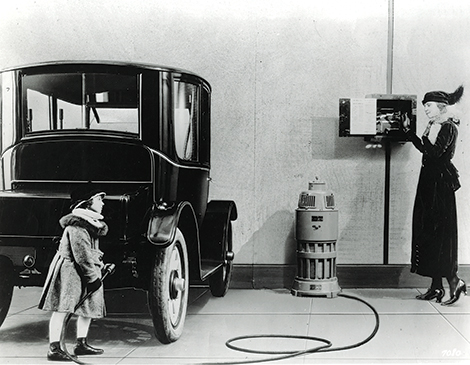 The benefits of driving an electric car are the same benefits in place when Nellie Taft drove one. They're easy to drive, quiet and afford a calming, luxurious ride.
But the same question remains from the early 1900s. Where do you recharge?
"The big thing holding us back now is infrastructure," Brownell says. "It's still a problem, but it's less of a problem. It's still an inconvenience compared to gasoline, but it's becoming less so every day."
Get ahead of the weekend by signing up for our free weekly "In the CLE" newsletter — your guide to fun throughout The Land. Arriving in your inbox every Wednesday, this weekend to-do list fills you in on everything from concerts to museum exhibits — and more. Click here to subscribe.