We live across the street from Ground Zero. Three years ago, my husband, Steve, and I moved from Cleveland Heights to Battery Park City, a quiet, park-filled patch of land on the southwestern tip of Manhattan. We were a four-minute walk across the street from the World Trade Center, inside of which we caught our respective subways — Steve going to his photography studio in the West Village, me to Fitness magazine in Midtown.
Our apartment, which looks south to the Statue of Liberty and Ellis Island, is on the 15th floor of the westernmost building of Gateway Plaza. If you stuck your head out our living-room window, looked left and up, you could have seen Tower Two of the World Trade Center. You can literally toss a ball into the Hudson River from that window. And you can look down on the Esplanade, a wide, tree-lined bike path and walkway that runs parallel to the Hudson River from 59th Street to the southern tip of the island. It was on the Esplanade that I ran for my life the morning of Sept. 11.
Like so many other people, I feel paralyzed by the inadequacy of words when faced with the greatest need for them. All I can do is recount our experience on that Tuesday and the days that followed. For a week, Steve and I took what little comfort we could in the fact that we didn't know anyone who died in the terrorist attacks. Then I learned that I did.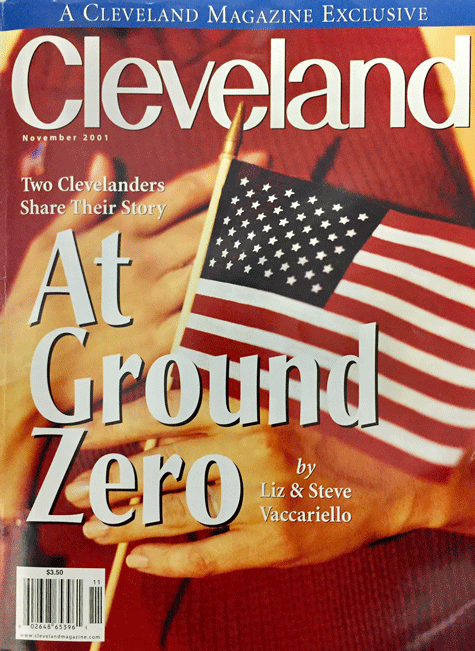 TUESDAY September 11
8:25 a.m.
We usually run together. Today, Steve needs to get to work early. He hops on the 1/9 train under the World Trade Center as I'm finishing my three miles.
8:48 a.m.
I've showered and am putting on my makeup in the bathroom. Katie Couric is talking on the television in the living room when the local news breaks in for a special report. Mayor Giuliani has been shot, I think. Why else would they interrupt "The Today Show"? Holding my mascara, I stare at the screen. A plane has hit the World Trade Center. I call Steve, who has arrived safely at his studio. He turns on his TV. I call my mom and dad in Lyndhurst.
9:03 a.m.
Ten minutes of frantic phone calls go back and forth. I reassure Steve that I'm fine. Suddenly, I hear the engine of a second airplane outside my window. The building shakes and I watch the Boeing jet disappear into the second tower. "Oh my God, it's a terrorist attack!" I scream at my father-in-law, Don Vaccariello, who's called from Wickliffe. "What the hell should I do? Should I leave my building? What about germ warfare? Should I go down to the lobby? Sit in my doorway? Is all of downtown going to be blown up? Is my building next?!"
Inconsolable and shaking, I call Steve. He's taking pictures on his roof and tells me, "Stay in the apartment. You are safest in the building."
9:30 a.m.
Calmer now, I change into shorts and put water on for tea — thinking I'm settling in for a horrible day of watching the news. ABC is showing the blazing towers and airing a live phone call with a man named Jim Gartenberg, who is trapped on the 86th floor of Tower One. He wants to reassure viewers who have loved ones in the Trade Center that he thinks everything will be under control soon and they should remain calm.
9:57 a.m.
Now I'm on the phone with my mother. Midsentence, the phone goes dead, the TV fizzles out and my building rumbles and shakes. I open my window, look left and see the southern tower gone, disintegrated in a cloud of white dust and debris that's rolling toward our apartment. The sky has darkened. I grab my bag, race out the door and fly down 15 flights of stairs.
The lobby is chaos. People who were outside watching have run inside, bloody from falling debris, covered in white dust and coughing. We're told to wait inside because it's impossible to breathe out in the dusty darkness. Our courtyard looks surreal. Hunks of gray cardboard hang from the trees. The driveway is blanketed in white soot. I pace the cold lobby floors. I'm alone and terrified and worried that I've made a lethal mistake: I'm not wearing shoes.
A firefighter tells me to go back to my apartment and get them. "We don't know when, but you'll have to go out in that," he says, looking outside. Terrified, I run up the 15 flights of stairs. This is how I'm going to die, I think. Getting a pair of goddamn shoes. I let myself into the apartment, close the open window, slide on my shoes and engagement ring, and turn off the tea. The living room is covered in a layer of dust, but everything is intact. I grab Fig Newtons and leave.
10:15 a.m.
I'm back in the lobby, which is swarming with people. Many residents hold their cats in pet carriers, have dogs on leashes. I see nannies carrying babies and think about their panic-stricken parents in offices around the city. Firefighters evacuate the lobby. We exit through the back of the building and spill onto the Esplanade. Rescue workers instruct us to head south. I want to go north — to get to Steve — but when I look up I see that the first fallen tower has become a rolling cloud of gray that the wind is carrying south, toward us. I put a sock over my mouth and run.
The crowd — eerily quiet and calm — arrives at the Museum of Jewish Heritage in Robert F. Wagner Jr. Park, where volunteers are distributing dustmasks and tell us to keep moving. The smoke finally reaches us, and firefighters instruct everybody to crouch down and cover their heads. The white dust rains down. It feels like feathers.
10:30 a.m.
Steve is standing on the roof of his building, watching the towers burn. When Tower One crumbles and he can't get through to our apartment on his cell phone, he becomes frantic. Strapping his cameras to his back, he sprints south down the Esplanade the mile and a half toward home, running against the thousands of terrified people heading north, away from the catastrophe. Several policemen urge him to turn around, but he continues, trying not to see the shock and terror on the faces he's passing, the men and women trying to get through to loved ones on cell phones. He arrives at Chambers Street, a few blocks north of Ground Zero, dust and dirt heavy in the air, and looks up at the smoldering rubble. Police stop him there for a moment — seconds later, the police themselves start running north to shouts of "Gas leak! Everybody run!" — and so he does, as fast as he can, thinking if the gas line explodes he will certainly die.
Rollerbladers trip over the debris cluttering the West Side Highway. Parents grab their kids and drag them along. There is no gas leak, but then Steve hears an awful roar.
10:30 a.m.
Back at Wagner Park, I unfold from my crouch, turn and watch the needle of the second tower falling to earth in what seems like slow motion. A murmur of anguish rises from the crowd. We are far enough away now to know that we are safe from the implosion. I feel a sense of finality, watching it, and have a moment of clarity that this is the last explosive event of the day. Still, I realize it will be followed by thousands of tiny, anguished moments in the weeks, months and years to come. I feel the sun beating down on me, and note its sameness, no different from any other sunny day. The world has changed forever.
10:40 a.m.
New York Waterway ferries and Coast Guard boats arrive at the park. Men help women and children over the iron railings. "Can I sit with you?" asks James, a Londoner in town on business. James was staying at the Marriott World Trade Center and was in an elevator when the first plane hit. "I need someone to sit with," he says.
We float across the Hudson River, staring at the skyline behind us. The ferry docks at Jersey City, so we find our way to the lobby of a DoubleTree hotel and watch CNN with dozens of other stunned, displaced New Yorkers.
1 p.m.
I reach my parents in Lyndhurst on a borrowed cell phone. My sister and niece are there. "Elizabeth!" my dad's voice breaks. "I can't tell you how happy we are that you're OK." I tell them my story, that I'm fine, but that I can't reach Steve. They can't get him either, but have heard from Steve's dad that Steve is at the studio waiting for word from me. A woman overhears me. She's on a cell phone with her sister in West Virginia and takes my husband's name and number.
1:30 p.m.
Steve receives a call from a stranger. "My sister is with your wife in Jersey City and they are fine."
2 p.m.
James and I discuss finding an emergency shelter for the night. We start walking north toward Hoboken.
6 p.m.
Miraculously, train service has just resumed from Hoboken back to Manhattan. James and I hop on, then walk 19 blocks from 33rd Street to the studio. I run into Steve's arms and cry uncontrollably for the first time today. After a bottle of wine shared with James — who has called his fiancee in London and arranged to stay with a friend on the Upper East Side — Steve and I call friends and family to tell them we are reunited. Kathy and Bob live on 42nd Street and ask where we will sleep. "Come over right now," they say. We stay for a week.
WEDNESDAY September 12
12 p.m.
Steve and I wander around the deserted streets of Times Square. We share a tuna sandwich and see the movie "Rock Star."
6:30 p.m.
Steve, Kathy, Bob and I walk the Esplanade from 42nd Street to Christopher Street, where a crowd has gathered. They're clapping and cheering the rescue workers who are entering and leaving the restricted area. We are all four moved to tears. These are the first Steve sheds.
THURSDAY September 13
10:20 a.m.
The phones don't work at the magazine because somewhere downtown the line has melted. I'm trying to get my life back to normal, yet nothing's normal. We have no home, we need to buy underwear. And when we try to, the employees at The Gap evacuate because of a bomb scare.
11 a.m.
Dan Brewster, the CEO of Gruner+Jahr USA Publishing, visits me. He's going office to office, talking to his 500 employees. When he learns I am displaced, he says — seeming to make the decision on the spot — that G+J will reimburse me for my expenses. I'm so grateful: We've just dropped $200 on socks and T-shirts.
FRIDAY September 14
7 p.m.
I've felt emotionally numb all day, unable to focus on the manuscripts I have to edit. I feel some survivor guilt, but also guilt for imposing on Kathy and Bob. Even though G+J is arranging temporary housing for us in Midtown, I'm annoyed I can't go home and feel ashamed to be annoyed when I know I should feel lucky to be alive. Now, we're standing on Kathy and Bob's terrace with candles for the citywide two-minute moment of silence. I think of the thousands who've died, and I cry.
7:15 p.m.
Tony and Vicki call with an invitation to spend the weekend at Tony's parents' house in the Poconos.
11 p.m.
I love Lake Wallenpaupack, Pa., and its sky full of stars. Tony and Vicki hand us a bag of clothes, toothbrushes, razors and shampoo. I fall into bed completely spent.
SATURDAY September 15
The day is filled by long walks in the woods with the dogs. I actually feel my numbness lifting thanks to the quiet, the exercise and the fresh air. We play cards and watch the hawks circle overhead. We talk about what we do with our lives, the meaning we find in our jobs, how our lives may change with these events — and how we want them to. We make pasta and salad and drink wine. None of us is religious, but we have a moment of silence before eating. I feel I am slowly healing.
MONDAY September 17
3:30 p.m.
The authorities are allowing Battery Park City residents to return to their apartments to get belongings, so Steve and I meet at the designated area: Pier 40 on the west side of Manhattan. Volunteers hold golf umbrellas to shelter us from the sun while we wait for our building to be called. Ten residents at a time are allowed to pass through the checkpoints. We are IDed and handed dustmasks. Steve holds my hand as, standing on the back of a flatbed truck, we lumber down the Esplanade toward Ground Zero.
I think about the last time I was on this path — my morning run on Tuesday. I trained for my marathon along this road and always drew strength from the twin towers during the long training runs. I found their steel beauty inspiring and liked to notice how on foggy days they seemed to disappear into the heavens, how on rainy mornings they towered majestic and invincible against the gray sky, and on bright afternoons they sparkled in the sun. I remember the structures themselves, and I cry.
The truck turns into Battery Park City and passes my favorite park: a fantasy playground called "The Real World," filled with metal feline sculptures. Someone has put a white gasmask over a sculpted cat's mouth.
We stop in front of the Winter Garden — the glass dome whose back end has been blown out. A park ranger escorts us around the harbor toward our building. A Con Ed worker tells me our building is structurally sound and they will restore electricity in a few days — but the FBI will determine when we can move back home. The entire area remains a crime scene since they found one of the hijacker's passports in Battery Park and parts of a plane in one of Gateway's buildings.
Dusty rescue workers slump on the park benches. A firefighter pets his German shepherd; 30 bags of donated dog food sit nearby. There are five temporary shower stalls set up near the river; their plastic curtains flap in the breeze. We enter through the rear courtyard, the very door from which I evacuated. Debris litters the lawn — thousands of scraps of singed papers from the towers, perfectly preserved Rolodex cards, a plastic razor, a bottle of travel-sized hand lotion.
We sign in at the main desk, turn on our flashlights and climb the 15 flights. I'm gasping. Did I really run up here to get my shoes? It's hot in the hall, which smells dusty and dank at the same time. Food is rotting in refrigerators. I open my apartment door and instinctively walk to the window I'd shut Tuesday morning. My bare footprint is preserved in the dust. Steve takes a picture of it.
We have been told we have 15 minutes before the ranger comes looking for us. I throw clothes into a suitcase. Steve throws away food. We pack socks, underwear, one jacket each, some pants and tops for the office. I fill a makeup bag and find my tweezers. This has been my fixation all week. Eyebrow tweezers. It's interesting what you learn to live with — and without.
We haul the suitcase down the stairwell and walk back to the truck. As we drive away, I watch a NYC police helicopter land on a white X spraypainted on the grass of Roosevelt Park. Our neighborhood is a war zone.
SUNDAY September 23
11 a.m.
I attend the memorial service for Jim Gartenberg at Temple Shaaray Tefila, on East 79th Street in Manhattan. Jim was one of 12 employees in the downtown office of Studley, a commercial real estate firm with offices on the 86th floor of Tower One. He was the president of the New York chapter of the University of Michigan alumni club, of which I am a member. I didn't know Jim. But last week I learned that I did know his wife of almost seven years, Jill Freeburg Gartenberg. Jill was in my Sigma Kappa pledge class at the U of M.
Today, I learn that Jim was the father of a 2-year-old daughter, Nicole, and that Jill is three months pregnant. And halfway through this morning's memorial service I learn who else Jim Gartenberg is. Was. He was the man I listened to live on the phone to ABC at 9:30 that Tuesday morning — before the first tower fell and as I was boiling my water for tea. He was the man who'd had the courage and composure in the midst of all that horror and chaos to call the television station and offer a few moments of comfort to viewers who might have loved ones in his building.
Amazingly, his wife speaks before those gathered for the service. She remembers her last morning with Jim, describing how he rose early to get to work, and that he requested an extra-big hug from her — almost as if he needed an embrace to get him through what he couldn't have known would be his last day. She speaks of how their daughter Nicole was their human alarm clock and that she used to get "dressed for work" with her father, wrapping his belt around her, draping his ties around her neck and even clomping around in his shoes. Then, when he'd go to the elevator to leave for work and kiss Jill goodbye, little Nicole would say, "I have to leave for work now, too," and walk to the elevator with her daddy. Only at the last minute would she run back to her mom.
Jill says that on Sept. 11, inexplicably, Nicole didn't pretend to go to work with her daddy.
Jim called Jill at her office when the first plane hit his tower. The fire had started and he knew he was trapped with one of the other employees, Patricia Puma. As he comforted Patricia, he assured Jill that he would be rescued. But Jill says she knew he would die by the way he told her again and again how much he loved her and Nicole. During his last call, he said his floor was "getting smokier and it's getting harder to breathe." And as Jill watched the first tower collapse on television, she says she "watched my life change forever."
At the end of the service, the rabbi offers these words to the people who've come to mourn. He nods to Jill and Nicole in the front row of the temple and says, "These people will need you in ways they can't even imagine right now. You must take care of them."
I think of the thousands of others like them. And I cry.

Editor's Note: This story originally reran as part of Cleveland Magazine's 30th anniversary celebration, where the editors chose 52 of their favorite stories from the magazine's archives.