If you were to picture the person leading the charge to make recreational bong hits legal in the state of Ohio, Tom Haren is probably not the man who would come to mind.
The 35-year-old corporate lawyer ran as the Republican candidate for the Ohio Senate seat in Cleveland's very Democratic-leaning District 23 in 2014 (though lost by a landslide). He loves singing choir music and says he was as "straight-laced in high school as they come." He is an unabashed fan of President George W. Bush. ("I think it's pretty fair to say I was the only 14-year-old who bought A Charge to Keep, George Bush's autobiography," he says.)
"I joke that this industry is the way for me to hang out with all the cool kids whose parties I didn't get invited to in high school," Haren says from his law office at Frantz Ward, a sleek space in downtown's Public Square that serves Fortune 500 companies.
But the self-described libertarian-leaning Republican, who's wearing a button-down shirt and tie, is not fighting for the right to legalize marijuana because he believes all 16-year-olds have a God-given right to get high at a Phish concert.
In fact, after some squirming, some pausing and some looking up at the ceiling, he refuses to say whether or not he has ever smoked pot.
When pushed on this, Haren responds (eventually) that "there's long been a stigma against cannabis use by people. I think it's an unfair stigma, but it still exists in some circles. And I think people need to have the space to either answer or not answer that question. They shouldn't feel pressured to answer it one way or another."
Haren is serving as the spokesperson for the Ohio legalization push — called the Coalition to Legalize Marijuana Like Alcohol in Ohio — because he believes the way the federal government has dealt with the issue of marijuana historically (mainly, by simply prohibiting it) is one of the worst policy decisions ever. "I strongly suspect that 30 years from now, we're going to be looking back at marijuana prohibition the same way we look at alcohol prohibition and wonder what in God's name were we thinking?" he says.
Haren believes many of the problems of unregulated marijuana use — that users don't know if the drug they're buying on the black market is laced with anything, that marijuana's effects have not been studied extensively and that drug war enforcement has disproportionately affected low income and minority communities — can all be solved with legalization and allowing the markets to take hold.
"I believe things get better when you get the government out of the way, in most instances," he says.
Although Ohio is a conservative-leaning state, it has a somewhat progressive stance on marijuana. When Ohio decriminalized cannabis in 1975, it was only the sixth state to do so. In 2016, it became the 26th state to pass legislation allowing medical marijuana use. Combined, these two efforts show that Ohioans have a stomach for marijuana legalization — at least in some respects.
Additionally, the culture of acceptance for marijuana legalization in the United States has shifted in the past decade. Today, 18 other states have legalized recreational marijuana use. The coalition has learned from these efforts.
And so far, it appears they've garnered more respect than Ohio's last strong push to legalize marijuana in 2015, which happened via a statewide ballot initiative that was led — and bankrolled — predominantly by a hodgepodge of B-list celebrities, including Nick Lachey of the boy band 98 Degrees and NBA legend Oscar Robertson. If the initiative had passed, it would have created a sort of constitutionally mandated oligopoly, where only 10 facilities would have been allowed to grow marijuana. "We couldn't be more different from the 2015 effort," Haren says, adding, with a grin, "I've never been a fan of boy bands myself."
In January, the Coalition to Regulate Marijuana Like Alcohol submitted more than 200,000 signatures from Ohio residents to Secretary of State Frank LaRose on the proposed bill, which would allow adults 21 and older to buy and possess 2.5 ounces of marijuana and grow up to six plants per person. Legislators have until May 28 to adopt the measure. If they don't approve it — which appears likely as Republican Senate President Matt Huffman told reporters in February he wouldn't bring it to the floor — the group can collect another 132,887 signatures to bring the proposal directly to Ohio voters via a ballot measure in November.
Haren is entirely convinced that if it does go to the voters, it will pass.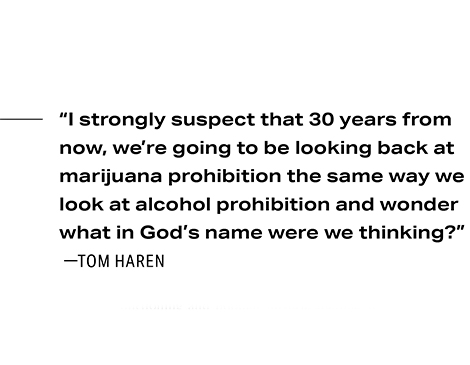 "We have a functioning and popular medical marijuana program," he says. "I expect that Ohioans are comfortable with the idea of legalizing marijuana for all adults." Haren, whose entire caseload at Frantz Ward is marijuana-related, believes leading this push for legalization is part of his life's work. If you think something's wrong, he adds, you can't just "sit back and shrug your shoulders at it."
As Haren has come to learn, the historical debate over the legalization of marijuana has never been just about the science. The reality boils down to power, control and money.
Whether or not marijuana should be legalized in Ohio is, thus, a highly loaded question.
To understand marijuana policy today, it helps to have an understanding of its beginning. The original push to criminalize marijuana in the United States was led by a former Prohibition agent named Harry Anslinger. In 1930, Anslinger was appointed commissioner of a newly formed agency, the Federal Bureau of Narcotics. With the failure of Prohibition in 1933, Anslinger felt "pressure to make his new organization relevant," says Scott Martin, professor of history and American culture studies at Bowling Green State University.
One of Anslinger's ways of doing that was to take aim at marijuana, a drug that wasn't widely used or super controversial. In the 1920s and '30s, the drug was mostly popular among musicians and entertainers and some doctors, who treated conditions such as labor pain and nausea with marijuana.
But Anslinger, Martin says, needed an enemy and set out to "demonize" marijuana, claiming it led to crime and violence among users. He maintained a gore file, a series of cases and newspaper clippings that he claimed proved that all marijuana users were dangerous. The clips he publicized — like the one that stated a young boy had consumed marijuana before proceeding to chop up his family with an ax — "were largely sensationalized," Martin says. "And there were some suggestions that he might have planted the stories himself."
It was that kind of extreme messaging that largely led to the passage of the Marijuana Tax Act of 1937, which essentially banned marijuana in the United States. Anslinger's rhetoric on the dangers of marijuana was never proved by any studies. And in fact, in 1944, the New York Academy of Medicine issued an extensively researched report declaring that the use of marijuana did not induce violence or insanity or lead to addiction.
Anslinger condemned the report as unscientific and warned the authors not to study marijuana again without his permission. Anslinger's propaganda push became public policy, and marijuana remained harshly penalized for decades, culminating when U.S. President Richard Nixon came into office and declared that drug abuse was the "No. 1 enemy in the country."
To combat the "enemy" in 1970, Nixon signed the Controlled Substances Act into law. For those who really wanted to understand and study marijuana's effect, this law was a death knell. The statute placed drugs into categories depending on their medical value and potential for abuse. Marijuana was classified as a Schedule I drug, along with heroin and LSD — meaning they were deemed to have "no medical value" and a "high potential for abuse."
It had long been suspected among historians that Nixon's real "enemy" was not the drugs themselves — but rather users of the drugs, who, at the time, were primarily Black Americans and anti-war hippies. In 1994, Nixon's former domestic policy chief, John Ehrlichman seemed to confirm this when he told Harper's Magazine journalist Dan Baum, "We knew we couldn't make it illegal to be either against the war or Blacks, but by getting the public to associate the hippies with marijuana and Blacks with heroin, and then criminalizing both heavily, we could disrupt those communities … Did we know we were lying about the drugs? Of course, we did."
Nonetheless, the effects of Nixon's policies were devastating and long-lasting. The drive to criminalize drug use led, in part, to a 500% increase in incarceration in the United States in the past 40 years, disproportionately affecting the poor and minorities, according to the Sentencing Project.
By classifying marijuana as a Schedule I drug, it has made it very hard to study it to determine either its effectiveness or risks. To get approval to research cannabis, researchers had to submit an application to the Food and Drug Administration. Even then, researchers had to source the pot from the only place in the U.S. that was allowed to grow marijuana under federal regulations — a University of Mississippi farm.
Despite these classifications and the dire warnings issued by the federal government, "youth subculture at the time didn't believe them," Martin says. As many people continued experimenting with marijuana, they found that "none of the dire predictions came true." As this generation grew up and continued using the drug, anecdotes started spouting that marijuana could be used to help everything from athlete's foot to cancer.
In 2007, when Haren was a student at John Carroll University, a family member was diagnosed with an autoimmune disease. He learned, through googling, that medical marijuana could be used to reduce symptoms and improve quality of life. He also discovered his family member couldn't access (or even talk to his doctor about) medical marijuana as a treatment because it was illegal in Ohio.
"That upset me," he explains.
This continued to prick at him. In 2011, as a law student at Cleveland State University, he organized a symposium on the legalization of medical cannabis. A doctor from the Cleveland Clinic spoke on the potential benefits of the drug, as did a constitutional law professor.
It all made Haren think that marijuana needed to be discussed and debated. "It's one thing to talk about marijuana in a meeting, but it's another to talk about it in law schools and Congress and the General Assembly," he says.
So, he decided after graduation that he was going to become a cannabis lawyer, representing those who had been charged with marijuana crimes, and spend as much time as he could normalizing conversations regarding the drug's legalization. When Haren announced his intentions to friends, some of them laughed. "I got voicemails from them pretending they were calling to buy drugs and that they were stoned," Haren recalls.
But to Haren — and soon to many others in the country — marijuana was, more and more, starting to be looked at as a legitimate and potentially lucrative industry. "A colleague of mine who represents some cannabis companies always jokes that when he first started going to these big marijuana conferences, it smelled like weed, and now it smells like money," Haren says.
When Ohio legalized medical marijuana in 2016, the floodgates for potential full legalization opened and a structure for dispensaries, licensing and cultivation was put into place. Haren found himself no longer just representing people caught with five ounces of weed in their car but yielding calls from large-scale, national cannabis companies. In 2017, he joined Frantz Ward, one of the first Ohio firms to have a dedicated marijuana law and policy group.
Today, he is the face of the charge to make Ohio the 19th state to legalize recreational marijuana.
But is that a good thing?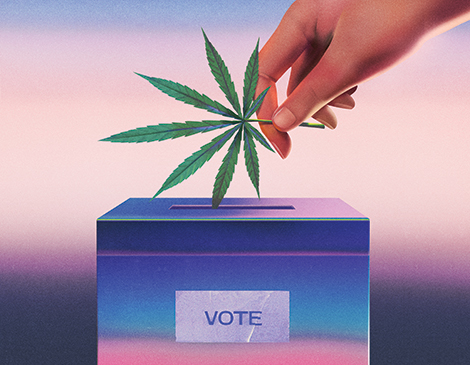 When asked what exactly legalization in Ohio would look like under his group's proposal if it went to the ballot and won, Haren sets a visual stage.
For starters, anyone who was 21 or older could visit one of Ohio's already functioning medical dispensaries, present their ID and walk out with 2.5 ounces of marijuana or cannabis-laced gummies. But unlike with alcohol, Ohioans shouldn't expect any marijuana lounges to pop up any time soon. "Smoke-free environment laws would still apply the same way they would for cigarettes," Haren says.
That doesn't mean, though, that people couldn't pop gummies. "The bar is not going to sell it to you," Haren says, "but there'd be no prohibition against it."
Some people might just prefer to stay home and smoke it, anyway. Under the coalition's proposal, adults could grow up to six plants at home — similar to how some people already home brew beer. At every residence, though, no more than 12 plants would be allowed to be grown at any one time. You wouldn't be able to sell the plants you grew, but the bill would allow for "transferring without remuneration," Haren says. So, if adult friends came to your house, they could enjoy smoking the homegrown plant with you as long as cash doesn't change hands.
Medical dispensaries, which are regulated by the Ohio Board of Pharmacy, would be allowed to sell marijuana to anyone 21 or older, giving them a head start in the market. But a new Division of Cannabis Control would be established that would have authority to "license, regulate, investigate and penalize adult-use cannabis operators." Under the proposed legislation, the division would be required to issue up to 50 adult-use retailer licenses "with a preference to applicants who are participants under the cannabis social equity and jobs program," Haren says, explaining that the category would include, in part, people who are members of a racial, ethnic or gender minority group, as well as spouses and children of people who have been arrested or convicted of a marijuana related offense. "We want to make sure that people who were harmed by the drug war in disproportionate numbers are able to participate in the growth of the industry," Haren explains.
What's really important to consider, Haren says, are the tax implications if the bill passes. The coalition's proposal includes a 10% tax at the point of sale, which the group estimates could generate $400 million annually in state revenue. Proceeds from the taxes would be divided between fighting substance abuse (25%), a social equity and jobs program (36%), a host fund for localities with dispensaries (36%) and administrative costs (3%).
"That would be the biggest annual investment in social equity in our state's history," Haren says.
And perhaps most importantly, Haren believes that legalization will not bring any large-scale societal changes. When other states made the move to legalize marijuana, he says, "the boogeyman didn't show up."
The boogeyman Haren is referring to are the issues, scary stats and hypotheticals opponents of marijuana legislation bring up when arguing against legalization. That includes people like Fran Gerbig, executive director of Columbus-based Prevention Action Alliance, a nonprofit that works to prevent substance abuse and is opposed to the legalization of recreational marijuana in Ohio.
Gerbig believes — and offers plenty of statistics to prove — that the increased availability of the drug would lead to more underage use, traffic fatalities and health issues. Studies, she says, have shown "strong correlation" between long-term heavy marijuana use and suicide risk.
"Schizophrenia, paranoia, breaks with reality. Those are all very well-documented," she adds. "Is this what we need right now for our state, especially since we're in the middle of an addiction crisis and we're in the middle of a pandemic?"
Unlike Haren, Gerbig does not see marijuana as being equal to alcohol in its effects. "We need to recognize that marijuana is a very different substance than alcohol. The body metabolizes it differently. It interacts with our body systems differently. It stays in our body longer. And the potential harm, in my opinion, is greater," she says.
But the science remains unclear, due in part to the fact that marijuana remains a Schedule I drug that's not easily studied. In 2017, the National Academies of Sciences, Engineering and Medicine produced a meta-analysis of more than 10,000 cannabis health studies, which Doug Berman, a professor of law at The Ohio State University, says is still recognized as the "gold standard" of marijuana reports.
The report found that — among other things — cannabis was effective in the treatment of chronic pain in adults. And while cannabis smoke didn't appear to be linked to strokes, cancer or heart attacks, it did appear to cause learning, memory and attention impairment immediately after use. Additionally, researchers cited that heavy cannabis use may increase the risk of developing psychological disorders, such as schizophrenia.
But even the lead scientists on the report acknowledged that it was difficult to make definitive conclusions with the restrictions surrounding marijuana research. What's needed is "far more information," Dr. Marie McCormick, then-chair of the National Academy of Sciences committee told NPR in 2017.
Gerbig points out that it's important to recognize the people who are financing this push are largely medical marijuana companies, who stand to profit if the drug is legalized. (According to the Ohio Secretary of State's office, the Coalition to Legalize Marijuana Like Alcohol is largely bankrolled by the Washington, D.C.-based Marijuana Policy Project, as well as six medical marijuana companies, including Cleveland-based Firelands Co. and Battle Green Holdings of Columbus.)
"Look back at how big tobacco happened, look at how alcohol became the billion-dollar industry that it is," Gerbig says. "It doesn't take a rocket scientist to recognize that marijuana is following suit. They are being very professional about it. I just don't think that marijuana is a casual substance.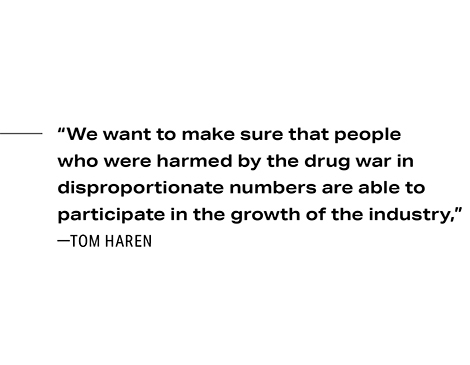 If the coalition collects enough signatures to become a ballot initiative, Ohioans can expect to see a barrage of advertisements around the issue.
Berman will be watching to see how politicians respond to the initiative. "It's kind of far down on the hot button political list for the average voter," he says. "My sense is most mainstream politicians are eager to avoid talking about it."
But if he had to guess, Berman predicts the effort will prevail. "At the end of the day, I think there's kind of a gut sentiment of, Yes, this is the future. Let's just do it. Now. This particular proposal is good enough. Let's vote for it."
Either way, we can expect to see a lot more of Haren on screens. Recently, his 8-year-old daughter asked, "Why are you around all of those flowers when you're on TV?"
Haren responded, "I work for companies that help provide medicine to people who need it."
He's just seen too many people who have benefitted from the drug in some way to allow the door to remain closed — without a full understanding of the issue.
And that is why, he says, he continues this push. "We need to learn a lot more about the ways that we can use this plant to help people. There's no question about it."
But the reality is there is no certainty when it comes to marijuana.
In April, the U.S. House of Representatives passed legislation that would decriminalize marijuana and remove it from the list of controlled substances, but it appears the Senate does not have the votes to pass it.
And in the meantime, we simply don't have the years of data we do on alcohol, for instance. So, the story of marijuana is being written and studied in real time.
And the conclusion of that story remains hazy.