#ALexcellence is a longstanding hashtag that sums up the district's commitment to delivering a well-rounded educational experience that exposes students to arts and culture, athletics and extracurriculars, and a robust menu of courses. "One of the reasons why an Avon Lake education is so excellent is because we look at all aspects of students' academic experience — not just the basic common core curriculum," says assistant superintendent Dr. Jack Dibee, noting that the high school offers 24 varsity sports, 24 Advanced Placement (AP) courses and alumni have an 85% college graduation rate within five years.
Indeed, academic excellence is a tradition in Avon Lake. "We are so appreciative of the fantastic community support we have — people who are invested in the schools and who are parents of second, third or fourth generation Avon Lake graduates," Dibee says.
One hundred years ago, the city's graduating class had five students. Today there are 320 seniors who will accept diplomas. "We have pictures of our graduating classes lining the high school's hallways, and it's interesting to see the growth," Dibee says, adding that the school has innovated with the times, adding Maker Spaces at elementary schools and creating a course called Innovation that gives younger students experience with advanced technology, problem solving and creative thinking.
The district also built a podcast studio at the high school. "We are looking at enhancing that and how we use it in the future," Dibee says, relating that the old days of a school TV studio are evolving with digital media.
He adds, "Because of the nature of this community, we have kids who are well-rounded with a good head on their shoulders. They are goal-driven, they want to succeed, they expect to succeed, they are compassionate, they are team players and they have a great future."
There's an attitude of service above self, and while the school requires students to participate in the community by volunteering, students go above and beyond. As part of the graduation requirements, students must earn two graduation seals. These include: Science, Citizenship, Military Enlistment, OhioMeansJobs Readiness, Industry-recognized Credential, Biliteracy, Technology, College-Readiness, Honors Diploma, Student Engagement, Fine and Performing Arts and Community Service.
Now celebrating 100 years, the district continues a tradition of excellence in academics, athletics and the arts. "We never rest on our laurels," Dibee says. "Every year, we look at all of our programs and our results to continually improve, and that goes from preschool all the way to 12th grade."
Here's a snapshot of the district's academic highlights:

Empowered Problem Solving

"My first job is to make kids think," says James Goodman, Avon Lake High School math teacher and math team coach. "So often in the educational system, we're checking the boxes, earning a grade and moving on. We want to get students out of that mindset and constantly give them challenges to work through so they are really problem-solving."
A collaborative approach among teachers at all grade levels — and with students, families and stakeholders — creates a supportive learning environment, Goodman says. "There is a high level of engagement where everyone is willing to get involved."
As a result, students learn math and other subjects at a deeper level. "We are not delivering content to just get through it, we're trying to involve them in the process as a class," Goodman says, relating that this can be uncomfortable for students at first. "It makes them be an active participant in the process and really make sense of math," he says. "Then, they embrace math and they appreciate it. It starts to click."
And the clicking happens in ways that unlock big-time results. Goodman shares that the Avon Lake High School Math Team won the Math Madness Division II National Championship in 2018 and consistently performs at a high level and students go above and beyond what they learn in math class.
"The way the kids get into it and get excited — it's a fun competition," he says, relating that Friday afternoons during the past few years, about 20 students gather in his classroom after school to do math. "They like the challenge of seeing problems that are unlike any others and working through them with each other."
The Pendulum Project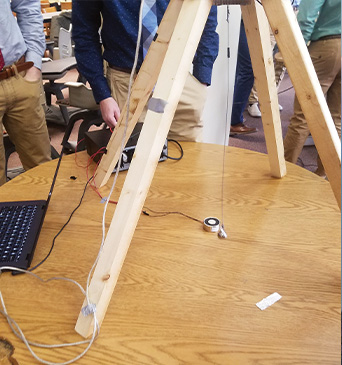 Several years ago, John Gill began digging into the reason why his Avon Lake High School top-performing physics students with perfect test scores, outstanding transcripts and all the extras one could imagine were not getting accepted to the Harvards and Yales of the college universe. "What does it take for a kid from the Midwest to get in?" he started asking admissions boards, having worked on that side of the educational spectrum.
Experiential learning was the answer. And so, he launched the Pendulum Project, and unlike typical labs, the effort involves designing and building a pendulum landmark for the City of Avon Lake.
Gill admits the project is a reach. Why? The University of Louisville in Kentucky did a similar project, and it took their engineering department 10 years to complete it. "We've been working on it since the 2019 graduating class," he says. The expectation is to finish it in a few years.
A project of this scope requires significant fundraising, which is giving students diverse experiences aside from practicing physics skills. The school acquired a pendulum from the Cleveland Museum of Natural History that had been on site since the late 1980s and was decommissioned. "They donated it to us, and we have those pieces," Gill relates. "The electronics are out of date, so we had to design new technology, and we'll use that as a testing piece for our final pendulum."
So far, students involved have raised more than $25,000 to fund the Pendulum Project. It's giving them real-world experiences they would never get from a classroom, lab or textbook. "We have electronics and mechanics that naturally come with this project, and there are topics not always in the wheelhouse of a physics class like the business aspect and marketing of the project," Gill says. "We're working with business leaders in the area including Parker Hannifin, which has served as an engineering advisor for the kids so they can reach out with questions."
Business collaboration and networking make the Pendulum Project a truly well-rounded endeavor. "The students are driving the train," Gill says. "I'm just giving them nudges here and there. They feel empowered."
For the Love of Language Arts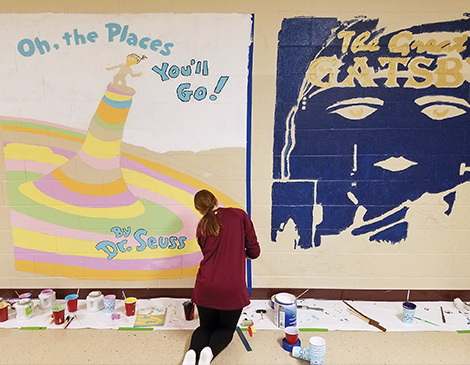 A focus on literacy and the love of reading is what drives student members of the Avon Lake chapter of the National English Honor Society. From sharing books with elementary school children, to tutoring students in a nearby district to prepare them for standardized testing, building an appreciation of the written word is the common thread.
The group was recognized with the Outstanding Chapter award from the society. Every year, up to 130 students at Avon Lake High School join the club, which is open to second-semester sophomores, and all juniors and seniors. "Now we've been doing this long enough that some students in the high school remember being read to when they were young," says Hilary Bickerton, co-advisor with Krystine Frisch. Both teach English.
One significant contribution the club is making to the Avon Lake High School building is painting favorite book covers on the walls. "It's outside of the realm of literature. For example, in the history hallway, students painted major court decisions and they painted The Jungle cover, which is a classic business book," Bickerton says.
Frisch adds, "During COVID when we weren't doing field trips to the schools, the students continued decorating the building."
Students in the National English Honor Society help organize author talks at the public library, along with sponsoring a writing contest for younger students. "We just try to make it as interactive as possible," Frisch says, adding that the students also write Christmas letters to elementary students and residents at local nursing homes. "Students drive the projects. They come to us and ask, 'Can we do this?'"
The club provides leadership opportunities, too. Bickerton says, "Anyone who wants to be a leader, we help find a role."