Arts are a way of life in Avon Lake, connecting students, families and residents from the community and beyond. "Our fine arts programs are the pride of our community," says choir director Emilio Jarufe, adding that more than 35% of the high school student body is involved in choir, and when you add band and orchestra, over half of the school is enrolled in some form of arts. Plus, there's tremendous crossover between athletics and arts.
"We value fine arts as an academic credit, and we are very, very proud of the fact that we offer music education that is just as academically rigorous and excellent as a math or science credit," Jarufe says. "And, all of the fine arts teach life skills: collaboration, problem solving, critical thinking, building relationships. It also teaches accountability. Kids learn about deadlines and if they don't put in the work now, then the result they want will not happen."
Not only does the arts staff collaborate across disciplines — drama and theater, choir, band, orchestra and visual arts — the teachers also work closely with athletics to assure students can participate in sports and arts without being tasked to choose. For example, in 2018 when the honors chorus made it to a state contest in the highest Class AA category (receiving a Superior rating), the choir worked with transportation and athletics to arrange a bus to take singers to lacrosse and tennis finals.
"Our athletic staff is one of our greatest supporters," Jarufe says.
Bill Zurkey, former choral director, retired in 2013 after 27 years and now teaches at Cleveland State University (CSU). He also coached Learwood Middle School football. "My philosophy was always to get as many students involved in music as possible, because I was a high school athlete and I was in music, so I knew that this was something that everyone should experience," he says.
Interestingly, Jarufe was one of Zurkey's students at CSU, and elementary music teacher Kathy Walker, along with choral directors at Bay High School and North Olmsted High School, are Avon Lake alumni. "So many teachers who are former students are sharing their love of music, and that's just great," Zurkey relates.
Avon Lake has a longtime arts and music legacy, and the tradition continues with the district being honored in April 2022 as one of the Best Communities for Music Education from the National Association of Music Merchants (NAMM) Foundation. This is the third consecutive year the district has received the honor, and in the last 20 years, Avon Lake City Schools has earned the distinction 17 times. Numerous artists have also taken home local and national scholastic awards.
Singing Success

Choir in Avon Lake is "a family unit — a special thing," Jarufe says, relating how music unites students from all different backgrounds with varying interests because they share something in common. And participation through the ages is especially strong, with 95% to 100% of students continuing choir from eighth grade to high school. "The real mystique and wow factor is that our freshmen chorus grows in size from 9th to 10th grade," he adds.
Avon Lake High School offers four academic choral programs during the school day: a freshmen men and women's chorus, Honors da Cantari for sophomores and the junior Chorale. All told, about 350 students are enrolled, representing 29% of the school. "For our size, that is pretty much unheard of," Jarufe says. "We have a trajectory that is academically rigorous and cultivates a positive culture."
The high school also has two contemporary acapella groups that sing jazz, Top 40 hits and musical theater using a wireless microphone system. The longstanding group is called the Avon Lake High School Merples, and the training group is called Immix.
"We took Merples from a classical ensemble into a new era that honors classical music and reinvigorates a younger and changing student base with contemporary acapella that is relevant to them," Jarufe explains.
Overall, the choral program grew during the pandemic as the school found creative ways to make music happen. "Sometimes we maintained up to 12 feet distance, masked, and we upgraded the HVAC system — all of our teachers and administrators fought through COVID and as a result, we exploded the next year, growing by 100 students," Jarufe says. "Fine arts were a unifying factor during a time when school was hard."
Notably, every Avon Lake High School choir qualified for state contest.
Music curriculum begins in the earliest years with children using their voices as instruments, says elementary music teacher Kathy Walker. "Music education is valued in the eyes of administration and that trickles down to the students," she says. "Our kids come to the classroom with the attitude that they are here to learn, and they look at this as an important part of their day."
All About Art

An Avon Lake High School graduate, art teacher Yvonne Saul-Craigo is continuing a family tradition. Her father, James Saul, taught the class before her. "It has always been my dream because of the rich arts program here in Avon Lake, and from the time I was in school in the 1980s, it made me fall in love with the arts and understand its importance," she says. "It means everything to me to share that with our students now, and I'm extremely passionate about that."
Students begin visual arts in kindergarten and have access to a range of experiences by the time they are in high school, from photography to digital art, ceramics, art therapy and an Advanced Placement art course.
"Our district supports us by allowing us to come up with innovative ways to introduce all students to the arts, not just our students who are naturally arts minded," Saul-Craigo says.
Creativity is an educational focus, she adds. "Ultimately, we want our kids to think outside of the box and make those connections. You don't need visual art to teach creativity, but that is one way that we can make that bridge and help students make that jump. My hope is that no matter what they do in their careers, their lives have a creative note. That is the most important thing."
Staging Excellence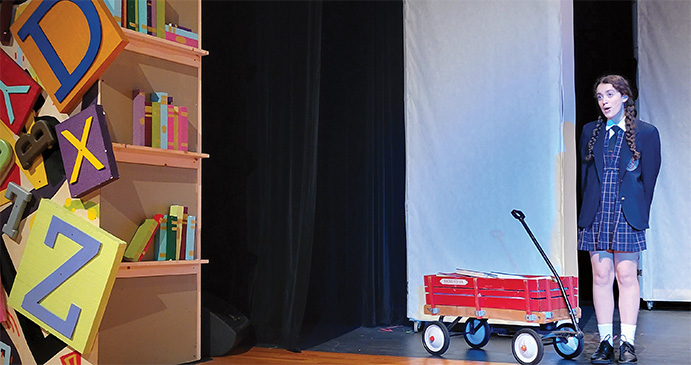 Avon Lake thespians stand out on stage — and this year, the school received six category nominations in the prestigious 2022 Playhouse Square Dazzle Awards program, which inspires and honors excellence in high school musical theater in Northeast Ohio.
The program includes arts education workshops led by Broadway actors, master classes and audition tutorials, along with a technical apprenticeship. "The Dazzle Awards program offers arts education opportunities throughout the schoolyear, and it has so much impact on the students," says drama instructor Patricia Frank.
This is the second year the school has been involved in the Dazzle Awards program, along with about 30 other area high schools, Frank says. Each year, a curated panel of independent adjudicators attends one production at each participating school and provides educational feedback and scores to determine nominees and awards in over 12 categories.
"We were fortunate to have two individuals named as best actor and best actress, and they have an opportunity to win scholarship money and move on to the Jimmy Awards presented by The Broadway League Foundation. Avon Lake High School won the category for Best Costume Design."
When the time comes to select a fall play and spring musical at Avon Lake High School, Frank seeks out shows that feature a large cast. "I want the ones that can involve a huge demographic of students, and we typically involve elementary-age students, as well," she says, noting that theater brings the community together.
The Avon Lake High School Drama Club participates in the International Thespian Society, which is part of the Ohio Educational Theatre Association. "So, our students are engaged actively as performers or part of a production team working on sets, costumes, makeup, props and everything behind the scenes to qualify to be part of the international organization," she explains.
Aside from the fall and spring productions, the high school drama club also puts on a dinner theater performance, working with the choir, band and orchestra. The music and theater departments collaborate often, Frank says. "We design sets for choir concerts and provide costume dresses and tuxes for their musical numbers, and we also build sets for the marching band and sometimes have actors that perform as part of halftime shows."
The choir director, who is a sound engineer, helps out with productions, and the band and orchestra conductor ensures that musicians are prepared to play scores. "And the way we work out our schedules, students can be involved in so many of the arts, along with athletics and extracurriculars," Frank relates.
Carrying on Tradition

Indeed, the arts are a focus for the district, and under former superintendent Daniel B. Ross's direction, the high school added a $50-million addition, including a fine arts wing to the building that houses performances of all kinds. Zurkey has watched the arts grow and thrive in Avon Lake. "I always said, we don't want to make music majors. We want to make people who will appreciate music as consumers or participants when they are older — for example, singing or playing an instrument in a community group. We want to create that desire to see great music and public performances."
Zurkey was inducted into the National High School Hall of Fame, an exclusive honor for individuals who have made outstanding contributions to high school sports or performing arts. As of 2019, just 482 individuals had been inducted since the organization's founding in 1982. "It's one of the biggest honors of my life," Zurkey says.
Zurkey joined Avon Lake schools in 1987, raised his children in the district and says of the district's arts, "When there is a great tradition, you just keep it going."
He's in his 46th year of teaching now, leading a musicianship series at CSU, along with choral methods, choral conducting and supervising student teachers. He also directs the Cleveland Pops Orchestra chorus. Zurkey considers himself fortunate to have had the opportunity to share his love of music with the district. He says, "We have an incredible group of teachers, kindergarten through 12th grade — and I had a great 'feeder' in Mike Lisi and with elementary teachers who were inspiring students so I could follow up on that."