Whoever says, "It's not personal, it's just business," never has met the passion-driven, inspired entrepreneurs ushering in Lakewood's new era of businesses. These entrepreneurs want storefronts to be places to build community and connection.
It's the purposeful thread that connects an unlikely collection, which includes a comic book and game store; a gourmet foods market; an eclectic gift shop; and a creative-content studio. These owners see something special in Lakewood and are hoping to find success in a city that is known for supporting small, independent businesses.
CouCou Sentiment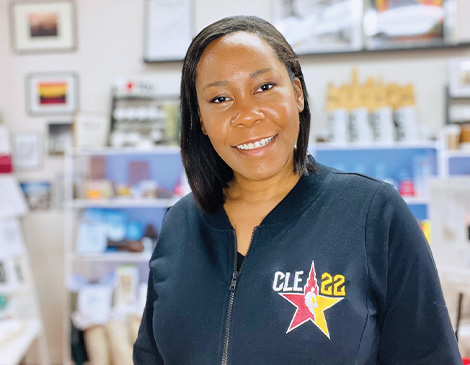 Danielle Zann's CouCou Sentiment on Detroit Avenue is the gift shop she always dreamed of having, and the one she always needed when she tried to manage work and social life.
"I've always been that person who has had some corporate job where I'm running around like crazy and always forgetting that I need to go to some party or somebody's birthday," Zann says. "I've never really found a place that had everything — cards, gifts and party supplies."
Zann, 40, whose background is in hospitality management, would regularly find herself doing last-minute, panicked shopping looking for something unique and different. She created CouCou Sentiment with that one-stop vision in mind, and gave it a fun French name. Coucou means hello or hey.
"In early 2021 I decided I was going to take the time to do things that I always wanted to do," says Zann, who lives in Lakewood with her husband, Adam. "It was now or never. I secured a lease on Detroit, and we opened in June 2021."
She knew Lakewood's eccentric vibe would be the perfect fit for her gift shop. While foot traffic and sales have been relatively steady, there have been peaks and valleys, as one would expect during the pandemic.
"The business community has been extremely supportive and the people who live in the neighborhood have been amazing," she says. "I haven't had a negative experience."
A great selection of greeting cards seems to be the "biggest standout" for the cozy storefront. "I do have some traditional items, but typically the cards are a little bit funny, a little sassy, and say some things that you wouldn't find at a drugstore," she says.
A collection of all kinds of themed coffee-and-tea mugs is popular, too; among the sayings: "I'm just here to establish my alibi." Zann also sells pillows, handmade jewelry from Cleveland makers and beyond, gifts for the mom-to-be, teachers, brides-to-be, stationery, games and puzzles, books for adults and kids, bath and body items, pet items and even some apparel. The store offers curated gift boxes online that range from $30-50 and are designed with themes such as "Better Things Are Coming" and "Wish You Were Here" that sport a Cleveland mug and tea towel.
"Everything that I get gift-wise or card-wise is inspired by someone I know," she says. "The goal is to have a meaningful interaction, and that's really what CouCou Sentiment is."
Gingham Market By Gatherings Kitchen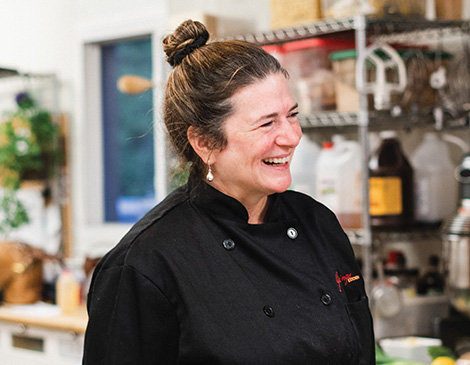 Gatherings Kitchen chef-owner Ruth Kostadinov, after more than a dozen years of offering cooking classes and a unique Supper Club experience in her inviting educational and dining space, has found a way to expand her passion for food and community.
Gingham Market by Gatherings Kitchen is a gourmet prepared-foods market that opened its doors next door in July. Gingham Market offers high-quality, chef-driven daily lunch specials, baked goods, cheese and charcuterie boards, artisan pantry goods, wine and beer, fresh produce, freezer-ready staples and Gingham to Go suppers.
In March 2020, the company was challenged to think creatively and to address swiftly the changing needs of customers in an uncertain time.
"Gatherings Kitchen was a very successful and busy catering company, pre-pandemic," says Katrina Homer, director of operations. "When the pandemic hit, we had to immediately pivot as events were canceled. We started doing Suppers for Two because many clients really wanted to feed their families in their homes and loved Ruth's food through the special events and the Supper Club cooking classes."
Kostadinov realized there was a high demand for her foods to go, and it inspired her to build the market in the space next door to her commercial kitchen.
"The response in the community has been overwhelming in the best way possible,'' Homer says. "We knew the community needed something like this. But we really did not know that the response was going to be so great."
All Gingham Grab and Go items — its lineup of daily offerings is posted on Instagram — are available for walk-in Tuesday through Saturday, but the Gingham To Go prepared meals need to be ordered in advance.
"On a daily basis, we're making somewhere between 75 to 100 sandwiches," says Lloyd Foust, head chef, adding that they rotate between varieties featuring turkey, ham, roast beef and grilled chicken.
Foust says he has been surprised by the robust lunch business, noting that a lot of the neighboring businesses come in for lunch on almost a daily basis.
"We have a lot of healthy options for people," he says. "We always have one vegetarian sandwich option."
Sides include cole slaw, fresh fruit, potato salad, macaroni salad and seasonal items.
"We also have a good selection of baked goods, freshly baked cookies every morning, freshly baked scones, quick breads, brownies," Foust says.
The market stocks more than 100 locally sourced products.
"We have an extensive pantry section featuring all kinds of local brands made right here in Northeast Ohio," Homer says. "We also have some other fun domestic and import products that we feel really complement our food and are the kind of chef quality that we are looking for with our food."
Superscript Comics And Games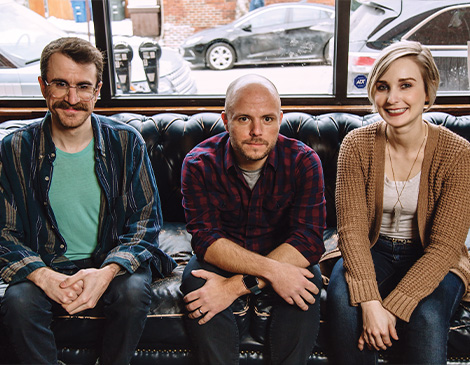 The trio of husband-and-wife Elliot and Christine Frank and close friend Nick Kratsas harnessed its superpowers and passions for gaming to open Superscript Comics and Games during the pandemic.
Perhaps it's a nod to well-honed skills of role playing that enabled the Superscript team to navigate the uncharted waters so calmly. The Franks and Kratsas had been planning to open the comic store since 2018. Throughout 2019, they met every week and made steps toward completing the business plan and projecting the financials. At the end of 2019, they found a location on Madison Avenue across from BottleHouse Brewery and planned to open in May 2020. That didn't happen.
"By the end of February 2020, we had completely renovated the space,'' Christine Frank says. "We had put in floors, painted the walls, then in March 2020 we realized May is not going to happen. But the train was moving so we ended up opening in July of 2020."
Having the business in Lakewood was a non-negotiable from inception. "One of our goals was to build a community and have it be a welcoming and inviting store,'' she says. "We felt that Lakewood was the best location for that because it's so walkable and it's already that kind of community. That decision really paid dividends in the pandemic. We had such a great turnout from the Lakewood community wanting to support us. We love where we are on Madison because we have a good relationship with our neighbors such as Cleveland Curiosities."
Superscript sells comics, graphic novels, miniatures games, board games and collectible card games. It has a robust group of different communities that participate in various events. Superscript hosts Magic The Gathering tournaments twice a week in the shop. Every Thursday, it hosts an open miniatures gaming night for people to play miniatures war games with its tables and terrain while staff helps moderate.
"We're always open to providing table space for people who want to play role-playing games in general," Christine Frank says, adding that they were part of a Dungeons & Dragons group that started playing in 2013. "Although starting a store meant now we sell the stuff — we don't have time to play it."
Superscript has a store discord, linked from the website, where people can sign up for available seats in games and connect with the community.
Plum Hill Creative Studio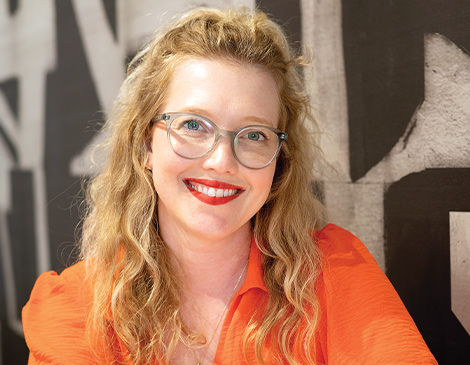 Serial entrepreneur Ashley Rector, owner of Laura Alexandria Marketing, is the creative force behind Plum Hill Creative Studio, one of the newest businesses to open on Madison Avenue.
Hanging her branded shingle in June next to Goodkind Coffee, Rector completely renovated the 1,200 square feet to carve out a workspace and creative studio where entrepreneurs, freelancers and agencies can shoot content for digital marketing campaigns, social media and more.
Rector's company specializes in social media marketing and works with businesses around the nation, especially startups. Rector realized there wasn't a dedicated spot to create content and foster a community of creatives.
"In New York and some of the other bigger metropolitan areas, content studios are really popular," she says.
Rector, 35, was an attorney for a publicly traded company in Columbus, Ohio, for several years. During that time, she launched a side hustle titled Harness Magazine, a digital and print magazine that shared stories from women around the world. She had 6,000 writers and 25,000 followers on social media before social media was a thing.
"The idea is that you go into these content studios and you can shoot social media content or have photographers come in,'' she says. "And that creative community connects and uplifts each other. I always loved Lakewood and I feel like the community there, especially the creative and entrepreneurial community, is so vibrant. It was the only city I wanted to be in."
She has designed the space to be beautiful and airy and to offer flexibility with two custom-built meeting offices, which can be divided with a curtain from one big meeting room for 12 to 15 or into groups of four to six on either side.
"This space was designed to be movable in a sense, so someone could come in and, depending on how they want to create, move a lot of the components," says Rector.
For now, she says, the focus is on building the community.
"It seems like people are gravitating toward using it for events and meetings," she says. Every single week it gets a little bit busier, and everyone has been really supportive in Lakewood."