Nick Barille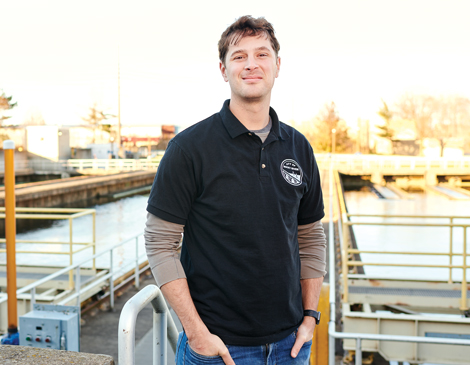 You probably don't think much about where your wastewater goes. But that's Nick Barille's job. The Rocky River Wastewater Treatment Plant superintendent spends his days managing wastewater flow and treatment for Rocky River, Bay Village, Fairview Park and Westlake. Barille came to Rocky River with two master's degrees and nine years of experience with the Northeast Ohio Regional Sewer District and recently acquired a Class IV Wastewater Treatment license. His passion for his work stems from his belief that we are a product of our environment, so it is important to continue to improve that environment.
Barille has always been fascinated by the ability of nature to purify and purge itself, if given the right support and time. "I have always believed in the power of preserving and admiring natural resources, as they build a sense of community by creating a common location for people to gather, interact and build relationships," he says.
Barille and his staff operate a plant built in 1962 and updated in 1982, so the 60-year-old infrastructure provides challenges, which they meet on a daily basis. Barille credits the partnership of the plant management committee — which includes the mayors of the four cities served — with keeping everything flowing smoothly. "They have been extremely supportive in the decisions I've recommended," he says. "They have trust in our staff and in the way we run the wastewater treatment plant."

As a way of managing the stresses of his job, Barille enjoys activities such as basketball, softball, bocce and golf. He also likes spending quality time with family and friends. "I still live in the town where I grew up, and so do many of my friends, so I still get to see them all as our generation begins to start families of our own," he says.

Barille often goes to the recreation center before work, after work or during lunch, so if you see him when you're there, please say hello.
Harlan Radford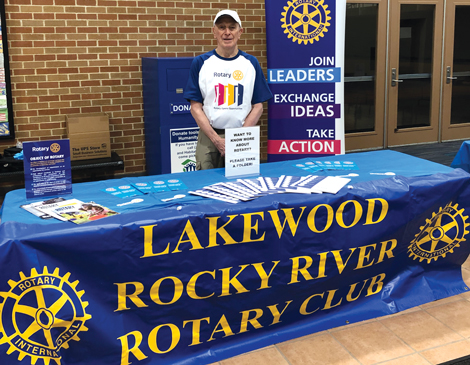 When it comes to giving back, Harlan Radford proves experience matters. The 79-year-old Rocky River resident raises money for community causes through an annual Swim-a-Thon. For 12 years, this event has collected contributions for organizations such as Girls with Sole, Cleveland Clinic Children's Center for Autism in Rocky River and local fire departments.

Radford taught at Rocky River schools for 34 years before retiring in 2000. He got the idea for the Swim-a-Thon as a way to help the high school swim team. It also helps that he has a competitive swimming background. "I continue to swim recreationally," says Radford. "And I do things like swim Alcatraz out in San Francisco."

On March 5, 2023, the 13th Annual Swim-a-Thon will raise funds to buy adaptive playground equipment for Elle's Enchanted Forest. This inclusive play space is located behind Rocky River City Hall and is designed to be accessible for all children, including those with special needs and physical disabilities. It's the only "playground for everyone" in the area.

To date, the Swim-a-Thon has raised more than $60,000 for Elle's Enchanted Forest. But the effort is not yet complete, and Radford is committed to helping see the project through. "Children with special needs are really important to support," he says. "I really believe that we're all called to serve."