Once neglected and in decline, today Gordon Square is home to some of Cleveland's best restaurants, shops and performing arts venues. The trendy neighborhood has emerged as a center for arts and culture anchored by its three major theaters: Cleveland Public Theatre, Near West Theatre and the Capitol Theatre. Residents appreciate the close-knit community and pedestrian-friendly streets. "New developments are going up all over the place," says Adam Stalder, executive director of the Detroit Shoreway Community Development Organization. "People want to live close to the lake. They want to live in a vibrant urban area like Gordon Square."
1. 78th Street Studios: Cleveland's largest arts complex is home to more than 60 creative businesses. During the popular Third Fridays, artists display their work as the public explores four levels of unique galleries, studios and performances. 1300 W. 78th St., 440-503-5506, 78thstreetstudios.com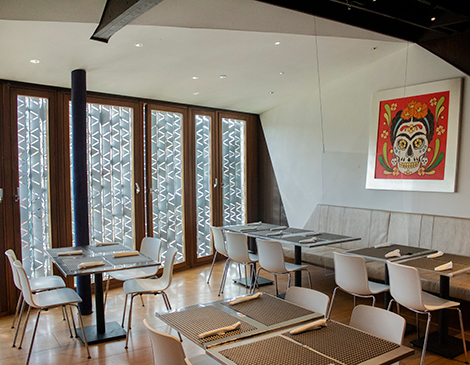 2. Blue Habanero: Known for its flavorful street tacos and fresh fruit margaritas, Blue Habanero is also a feast for the eyes with its colorful Dia de los Muertos-inspired dining room. 6416 Detroit Ave., 216-465-1818, bluehabanerocleveland.com
3. Cleveland Public Theatre: Home to innovative and experimental performances, CPT prides itself on supporting new work by local artists. Audiences can currently enjoy livestream staged readings and other virtual education programs. 6415 Detroit Ave., 216-631-2727, cptonline.org
4. Flight Cleveland: Sip and sample, then take home your favorite bottle of wine afterward. Flights with pun-perfect names like Sip Me Baby, One More Time and Let's Get Fizzical pair nicely with the We Like Cheese board. 5712 Detroit Ave., 216-400-6867, flightcleveland.com

5. Fount: Made of full-grain leather and solid brass hardware, Fount bags and accessories are designed to last a lifetime. Owners Jackie and Phillip Wachter opened their flagship Cleveland store to showcase their high-end leather goods in this dramatic and sophisticated space. 6706 Detroit Ave., 216-855-8751, fountleather.com

6. LGBT Community Center of Greater Cleveland: With a brick and glass exterior and vibrant, colorful pops of fuchsia and yellow-green inside, the welcoming, accessible facility brings together the community for resources, support, connections and programming year-round. 6705 Detroit Ave., 216-651-5428, lgbtcleveland.org

7. Luxe Kitchen & Lounge: Relax on this Mediterranean-Italian bistro's patio or enjoy the hip, bohemian ambiance inside. Stop by for brunch where you can't go wrong with eggs Benedict or brioche French toast with candied strawberries and a graham cracker crumble. 6605 Detroit Ave., 216-920-0600, luxecleveland.com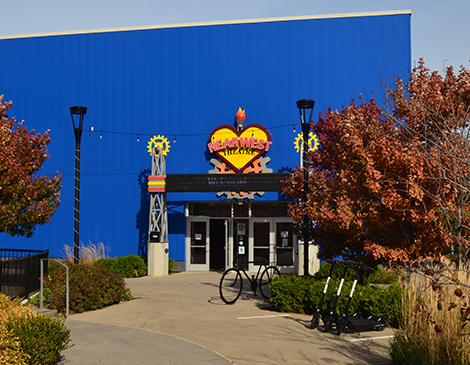 8. Near West Theatre: With a focus on youth productions and programming, Near West is one of Gordon Square Arts District's founding partners. In May, it will host a pay-what-you-can streaming benefit performance and host Rise, a free summer youth theater arts program. 6702 Detroit Ave., 216-961-9750, nearwesttheatre.org

9. Oceanne Studio and Boutique: The perfect canvas for owner and designer Anne Harrill's one-of-a-kind creations, this quaint modern boutique also plays host to workshops and private events. 6519 Detroit Ave., 216-862-7043, oceanne.net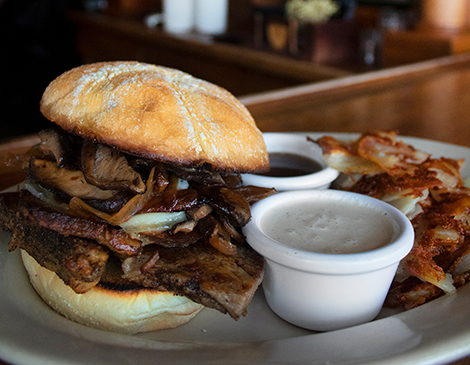 10. Stone Mad Pub: Dine in style at this restaurant's rustic outdoor patio with its eye-catching two-story fireplace to keep you warm on cool summer nights. The Irish-inspired pub menu features favorites like shepherd's pie and four-cheese mac 'n' cheese. 1306 W. 65th St., 216-281-6500, stonemadpub.com

11. Superelectric Pinball Parlor: The owners restore and sell pinball machines from the 1970s to today, so visitors to this retro-inspired parlor will find a never-ending selection of new games to play. 6500 Detroit Ave., 440-506-4661, superelectric.tv

12. Sweet Moses: At this neighborhood soda fountain, sample an old-fashioned pharmacy-era soda fountain drink like the Strawberry Paulette while sitting at the polished marble-topped counter. 6800 Detroit Ave., 216-651-2202, sweetmosestreats.com

Quick Picks
Them Red Blends Tho… ($12), Flight Cleveland: Wine down with a sampling of three luscious red blends from Italy, Portugal and Oregon.
"Cleveland Babe" Stamped Bar Necklace ($44), Oceanne Studio and Boutique: Call out your CLE bona fides with this handmade, gold-filled necklace hung from an 18-inch chain.
Beignets ($7), Luxe Kitchen & Lounge: A sweet dessert served with caramel, chocolate and blueberry coulis. It doesn't get more divine.