Fan Expo Cleveland returns on Friday, March 24, and runs through Sunday, March 26, with a stacked lineup at the Huntington Convention Center, including the likes of Christopher Lloyd, Carl Weathers and recent Shazam star Zachary Levi.

The nationally touring convention also boasts a bevy of guest panels, Q&As with photo ops, after-parties and competitions.

Fan Expo came to Cleveland in 2022 after taking over the event from the now-defunct Wizard World. The current iteration prides itself as the largest comic con producer in the world — gathering upward of one million fans between multiple cities in a year, including Portland, New Orleans, Toronto and, of course, Cleveland.
"It has a mix of everything," says Jerry Milani, PR manager for Fan Expo Cleveland. "It's movies, and television, and art and science fiction, and comics and cosplay. And everything there is in the world of pop culture — all in one building, all in one place."

While the festivities kick off at 1 p.m. on Friday, the actual opening celebration pops off at 2:30 p.m. at the Cosplay Corner (near the exhibit hall entrance).

Tickets are still on sale — $37 for a single day, $89-$119 for full passes.

With a tried-and-true method for fandom fun, here are a few of the things you might enjoy at this year's event: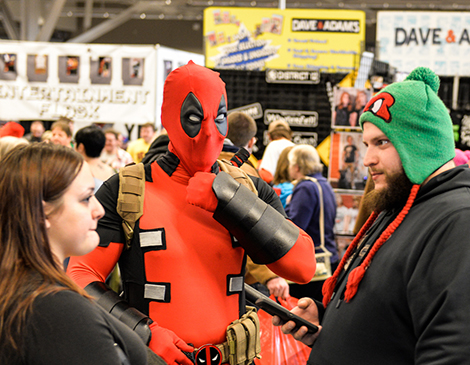 Panels and Q&As
Did you ever want to pick the brain of your favorite voice actor like Dante Basco or the hero you grew up cheering for on TV like Carl Weathers? You're in luck as several panels throughout the Expo delve into topics like "Breaking Into Comics," meeting at 4 p.m. on Friday, where real graphic novelists and comic creators offer their industry advice. Or, perhaps you'd enjoy the "Let's Talk Toga!" Q&A event with the character's voice actress Leah Clark there to answer your questions.

Cosplay, Cosplay, Cosplay
Whether you're a casual cosplayer looking for kindred spirits or an Instagram star out to strut your finest work, there's something for everyone at FAN EXPO. The cosplay hideaway caters to weary travelers looking for a checkpoint to save their progress and take a breath — the cooling refreshments help quite a bit. For fans of the creative art form, look out for meet-and-greets with guest cosplayers, including Swaggycosplayer, KandiKnives and Casey Nichol. And, for the more bloodthirsty and resourceful, don't miss the Cosplay Craftmanship Cup, a vicious competition to name the craftiest dresser at FAN EXPO. Grab that handmade dragonslayer sword and get ready for battle.

Artist Alley
We all know the danger a con presents to our wallets, but it's good to support small, local artists, right? Don't hesitate to take a jaunt down to Artist Alley — you're sure to find no shortage of fan art, trinkets and, if you're lucky, some of your favorite comic creators ready to chat and sign an issue for you.

That and so much more await fandom-loving Clevelanders at FAN EXPO — including extra events like the Drink & Draw, sketch duels and cosplay after parties.

Head to the event's website for the full schedule.
Get ahead of the weekend by signing up for our free weekly "In the CLE" newsletter — your guide to fun throughout The Land. Arriving in your inbox every Wednesday, this weekend to-do list fills you in on everything from concerts to museum exhibits — and more. Click here to subscribe.