There's no better time of year to shop local than the holiday season. That's why we compiled a collection of holiday markets, highlighting local makers, artists, artisans and more, popping up at events that will often include other festivities as well:
A Bavarian Christkindlmarkt
Enjoy the traditions of a Bavarian Christmas at Parma's Christkindlmarkt featuring bakers, jewelers, pottery, soaps, décor and so much more. When you are ready for a break, enjoy traditional pretzels and bratwurst or carriage rides and a visit with St. Nicholas. Dec. 3, 11 a.m.- 9 p.m., 7863 York Road, Parma, 440-843-8373, christkindlmarkt-cle.org
Beachland Holiday Flea
For the lover of all things retro and vintage on your list, stop into the Beachland Ballroom and Tavern on Dec. 17 to shop art, vinyl collections and handmade gifts. This is the place to find everything you never expected this Christmas. While you're there, stick around for a burger and a cocktail. Dec. 17, 10a.m.-3p.m., 15711 Waterloo Road, Cleveland, 216-383-1124, beachlandballroom.com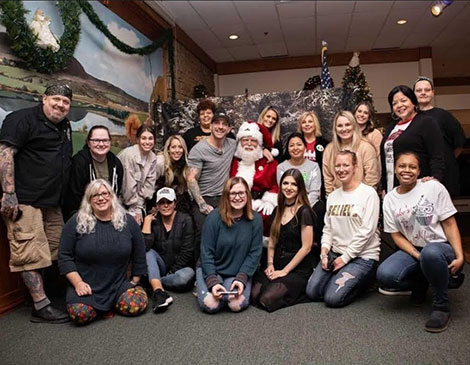 CLE Holiday Market
This annual event at Grace Church in Olmsted Falls is the perfect place to bring the family for a day of local holiday shopping. Browse creations from local makers to the tune of live music. For the kids, there are arts and crafts and visits with Santa. Though the event is free, a canned food donation is requested. Dec. 2, 11 a.m. - 7 p.m. and Dec. 3, 10 a.m.- 6 p.m., 6941 Columbia Road, Olmsted Falls, 216-250-2508, cle-market.com
Cleveland Bazaar Holiday!
For 18 years, this 78th Street Studios pop-up shop event has been drawing Clevelanders on the hunt for handmade gifts to share at the holidays. Browse three floors of creations and artworks from over 100 local artisans. Dec. 10-11, 10 a.m.-6 p.m., 1305 W. 80th St., Cleveland, clevelandbazaar.org
Cleveland Christmas Connection at I-X Center
Visit Cleveland's convention center for a sprawling offering of handmade Christmas gifts. Sign up for VIP mornings to get in the door before everyone else and get exclusive deals. Bring the kids for the day so they can visit Santaland or the Sugar Plum Shoppe, which offer discounted small gifts for children to purchase for loved ones. Nov. 18-19, 10 a.m.-8 p.m., Nov. 20 10 a.m.-5 p.m., 1 I-X Center Dr., Cleveland, 440-591-6985, clevelandchristmasconnection.com
Hale Farm + Village
This farm is Christmas with a historic spin. Browse handmade products and purchase tickets for the glassblowing workshop where you can make your own home décor, or take a holiday card making class. Dec. 2, 3:30.-7:30 p.m., 2686 Oak Hill Road, Bath, 330-666-3711, wrhs.org/signature-events
Holiday Market at Plum Hill Creative Studio
Scoot over to this free holiday market to browse vintage and local crafted goods from female creators. Shop the likes of Unibrow Society, Paula Jackson Art, Haziko Shop and more at Plum Hill Creative Studio. Dec. 3 10 a.m.-1 p.m., 15528 Madison Ave., Lakewood, eventbrite.com
Holiday Market at StoneWater
For the sixth year, this annual shop and sip event returns to StoneWater golf course in Highland Heights. Enjoy cheerful holiday drinks as well as products from 25 local vendors. To top off the day, stop by the on-site Rustic Grille for a bite to eat. Dec. 3, 10 a.m.-4 p.m., 1 Club Dr., Highland Heights, 440-461-4653, stonewatergolf.com
Holiday Marketplace
Willoughby's Fine Arts Association becomes a holiday wonderland during this daylong market featuring ceramics, jewelry, woodwork and home décor. This free event is the perfect place to take care of your Christmas shopping while keeping it local. Nov. 19, 10 a.m.-3 p.m., 38660 Mentor Ave., Willoughby, 440-951-7500, eventvesta.com
Hudson Christkindlmarkt
Christmas from the old-world comes to downtown Hudson at this free, German style market featuring local artisans and live entertainment. Enjoy food and drink while you browse, and make it a full evening experience. Dec. 9, 4-8 p.m., 139 N. Main St., Hudson, 330-650-1799, hudson.oh.us
Jingle Bell Holiday Shop
Pop over to one of Cleveland's favorite music venues for a "sip n' shop" day where you can browse more than 50 booths of local goods waiting to be wrapped up and put under the tree. Dec. 10, 11 a.m.-4 p.m., 2785 Euclid Heights Blvd., Cleveland Heights, 216-321-5588, grogshop.gs/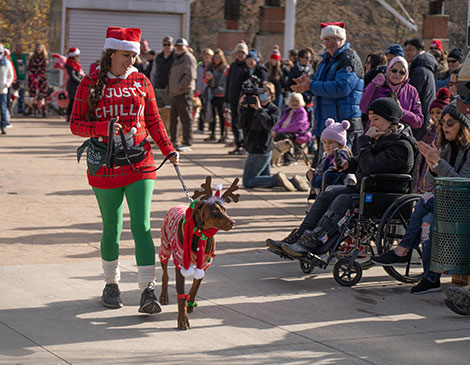 Jingle Dog Parade and Market
Fur babies deserve a chance to celebrate Christmas too, right? Take photos with Santa and your furry friend, enter the dog costume contest and parade your pup in its festive wear for all to see. After the parade, head over to the holiday market where your four-legged friend can accompany you for your shopping. Dec. 3, Noon.-3 p.m., 2085 Front St., Cuyahoga Falls, 330-267-9788, downtowncf.com
Music & Friends Garage Sale
Have a big music fan on your list? Look no further than this Saturday event at the Music Box Supper Club. Buy instruments, vintage concert gear, vinyl and so much more. Admission is just a dollar, so you have plenty left to spend on the vast selection of music memorabilia. Nov. 26, 11 a.m.-3 p.m., 1148 Main Ave., Cleveland, 216-242-1250, musicboxcle.com
Screw Factory Holiday Market
Shop favorites from Screw Factory artists as well as nearly 100 guest artisans who will be filling the space all weekend. From perfume and treats to leather goods and paintings, this Lakewood creative hotspot has gift options for everyone this holiday season. Dec. 16 6-10 p.m., Dec. 17, 10 a.m.-6 p.m. and Dec.18, 10 a.m.-3 p.m., 13000 Athens Ave., Lakewood, 216-521-0088, screwfactoryartists.org
Silver Bells Holiday Boutique
This one-day boutique set up at Kenston High School offers a variety of handmade gifts with all proceeds supporting Kenston's school district and students. Accessories, home décor and more fill the school as well as Kenston students who are there to lend a helping hand. Dec. 3, 9 a.m.-3 p.m., 9595 E. Washington St., Chagrin Falls, 440-708-2731, facebook.com
Solon Hometown Holiday Market
Head over to the Solon Community Center for local goods and original pieces. Admission is free for all and if you are a vendor yourself, applications are still open for those looking to sell their work this season. Dec. 10, 10 a.m.-4 p.m., 35000 Portz Pkwy., Solon, facebook.com
'Tis the Saison Winter Market at Bell Tower Brewing
Christmas-themed drinks, locally made goods and live music? What more could you ask for on a December Saturday? Bell Tower Brewing has all this and more at its holiday market with vendors such as Blooming Seeds Cards, Willow Campbell, Written in Flames and Wearing Paint. Dec. 3, Noon-3:30 p.m., 310 Park Ave., Kent, 330-663-2355, belltowerbrewing.com
Westside Flea Holiday Flight Market
Head over to the Aviator Event Center to browse 50 vendors and find plenty of other opportunities for fun. Kids will love the balloon artist, and live music and a charity raffle will add holiday cheer to this Cleveland Christmas experience. Dec. 4, 10 a.m.-4 p.m., 20920 Brookpark Road, Cleveland, westsideflea.com
Wildwood Holiday Boutique
Make a trip out to the east side for a market in Mentor. Nicole's Recycled Treasures as well as other vendors will be stationed at Wildwood Cultural Center for seasonal art and craft items. Dec. 4, 11 a.m.-5 p.m., 7645 Little Mountain Road, Mentor, 440-974-5735, allevents.in
Get ahead of the weekend by signing up for our free weekly "In the CLE" newsletter — your guide to fun throughout The Land. Arriving in your inbox every Wednesday, this weekend to-do list fills you in on everything from concerts to museum exhibits — and more. Click here to subscribe.