Ingenuity Cleveland is once again proving to Cleveland's artists, dreamers, wonderers and innovators that nothing can stop the creative spark.

In lieu of its annual Ingenuity Fest, the celebration of music and arts that has been held for the past 15 years, most recently at the Hamilton Collaborative on Cleveland's Hamilton Avenue, the arts organization has partnered with the monthly 48 Hour Virtual Music Fest to present Virtually Ingenious, a jam-packed digital weekend of music, art, activism and brainstorming.

"There is an access point that's being created here for people who wouldn't normally get to play or attend Ingenuity Fest," says Ingenuity Cleveland's Emily Applebaum. "By going virtual, we're able to do some content that we wouldn't normally be able to show, and we're able to create alignment with some national acts and bigger brands — and I think that's all stuff that's going to stick with us after this unusual experience passes."

Held nonstop from Sept. 25 at 6 p.m. to Sept. 27 at midnight, the Facebook Live event features more than 50 musicians, artists, performers and presentations. Some of the event's musical highlights include Niights, Dressie Bessie, Jon Panza's Arms and Armour, Jul Big Green, C-Level and Fake ID. On-site performances from Apostle Jones at the Rock & Roll Hall of Fame Pavilion, Brent Kirby at Forest City Brewery, MuAmin Collective at Mahall's 20 Lanes and R the Czar at B-Side Liquor Lounge will also be streamed live.

"People are really elevating their game when it comes to virtual performances, learning how to stream super clean sound through a mixer and create great multimedia or lighting experiences," says Meganne Stepka, singer-songwriter of Meg and the Magnetosphere and host of 48 Hour Virtual, which is now in its seventh month. "While it's not a normal Ingenuity Fest, we're really excited about all the possibilities."

But Ingenuity Fest's otherworldly art installations and spontaneous experiences have always made the festival about much more than just the music, and this year's virtual event will not disappoint in creating a spectacle.

After a keynote from Stepka, the event kicks off Friday night with an instructional cocktail-making hour that leads into a multimedia performance from Michael McFarland's Hello Headrush. Throughout the weekend, Lolo the Libra's tarot card readings, a group pole dancing class called Expressions, the Frenly Variety Show , a fire dancing set from Fiercely Serene and Stepka's own multimedia musical performance promise the weird, wacky and wild vibes that Ingenuity fans have come to know and love. A virtual reality experience from artist Interactivation will also allow fans to explore archival Ingenuity Fest footage and take a virtual tour of the Hamilton Collaborative building.

"It wouldn't be a good Ingenuity Fest without a little bit of fire," says Stepka.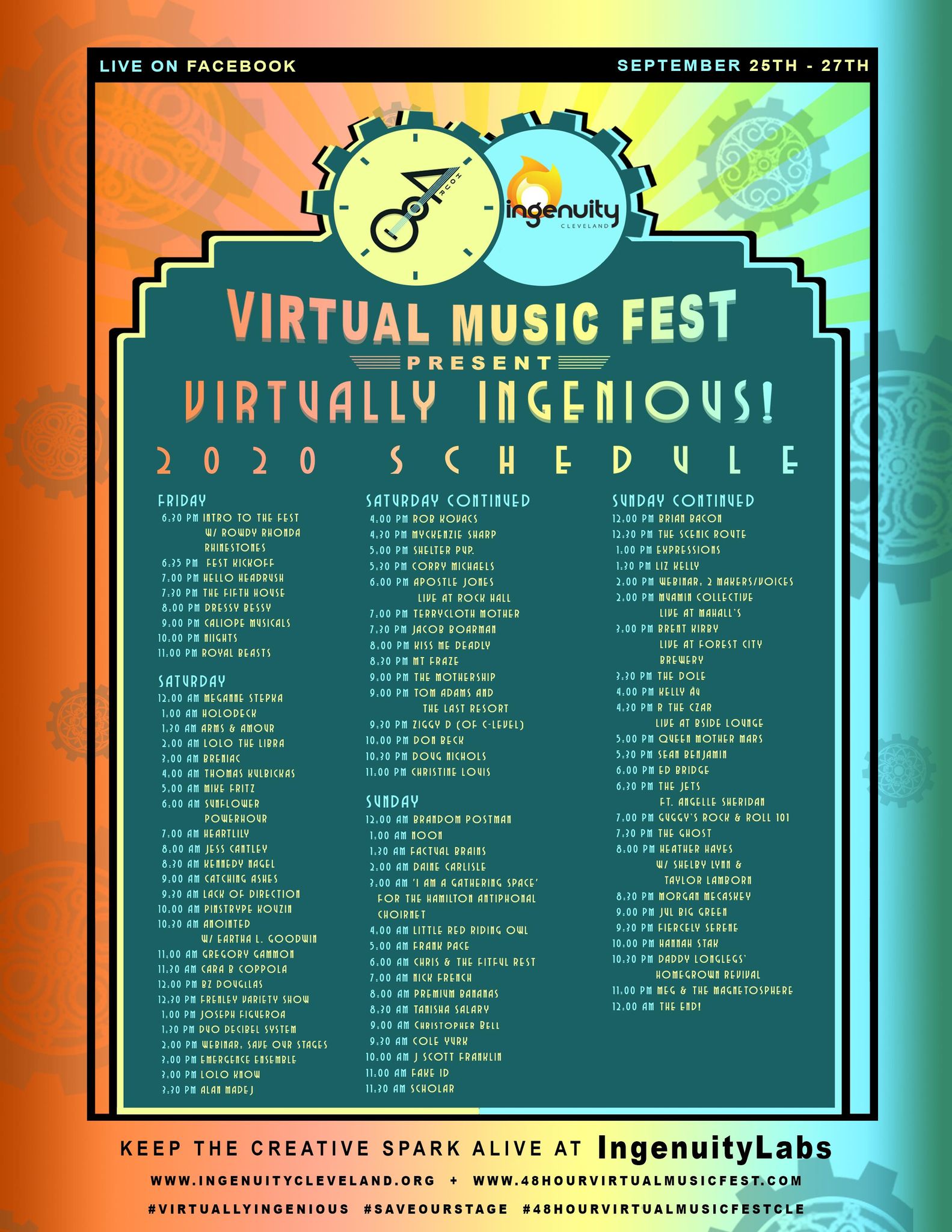 In addition to celebrating artists, the livestream event will also champion local businesses and causes affecting members of the local arts community. A series of commercials will showcase local, independently owned businesses. The fest will also broadcast two webinars. One will update fans on the latest news surrounding the Save Our Stages initiative, designed to advocate and support independent music venues through the pandemic-caused economic downturn. The other is designed to spark a conversation surrounding equity in the arts. "

We've always included lectures and learning opportunities in addition to the serendipitous sense of the weird and wacky, so these topics speak to what we care about as a year-round arts organization," says Applebaum. "We're all just hoping to come out of this creating a great audience experience, but also being ready to support each other through whatever comes next."

The event goes live here Friday at 6 p.m. All funds raised through audience donations will help support Ingenuity Cleveland's year round projects and initiatives.

And while this year is going to look a bit different for the festival, organizers say the collaborations, conversations and new ideas that building the virtual experience has created will be invaluable to the event's future — and the future of the organization.

"Ingenuity Cleveland has helped ignite the creative spark for so many, including myself, for years," says Stepka." Now the music and arts community want to do our part in a pandemic to help keep their spark ignited."

More Info: facebook.com/events