There are few things better than spending a summer day at the zoo. This summer, the Cleveland Metroparks Zoo is working on making that summer experience even more enjoyable, due in part part to a new zip line, along with two new baby animals.

The first of the Cleveland Metroparks Zoo's new babies is Zaki, a baby orangutan. Zaki, who was born a year ago, lives in the rainforest exhibit, which has over 600 animals from Asia, Africa and the American jungles.

The second is Kayembe, a 5-month-old baby gorilla. While Kayembe is currently located in the Climate Counterparts building, he will be moved outside when the weather warms up.
For those looking for a little more adventure in their trip, look no further than the zoo's new Eagles Zip Adventure, a new zip line that opened late last summer.
"If you're a Clevelander and grew up going on roller coasters, it's not a big stomach drop, but it's a nice little thrill ride," says executive director Chris Kuhar. "Folks of all ages can get on it, so I think that's one of my favorites."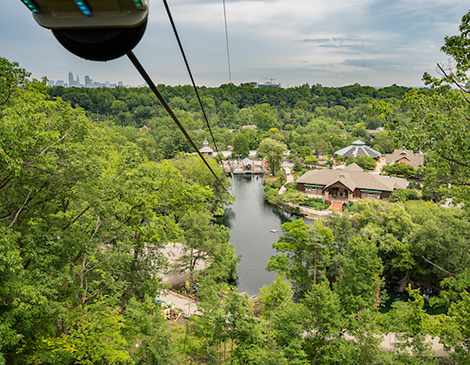 This ride lasts no more than five minutes (including the loading and unloading time) and takes riders 150 feet above the zoo in a ride that offers an unparalleled view of the zoo and the surrounding area. After going round the zoo, the ride ends with a 35mph descent to the starting location — a dip that simulates soaring like an eagle.
For visitors who want to get the most out of their trip to the zoo this summer, Kuhar suggests getting there early to ensure you're able to see everything, especially since the baby gorilla, Kayembe, is going to be a popular attraction.
"If you're going to come out, give yourself some time," he says. "The zoo's a big space, you can see the orangutan and the gorilla. Give yourself some time to enjoy what the zoo has to offer." 3900 Wildlife Way, Cleveland, 216-661-6500, clevelandmetroparks.com/zoo