Since 1980, the end of June has seen Playhouse Square come alive with the brass and woodwind sounds of jazz. In addition to free outdoor performances set to run June 23-25, Mimi Ohio Theatre and Connor Palace host this year's Tri-C JazzFest Cleveland lineup, which includes Cleveland native and Grammy-winning saxophonist Joe Lovano, French singer Cyrille Aimée and Grammy-winning soul artist Anthony Hamilton.
For the first time, Tri-C students will get a chance to play on their own Next Generation Stage between main acts. The focus on students hearkens back to the festival's origins.
"It started as an educational festival," says festival director Terri Pontremoli. "The whole idea of getting kids engaged in this music with professional musicians … helping the whole ecosystem of jazz."
"1980 seemed to be a pivotal year for people to start jazz festivals," recalls Pontremoli. Around the same time, Chicago and Detroit started their own versions of Tri-C's event.
Before then, musicians toured the country relentlessly, grinding out show after show at clubs and bars across the country –– often stopping in Northeast Ohio as they trekked between Chicago and New York City.
"There were like 30 to 40 clubs in Cleveland at that time," Joe Lovano remembers. "And a lot of groups that would travel from New York would play in Cleveland, so it was a different scene then; really a lot happening."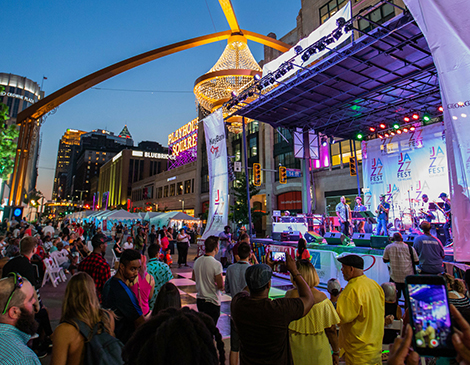 But musicians began gravitating toward larger concert venues, according to Pontremoli, which meant that places like Tri-C could draw household names like Miles Davis or Ella Fitzgerald.
"I remember when we presented Ella Fitzgerald –– she was 73," Pontremoli says. "I think we got the last really amazing concert out of her."
When the live festival was cancelled in 2020, Pontremoli remembers how devastated everyone was— and how thrilled they were when it returned, albeit in a much smaller form, at Cain Park last year.
"That was really important to us," Pontremoli says. "We had so many local musicians who just really were shut down from playing. And it was really emotional. I will tell you that I still choke up a little bit when I think about how that felt."
This year, jazz is swinging back—and the festival's importance to Cleveland and local talent cannot be understated, says Lovano. For him, playing with and around people is a game changer.
"The world of music is a blessing," Lovano says. "Everyone has to scramble around and try to raise funds and do everything, and it's a challenge. But festivals like Tri-C are inspiring, and it has inspired other scenes around the country to come up to the plate.
The Tri-C JazzFest runs June 23-25. Outdoor performances are free, with indoor events requiring a ticket. Attendees may also purchase a general pass ($250) for full access to all nine ticketed concerts and VIP seating. tri-c.edu/jazzfest