Spring is in the air, which means it's a great time for your feet to hit the trail — and the Cleveland Metroparks is making that easier than ever with its 2023 Trail Challenge. The rules are simple: Hike 10 different trails to win a Trail Challenge sticker and a special prize yet to be announced
Keep in mind that this isn't just about hiking. Kayaking, biking and, as of 2022, horseback riding, are all on the table. Guided hikes led by naturalists are also a great way to gain insight into Cleveland's ecosystem and meet other nature lovers in the community.
"The trail challenge can be their guide to creating adventure in their backyard," says Metroparks outdoor recreation manager Rachel Nagle. "If you have a stressful day, just go out there and take a deep breath."
Sometimes the hardest part of a new challenge is knowing where to start. These 5 routes range from leisurely stroll to day-long trek.
1.7-mile Woodpecker Way in Acacia Reservation
This trail is one of the longer paved options, but it still makes a great option for those looking for something more accessible. Walk, run, use a wheelchair or bring a bike — whichever way suits your needs.

4.1-Mile NC Bridle Main Loop in North Chagrin Reservation
Rocky and unpaved but scenic, this trek is for the horse-lovers of Northeast Ohio, whether you're completing those four miles on horseback or there on foot to admire.
4.2-mile Hawthorne Parkway Buckeye Loop in Bedford Reservation
For this hike, you'll have to utilize the Cleveland Metroparks app as the route pieces together portions of the 1,444-mile-long Buckeye Trail.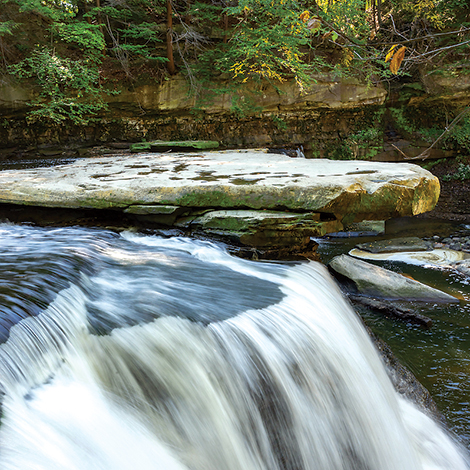 1.5-mile Paddling Loop in Hinckley Reservation
Splash your way from the Hinckley Lake Boathouse around the flat, leisurely edge of Hinckley Lake.

1.4-mile Rockcliff Spring in Rocky River Reservation
Fitness enthusiasts rejoice, this Cleveland Metroparks app-exclusive trail isn't the longest of the bunch, but boasts several stations for various workouts, adding to its intensity and variety.