It all started with the pool. When this Pepper Pike family set out to build an in-ground pool in their backyard, they didn't stop there — they decided to create a place for entertaining. As a space originally centered around the four kids — a way to get them outside — the area quickly turned into a project that would create an oasis for the whole family.
"We decided at that point to make it a little bit bigger and to have a little fun with it," says Pat Beam, owner and landscape architect of 9th Avenue Designs in Mayfield Heights. Beam added a pergola with a sitting area underneath, a full outdoor kitchen, a fire pit and more. "We did four or five different concepts and just kept narrowing it down," he says. "We tried to create outdoor rooms."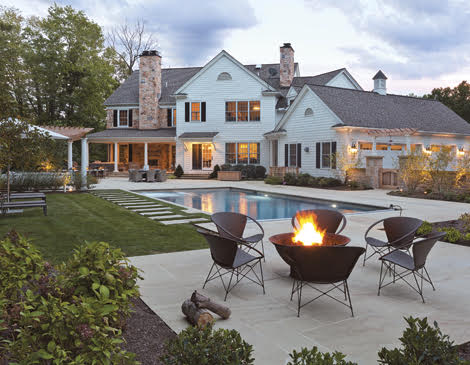 Before beginning the six-month renovation in 2016, Beam made sure the design blended with the rest of the home's traditional architecture. Elements of the updated space include materials that were used when the house was built more than 10 years ago.
Beam found the exact same sandstones that were used on the side of the house to build the pillars of the pergola as well as in the floor of the outdoor kitchen and terrace. "I really like how all of the elements, all of the details, work together," he says.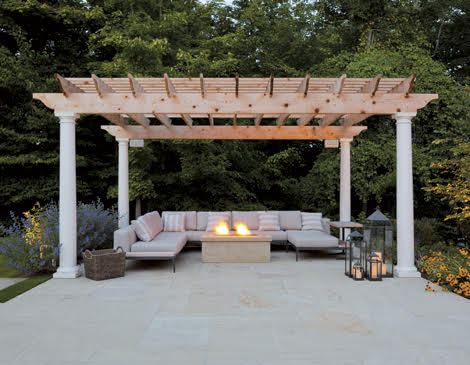 Pergola: One unexpected highlight of the renovation is the cedar pergola, a large wooden framework that covers the outside sitting area. The homeowners were unsure about it at first, but now consider it one of their favorite parts of the new entertaining space. "One nice thing with the pergola is it really creates an outdoor room," Beam says. "But it gives you that little bit of a structure on top without getting real heavy."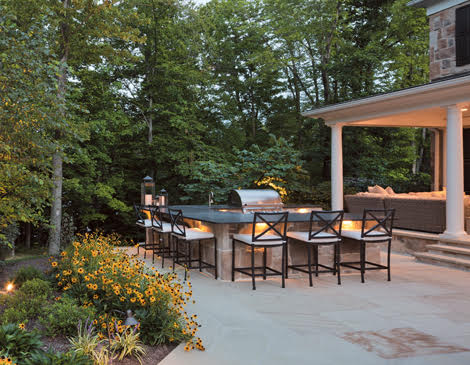 Outdoor Kitchen: With homeowners who love to entertain, the outdoor kitchen has proven to be one of the best new additions to the backyard space. Beam made sure the area was not only eye-catching, but also functional, including a built-in grill, beverage center, outdoor fridge and outdoor sink — along with plenty of drawers and shelves for storage. "It's a great space to entertain friends and family," says Beam. "It's a big enough space and you could do large cookouts and [have] all the kids in the pool but still have plenty of room to entertain."




Pool & Hot Tub: Instead of keeping the hot tub and pool separate, Beam decided to put the 8-foot-by-8-foot hot tub in the corner of the large pool, closest to the pergola and lounge area. "We really wanted all this stuff together," he explains. "So wherever you are in this site, you can be a part of the scene.