The couple was thoroughly enjoying their retirement years, splitting their time between a primary residence in Kirtland and a winter home in Florida. But they knew the day would come when they'd have to downsize to a single address — and, depending on their health, stay there.
"As they were getting older, they really wanted to be proactive about having a comfortable and safe place to live that was also going to be near family," says Rachel Patterson, an interior designer at Payne & Tompkins Design Renovations in Chardon.
The couple's daughter had already thought of that.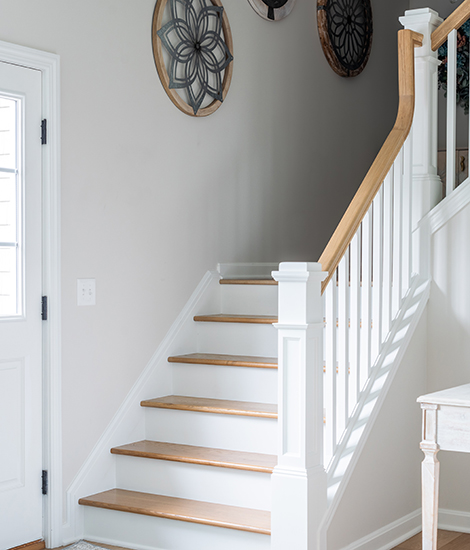 In 2019, she and her husband bought a 5,000-square-foot Willoughby home with a second three-car garage attached by a breezeway — the perfect place to install an in-law suite that would be ready for her parents when they needed it. Patterson, along with Payne & Tompkins senior interior designer Leslie Reddy, accepted the assignment of creating a one-bedroom, one-and-a-half-bath suite that would facilitate two critical functions of independent senior living: mobility and safely completing essential activities such as bathing and dressing. The project, Patterson observes, is evidence of a growing trend known as aging in place, whether it's in an older adult's own home or that of a close relative.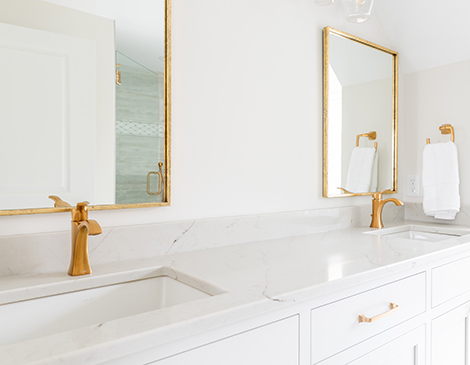 "Their social wellness and their mental health and their sense of independence — there's just a variety of benefits," she says of the practice.
The project began with removing a two-car garage door, installing a front door and windows and finishing the exterior with vinyl shake siding and cultured stone with asphalt shingles on the roof. The interior was configured into an L-shaped living area next to the remaining one-car garage.
"It really does feel like their own small home," Patterson says of the result. "They have a front door to their own living quarters. They don't have to pass through the main house … to get to their own space."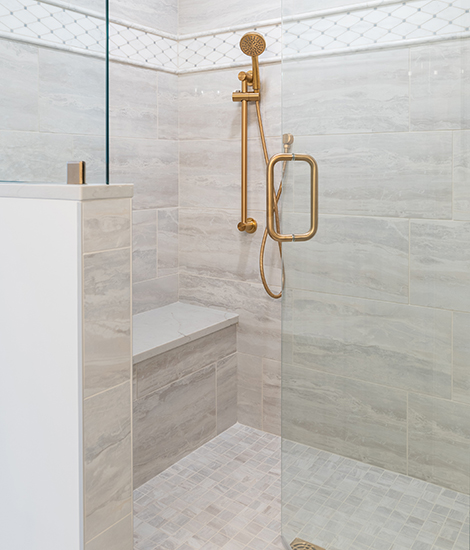 While a first-floor bedroom and full bath is generally a must for older adults, the installation of an elevator made adding a second floor consisting of the bedroom and full bath — a move that expanded the couple's future home to 1,000 square feet — feasible.
"If they needed to be in a wheelchair or have a walking aid such as a cane, or even if they just didn't feel safe or comfortable taking the stairs by themselves unassisted, they can go ahead and use that elevator and still have access to all the parts of their home," Patterson says.
Much-needed storage was provided throughout the home. Contractors installed a stretch of cabinetry along one garage wall easily accessed from a door to the kitchen. Plans included creating a closet under the staircase, along with a walk-in closet and window seat with built-in drawers on the second floor. More drawers — eight for him, eight for her — were recessed into two walls of the bedroom.
"Having a full dresser in there would have taken up square footage," Patterson says.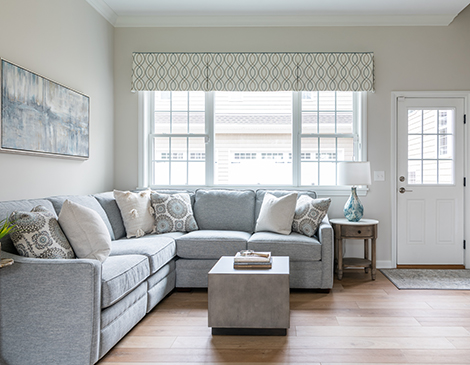 Patterson and Reddy outfitted the owner's bath as well as the first floor half-bath with comfort-height commodes, which make sitting and standing easier simply by virtue of their elevation. The owner's bath boasts a 4-by-5-foot shower with a low-entry threshold, built-in bench and handheld shower attachment.
"If [a resident] needed to sit down on the bench and bathe themselves, or even have someone help them, they can do so comfortably," Patterson says.
The designers turned the shower into a focal point by adding a trellised marble-mosaic border that continues around the three tile walls, a feature visible through the frameless shower door. A porcelain-tile floor and two square sinks under-mounted in quartz-topped white cabinetry complete the space. A second-floor laundry closet eliminates schlepping baskets of clothes up and down the stairs or in the elevator.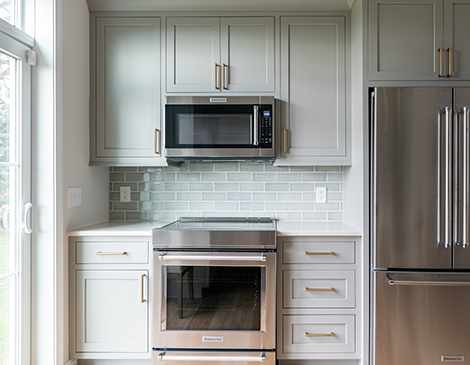 The future lady of the house insisted on having a kitchen in which she could continue preparing full meals, not just a typical in-law suite kitchenette. Patterson and Reddy designed a space with newly installed sliders, full-size stainless-steel appliances, custom Amish-made cabinetry painted with Sherwin-Williams' Dorian Gray, creamy white quartz countertops and a stippled bluish-gray subway-tile backsplash. There's even room for a small round table and three chairs with cream-upholstered seats and backs.
"Maybe she can't have the whole family over like she's used to at her large house in Kirtland," Patterson says. "But she can still have someone over and have a meal with them or sit down and have coffee with them comfortably and not feel like they are in a small, cramped space." The kitchen's soft neutral colors were carried throughout the suite to create a serene, relaxing environment. The couple ordered tailored window valances and furnished the living area and bedroom in transitional blue, gray and cream pieces. Brass lighting, plumbing fixtures and cabinet hardware add character and warmth. The interior designers suggested laying luxury vinyl plank flooring throughout rather than carpet.
"Carpet can provide some challenges if someone were to be in a wheelchair, especially if it had a higher pile to it," Patterson explains. The same goes for transitions from, say, luxury vinyl to carpet. She avoids using area rugs. "Area rugs do provide a tripping hazard."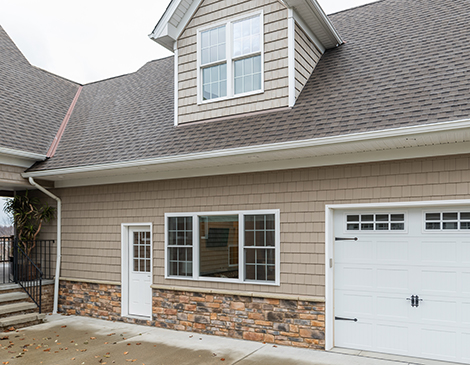 Patterson concedes that moving out of a home that holds a lifetime of memories can be difficult. But she doesn't believe that will be the case for the future occupants of this suite. Forethought and planning have allowed them to choose where they're moving, to guide its transformation into a stylish, well-appointed place they'll be proud to call home, rather than settle for whatever space might be available in an independent living facility or community when they need it.
"It gives them peace of mind, knowing they have this beautiful, functional space waiting for them," Patterson says.
Get inspired for your next home project by digging in to the 2023 Cleveland Home Issue.
Get ahead of Cleveland's latest trends by signing up for our free newsletters "CLE Style" and "At Home CLE" — covering the makers, shop owners, fashion leaders and décor visionaries that inspire our city.