It all started with a fire pit from Menards, a YouTube video and a half-year of high school woodshop. You know, the way most things do.
"I bought this fire pit and was like, 'We need chairs to go around it,'" says Charlie, the man behind the woodshop and the soundboard of Rover's Morning Glory. "The chairs were $150 or $200, and I said 'Well, I'll just watch a YouTube video.'"
To his girlfriend Christa Lumby's surprise, the chairs looked great and held up around the fire pit. The rest, as they say, is history.
Charlie, whose name off the air is Michael Toomey, and Lumby met 14 years ago in Cleveland, and they have been together ever since. When they aren't working at Rover Radio and Proforma, they are in the "world's tiniest garage" making wood creations at their home.
"So, the basement gets taken over and then the dining room gets taken over and then the kitchen sometimes gets used," says Charlie. "The bedrooms are OK, but every other possible room is now a wood workshop."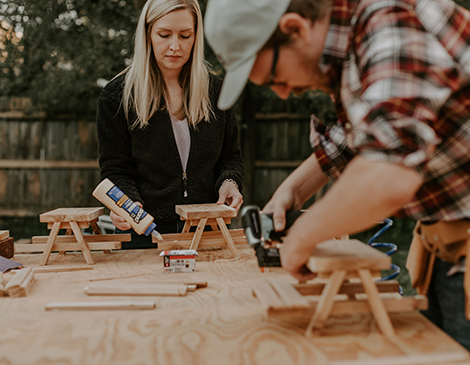 With every room in the house full, it is safe to say that business is on the rise. Especially with the introduction of squirrel tables.
"I became the rodent king of Cleveland," says Charlie. "I couldn't believe the amount of people that wanted to feed squirrels."
Items from Charlie's woodshop can be purchased at Hingetown's City Goods, where this holiday season it is going to be "squirrel table headquarters."
"We have them at the shop, and we have a little Polaroid next to it of the squirrels eating off the one at our house," says Lumby. "It's just a funny thing to have." charlieswoodshop.co
Products Fresh from the Saw: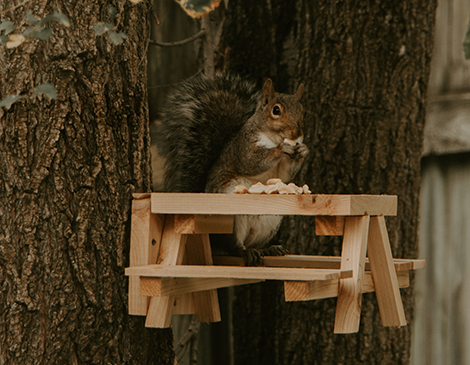 Squirrel Picnic Table ($30)
One man's backyard pest is another man's friend. Treat your backyard squirrels to the height of luxury with their own table to enjoy the food they dug up from your yard.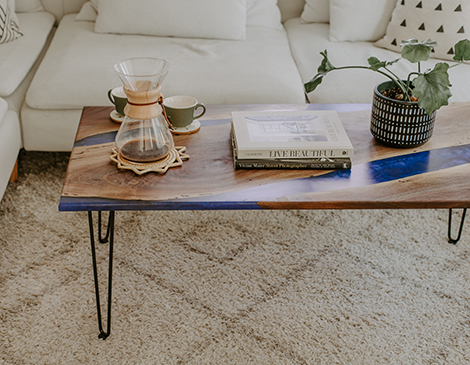 Epoxy Coffee Table ($1,300)
A perfect accent to any home, this coffee table is custom built for each customer. Choose the color of epoxy resin that best accents the tones in your home.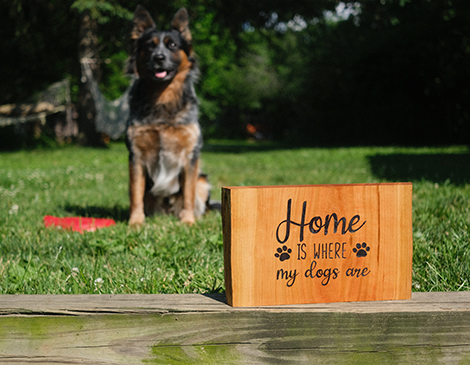 Home is Where My Dogs Are Sign ($30)
We would be remiss to leave out the furry friends that belong inside the house. This sign has a wood-fired feel due to the laser-carved design that is a perfect gift for any pup parent.
Get ahead of the weekend by signing up for our free weekly "In the CLE" newsletter — your guide to fun throughout The Land. Arriving in your inbox every Wednesday, this weekend to-do list fills you in on everything from concerts to museum exhibits — and more. Click here to subscribe.