Feet First: Not sure where to begin when shopping for a new rug? Use these tips as a starting point.
Look For Quality
Materials matter when it comes to rugs. One made from natural fibers like wool, sisal or jute will be more durable than synthetics. You'll also want to try to find a rug that is handwoven instead of machine-made. A handwoven rug will have the design on the front and back, while a machine-made rug will have a backing (often rubber) on the underside. "It's really just understanding the construction of it," says Heather Ruwe, an interior designer at Modern Smart Homes in Lakewood, who recommends shopping in person so you can see the quality firsthand.
Let Your Design Guide You
There's no hard and fast rule about whether to go neutral or bold with a rug. It comes down to your personal preference and how you've designed your room. "Whether it's providing a neutral background to ground the space or using something really patterned or colorful to bring character to more of a neutral space, rugs are a really great way to show your personality," says Ruwe.
Use A Rug Pad
Be sure to pick up a rug pad too. Not only do they keep your rug in place, but they protect the floor beneath it and add longevity to the rug. The benefits don't end there, says Ruwe. "It gives you additional cushion and softness underfoot too."


Fabric Care: Consider these materials when choosing your rug.
Wool
While a little pricier than other options, wool rugs come with a long list of benefits. They're soft, stain-resistant, easy-to-clean and long lasting, making them ideal for almost anywhere. "You can get some really vibrant colors in wool too," says Ruwe.
Silk
If you're looking for luxury, you want silk. "Silk is going to give you a really nice luminescence and it is even softer than wool," says Ruwe. The downside is silk is notoriously expensive, not as durable as other materials and hard to clean. Blending it with wool brings the price down, but it's still harder to care for than other options.
Sisal & Jute
These natural fibers are affordable, easy-to-clean, and can be woven in a variety of ways to create different textures. "Being natural, they're a little bit more durable for an active home," says Ruwe. But colors can be limited.


Size Matters: How to choose the right size rug for your room.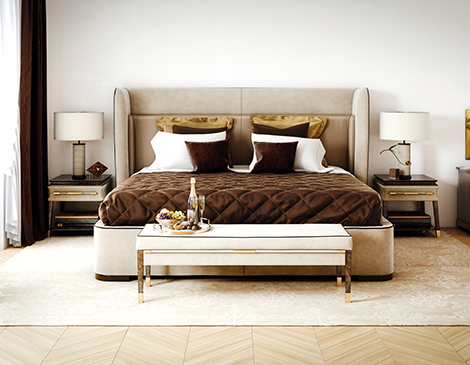 Bedroom
Most beds are pushed up against a wall. Do the same with the rug beneath it. As for width, you'll want it a couple feet wider than the bed itself. "That way you have that softness under foot when you get in and out in the morning and at night," says Ruwe.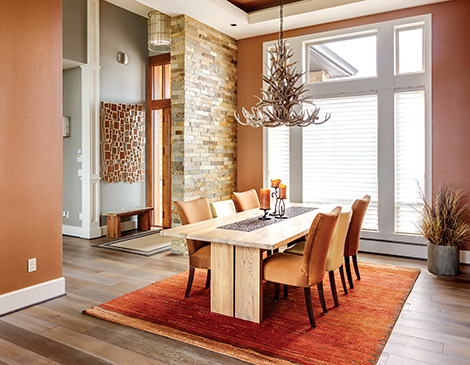 Dining Room
The size of your dining table dictates how big of a rug to choose. "Try to put a rug in that captures all of the chairs around it," says Ruwe, even when they're pulled out. You may have to size up if your table is expandable, and don't forget about keeping walkways clear.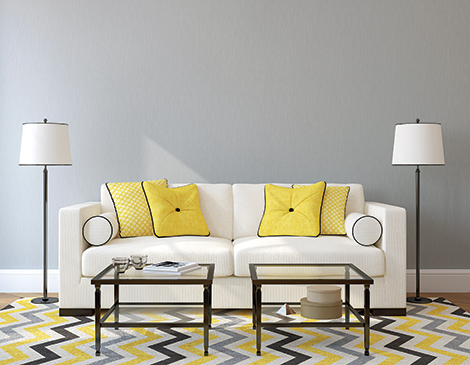 Living Room
The most important thing when deciding on size is to keep traffic patterns in mind. "You either want the rug to completely cover paths where people walk or you want the rug to be outside of that," says Ruwe. "The last thing you want is one foot on the rug and one foot on the hard floor."

Read More: Find inspiration for your next project with our 2020 Home Issue.