Betsy Kling hunts for good deals when it comes to putting together a design for spaces in her home. The 3 News chief meteorologist and 5 p.m. anchor used a mix of too-good-to-pass-up bargains, elbow grease, family heirlooms and meaningful decor to setup her living room. "A lot of stuff is cobbled together," says Kling. "And then it's just whatever deal I can find and scrounge up and figure out."

The white chairs in the living room, which play off the darker louvered front door cabinet, drawers and brass table, were a Costco deal. A lamp in an adjoining sunroom was an Arhaus The Loft sale pickup that she rewired and found a new shade for.

"It's not exactly like I'm rolling up into some high-dollar place designing this room," Kling says. "It's about, here's what I have, and making it work for what I want it to be."

Kling walks us through her living room's design, more about her philosophy and what it's like being a houseplant mom.




Color Theory
Kling got some initial input from 3 News meteorologist Matt Wintz's sister, who is an interior designer. She walked through the house, identifying pieces from other parts of the house that might fit in the living room, which gave Kling a baseline for the rest of the decor. She also introduced Kling to the idea of using three or four colors from the same color palette in multiple rooms. "That really helped me focus a lot because I was a little bit all over the place," she says. So the walls in the living room, painted in Sherwin-Williams' Dorian Gray, complement the Gauntlet Gray in the nearby dining room. "This gray is just so soft and beautiful," Kling says. "It goes just really nicely with the white trim that we have everywhere. And then it bounces off that dark floor."




Have A Seat
Like most of us, Kling's design aesthetic has changed over the years. She's currently drawn to clean lines and just a bit of farmhouse flavor. "But I don't want windmills on my walls and stuff like that," she says, joking. She knew she wanted to do a central seating spot in the living room to serve as a conversation area and thought she could bring a midcentury modern approach into the room with chairs. "I troll Facebook Marketplace savagely," she says. "But finding [a deal on] four matching chairs is darn near impossible. I looked for probably over a year." She finally found these chairs at Costco for $100 each. "So far they have worked out beautifully," Kling says.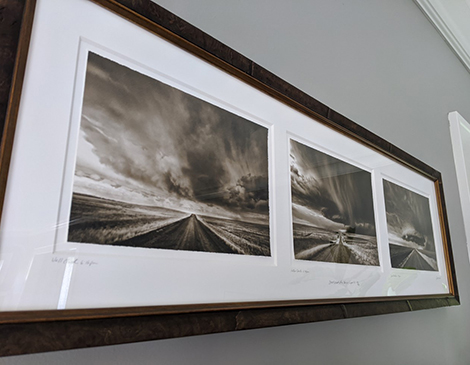 Make It Matter
One of Kling's best tips when it comes to wall decor items or knickknacks: Make sure they mean something. "Everything has a purpose," she says. "It's not just something thrown on a table for design sake. [The living room] is where I kind of feel like I have this opportunity." For example, the Emmy Awards in the louvered front door cabinet are a joint collection shared by Kling and her husband Paul Thomas, a former 3 News reporter. "There's so many people who have been doing work from home," she says, "and you see awards in the background, and they don't always make sense where they are." But Kling geeks out talking about the series of three photos on the wall above the cabinet. The series is of a Kansas supercell thunderstorm, which she bought at the Boston Mills Artfest. From the first photo at 6:16 p.m., to the last at 7:14 p.m., you can see the wall cloud and spiraling rotation form. "There's lightning that hits the middle of the freaking road!" she says. "I was like, 'I have to have this.'"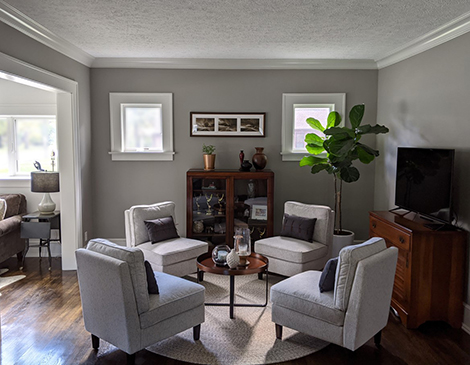 Green Pop
To bring some life and a bit of green into the living room, Kling got the fiddle leaf fig tree in the corner of the room from Lakewood Plant Co. And while she loves what it adds to the space, she says the plant is a bit of a diva. The plant will develop brown spots if it doesn't get enough water, or one side will sag because it's not getting enough sunlight. "It is literally another child," says Kling. "Now it's getting really spindly, and I have it strung together."