While Lake Erie's waves greet guests at the edge of this Avon Lake property, inside, lake-inspired blues, greens and grays are splashed throughout the home.

Barrie Spang, owner of Sapphire Pear in Rocky River, knew her client wanted to maximize his spectacular waterfront view.

The bedroom, which is located at the north side of the house, allows for the best glimpse of the lake. Opposite the windows, Spang custom-designed a built-in bed and nightstands out of walnut.

She placed the TV in the footboard on a 360-degree swivel to keep sight lines to the outside clear. "It almost feels like you're really on the water because he's so close to it," says Spang. "So it's really special to be able to be that close to the water and wake up and see the lake right there."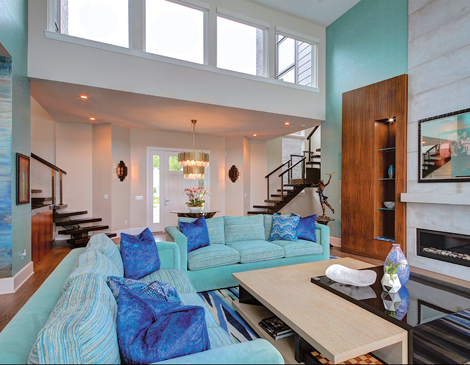 In addition to maximizing views, the designer and her client agreed on other unique elements. Spang selected unusual species of wood such as American walnut and birdseye maple to use throughout the home in spots such as the kitchen and bar.

The design also includes two sets of floating metal stairs with a cable railing system, leading to two separated upstairs areas.

One side is a private space for guests with two bedrooms and bathrooms, and the other is for entertaining, complete with a media room. Spang outfitted this room with fabric walls and four large TVs that are mounted together and can be used as one large screen or can each play a different program.

The Bathroom: The bathroom is a spa-like introduction to the master suite with silver-stained birdseye maple and double vanities with quartz countertops.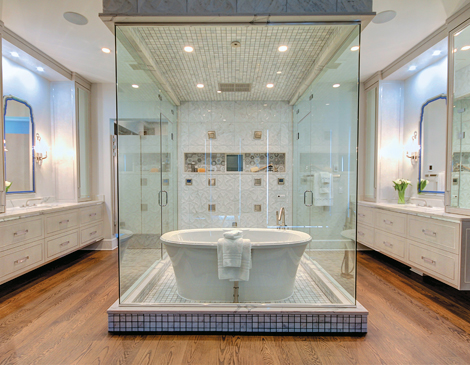 The luxurious feel intensifies with a glass-encased wet room in the center, which houses a free-standing acrylic tub and six shower heads. "It does everything," says Spang. "You can do a steam shower while you're taking a bath or it has chromatherapy. It has aromatherapy [and] the tub fills from the ceiling."

The Bar: Spang chose to use a translucent semiprecious stone for the 8-by-6-foot bar, which can be seen from the great room and the kitchen. The cobalt-blue agate is illuminated from underneath to make it glow.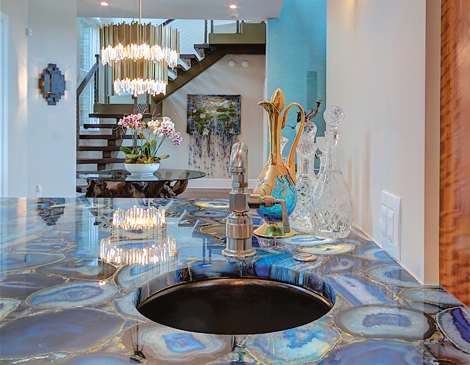 "[The stone] was too precious to use in the kitchen," says Spang. "And we were already working in the blues and greens, so we came up with the idea to use it for the bar."

The Kitchen: Spang pulled out all the stops to design the kitchen.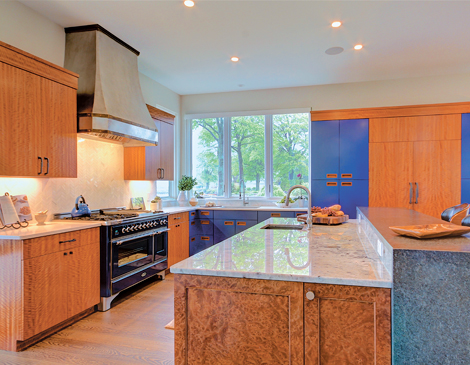 It features four species of wood and four different species of stone — the agate from the bar, leathered granite, a reflective granite called Blue Eyes and durable quartz for the perimeter of the kitchen. "The blue paint color was actually where I started with the design on the kitchen," says Spang. "I definitely took inspiration from the lake for that."