Molly Fitzpatrick started her design house, DittoHouse in 2015 as a way to bring unique and engaging textiles into the home. Her newest collection, The Woven Collaboration, was born out of a year-and-a-half-long partnership with Trama Textiles, an association of artisan women backstrap loom weavers in Guatemala. Each handmade piece of the collection — whether it's a hypnotizing tapestry, a playful pillow cover or a rainbow throw — was designed to have a balance of familiar lines and shapes against more bold colors and optical patterns.

The collection intertwines Fitzpatrick's love for op art with the traditional processes of weaving, while ultimately embracing boldness in humanity. "I think that that's a commonality that we're all very bold and bright and alive," she says. "So I wanted that to be the underlying theme."
While some of Molly Fitzpatrick's past collections for DittoHouse were more subdued, the theme and inspiration for these pieces allowed her to really go outside the box. "With my other things I've produced in the past, I'm more restricted in how many colors I can use," Fitzpatrick says. "This was an opportunity to get a little bit more wild and colorful." The result was a medley of mesmerizing shapes, rainbow hues and joy-inducing designs that breathes life into a room. Fitzpatrick talks to us about four of the pieces and why they're a unique addition to any space.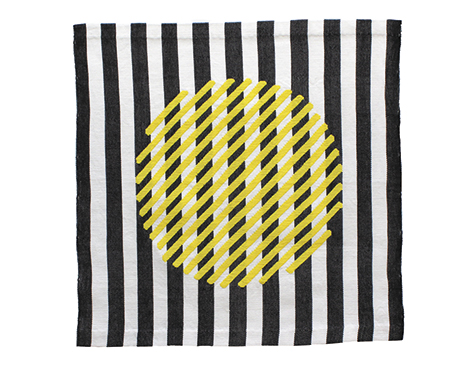 Ball Tapestry ($400)
Look away, look back and the ball seems to have moved on the tapestry. "I wanted something that had [a] vibrational pattern, something you could meditate on," Fitzpatrick says. "You could look at it and see the different levels within it." The secondary striped pattern conveys a familiar feel, bringing that energy to both modern and traditional spaces. The 100% cotton tapestries, which also come in green, pink and blue, can elevate a wall on their own, in a pair, or even covering it entirely.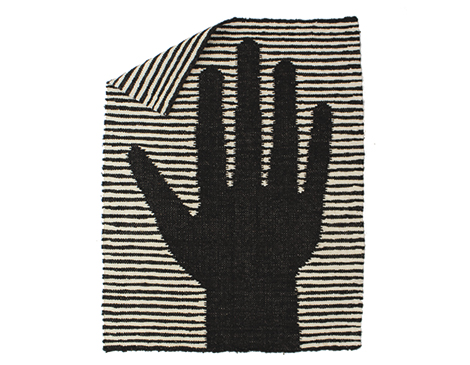 Hand Rug ($300)
This 100% wool textile represents connection after a year many of us spent apart from each other. "I found [it] a comforting image," Fitzpatrick says. "Just that very simple hand. It's something that's easily recognized and very impactful." The wool isn't dyed; the color is just the same as it came off the sheep, enforcing the design's natural inspiration. Fitzpatrick recommends using the reversible piece as an entryway rug, a wall hanging or have two of them reaching toward each other.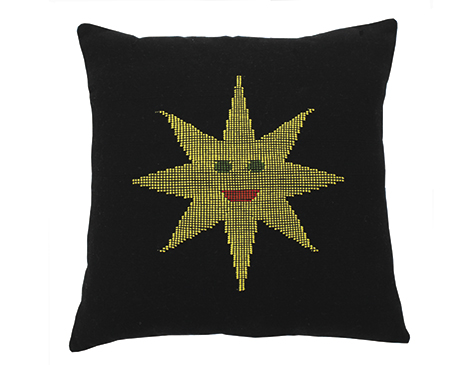 Star Pillow Cover ($180)
Fitzpatrick's love for joyful symbols inspired the 100% cotton pillow cover. "The entire collection is very happy and bold," she says. "I wanted something that was a literal happy reference." The pointillism-style stitching of the star is traditional to the Central American region and provides an added texture to the design. Fitzpatrick says the piece is a conversation starter, perfect for anyone who wants to brighten up a couch, bed or armchair.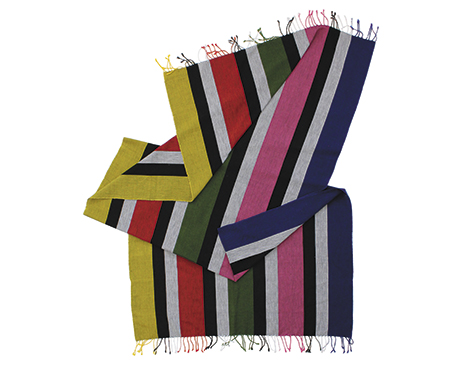 Striped Blanket ($250)
The colors for this bold throw were carefully chosen, working in blacks and grays to make the surrounding pink, yellow, blue and green stripes pop in an optical way. It was also crafted from a pedal loom, meaning there wasn't an easy way to change anything once the weaving began. Fitzpatrick says the throw looks great at the end of a couch or bed and when the time comes, works well as a travel blanket. "It's a good go-anywhere blanket" she adds. "For picnics or whatever."

dittohouse.com