Whether you wait to decorate your Christmas tree after Thanksgiving or closer to Dec. 25 (or even earlier this year, we won't judge you), there's joy to be had in figuring out what ornaments you want to use, where to place the tinsel just so and even making sure you don't get the lights tangled up. It's a tradition that can bring families together. Lifestyle blogger Samantha Curtis has passed on the beloved family ritual to her kids while also making her tree part of her home's decor. "It's super busy during [the holidays], but there's always a day where we can slow down and kick off the season and spend that time together," says Curtis. Whether you're a traditionalist or are looking for something new, Curtis breaks down three Christmas tree styles.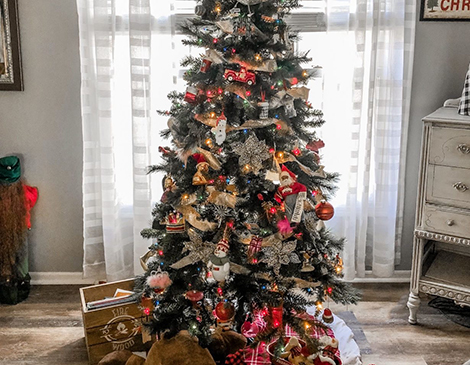 Classic Red & Green
A classic Christmas tree not only reflects the traditional green and red hues, but also has a feeling of nostalgia. Curtis recommends digging through your ornaments and finding ones that have unique elements to them. Then add some red, green or gold ribbons to tie it all together for cohesiveness. "I feel like a lot of people get caught up in seeing these beautiful curated trees on Instagram," she says. "This tree reminds everyone that your tree is beautiful, your ornaments are beautiful and they all have special meaning."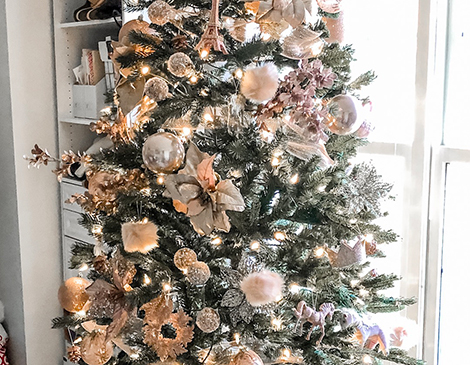 Feminine Rose Gold
Who said pink isn't a Christmas color? It is when you opt for rose gold, silver and white like Curtis did with this elegant tree. After spotting some rose- and gold-colored ornaments, such as an Eiffel tower and pink flowers while browsing the aisles at a local craft store, Curtis paired the items together with some shiny ribbon and gold-colored lights. "This one we actually put in my office," she says. "Because it kind of went with my own aesthetic and it was more feminine."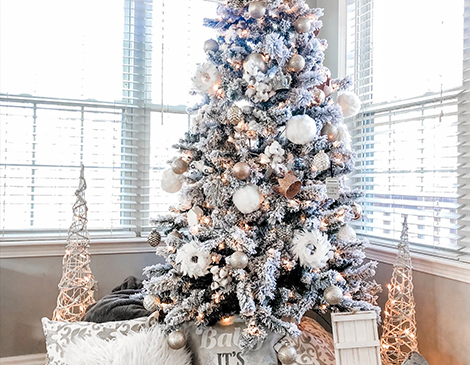 Flocked Silver & Gold
You can always bring the twinkle of snow into the home with a flocked tree. To match the tree's frosted white branches, Curtis recommends neutral tones such as white and beige mixed with gold and silver elements such as a gold crown ornament or white tinsel. "Repetition is important," says Curtis. "With these more themed trees, repeat a four-pack of ornaments and spread those out and then fill in the gaps with special or single ornaments that stick out as statement pieces."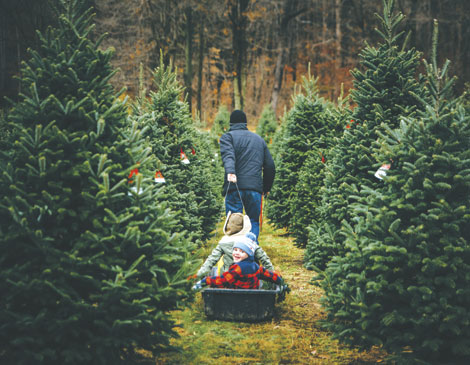 Pine Zone
Jot down these three tips before picking out a real tree this year.
Sugar Pines Farm, a 100-acre farm in Chesterland, ends up selling around 4,000 trees each season. It specializes in not only trees that add the Christmas scent to your home but also gives you the experience of choosing your own. "So many families come back year after year," says co-owner Jane Neubauer. She gives us three tips for finding the right tree for this season.
Measure First: To make sure you have space in your home, measure beforehand. While most people worry about the height, Neubauer says many tree pickers overlook the width. "When you look at a tree, they don't look as big as they do when you get them into your living room," she says. "And then you're disappointed if you get it home and you have to cut a couple of feet off the bottom or it's too wide."
Check For Freshness: There are a few things you can do to ensure your evergreen is nice and fresh. First, give your selected tree a once-over to make sure none of the needles are dry or not fully green. Neubauer then suggests running your fingers along the inside of the branch on out. "If the needles fall off easily, you know that tree isn't as fresh," she says.
Find The Right Type: Farms like Sugar Pines offer different types of trees to choose from such as Fraser firs, spruces and white pines. Neubauer suggests doing a bit of research before purchasing a certain variety. "Some of them have softer needles or some of them have stiffer branches," she says. "A blue spruce is not for everyone. It's needles are beautiful and blue, but the needles are sharp."
More Info: sugarpinesfarm.com
Adorn It
Add something one-of-a-kind to your tree this year.
Confetti Moon's Heart Felt Ornaments ($3-$5)
Tiffany Boyle's handmade ornaments, which come in either small or large and in a variety of colors, are gently stitched together with stuffing inside. "I think a lot of people really appreciate handmade ornaments and decor, because we get bombarded with so much manufactured stuff," she says. confetti-moon.com
Gina DeSantis' Porcelain Snowflakes ($8-$15)
The local artisan pulls out the cookie cutters to make these whimsical ornaments. The simple design comes with a silver luster on top that adds a bit of shimmer. "I like doing those because they're a good neutral winter decor as well," she says. ginadesantisceramics.com

Something Different Gallery's Various Ornaments ($3-$125)
The Ohio City shop carries around 3,000 different holiday ornaments for sale each year. Sourced from all around the world, you'll find different styles such as glass, acrylic or wood. "The styles are just out of this world," says co-owner Koula Lazar. somethingdifferentgallery.com