If you're anything like us you've been waiting to decorate for fall since early August. Now that we're in the midst of apple picking, PSL mania and Halloween, it's time to bring that festive feeling home. But before you throw that basic jack-o'-lantern on your dining room table and call it a day, consider stepping up your autumnal game by creating something with a little more spice. "In a short amount of time, you could have something simple and beautiful that reflects who you are," says Colleen Primm of Colleen Primm Design. If you still need some #fallinspo, these two designs are easy enough for beginners. If you're ready to branch out on your own, remember: Don't block guests' view by exceeding 12 inches vertically and don't include scented candles that could distract from a meal.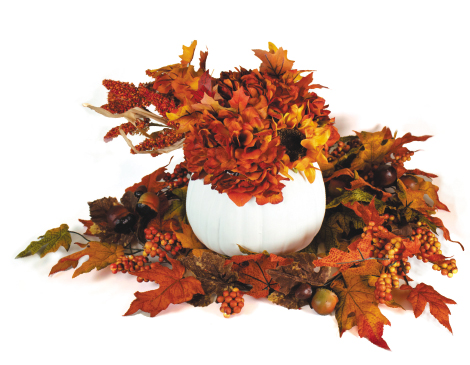 Pumpkin and leaf centerpiece
by Colleen Primm of Colleen Primm Design

Items

1 medium-sized faux pumpkin
1 6-foot fall leaf garland
1 sunflower
3 berry cluster stems
3 fall leaf stems
6 hydrangea flower stems
Tape White acrylic paint Paint brush
X-Acto knife

Step 1: Using your X-Acto knife, cut a softball-sized hole in the top of pumpkin.
Step 2: Paint your pumpkin with white acrylic paint. Let dry and repeat process twice for a total of three coats of paint.
Step 3: Arrange your berry cluster stems, fall leaf stems, hydrangea flower stems and sunflower into a bouquet and tape ends together.
Step 4: Bend leaf garland into a circle on top of table.
Step 5: Place pumpkin in the middle of the fall leaf garland and put bouquet in the pumpkin.




Pumpkin and lantern centerpiece
by Lauren Bosworth of Laura of Pembroke

Items
6 white feather pumpkins
3 glass lanterns
3 boxwood topiaries
Pedestal

Step 1: Place pedestal in center of table.
Step 2: Group three of six pumpkins on top of pedestal.
Step 3: Arrange remaining three pumpkins around base of pedestal. Step 4: Mix in boxwood topiaries and glass lanterns around base of pedestal, arranging until you achieve desired look.

Pumpkin centerpiece

Items you need:

1 medium size pumpkin (we used a fake one)
1 6-foot fall leaf garland
1 sunflower
3 berry cluster stems
3 fall leaf stems
6 hydrangea flower stems
Tape
White acrylic paint

Step 1: Using your exacto knife cut a hole in the top of your pumpkin, the hole should be the size of a softball
Step 2: Paint your pumpkin with white acrylic paint, it took us three coats
Step 3: Arrange your berry clusters stems, fall leaf stems, hydrangea flower stems and sunflower into a bouquet
Step 4: Tape the stems together to prevent your bouquet from falling out of your pumpkin Step 5: Bend your 6 foot fall leaf garland into a circle
Step 6: Place your pumpkin in the middle of the fall leaf garland and put your bouquet in the pumpkin
Step 7: Enjoy your beautiful new pumpkin centerpiece