Kelley Shaffer defines herself as a multidisciplinary creative. Over the past 10 years, she's worked as an art director, image maker and set designer for Moen, Arhaus Furniture, Vitamix and other behemoth brands. More recently, however, she took on a new challenge, creating two transformative environments for chef Douglas Katz.
Zhug, which opened in Cleveland Heights in 2019, is a bright and energetic celebration of communal Middle Eastern dining. Meanwhile, the moody Amba, which opened in May, is near pitch black, offering an otherworldly Indian cocktail lounge adventure. "This is the first time I've put my energy into a space that has a sense of permanence," she says.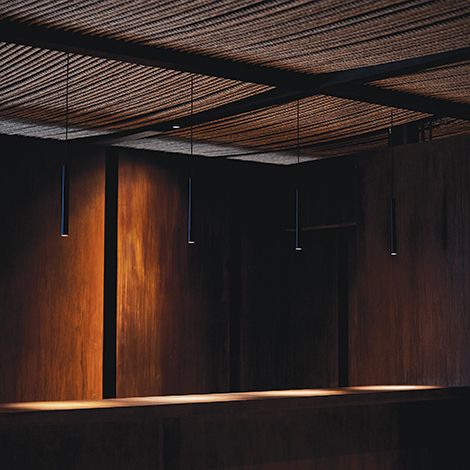 On working with Douglas Katz. I'm forever grateful to Doug for being super open to working with me even though I didn't come from a conventional interior design background. He's an incredibly energized person. We've found a stride together. I think we could both be too much for some people, but we're symbiotic.
On Zhug in Cleveland Heights. The space is foundational and elemental. The way people eat in there is really communal. The corner tables have the most energy. Doug and [business partner] Todd Thompson had an architect on board, so I was doing things like lighting and bringing in Shred and Co. to work on the shelving. If I could wave a magic wand, I'd apply a little more texture, but it has been received so well.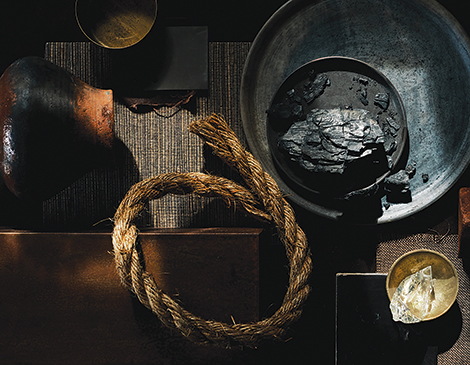 On designing a set for a catalog. On set, I live in the luxury of contractors, essentially, building a box that's accessible from the back. If we need to move anything, we drill a new hole and Photoshop the old one out.
On designing Amba. The thing I hear the most is It's so dark. The conversations Doug and Todd had were about basement spaces, dark, drama, cocktail lounge vibes. There were discussions of building garage doors; I said don't create any more light in here. I wanted to deprive all other senses and you to be overcome by the smell.
On how it feels to walk into the Hingetown Restaurant. Your eyes need a second to adjust. As you're walking along this wall of public art, you go through an unassuming door, and you're transformed. The cracks of the rattan shade create this spectacular ambient glowing light. The bar is this raw steel that adds so much texture, almost looking like wood when it's hit by the light. The music is all-encompassing. And then there are all these bits of the former Schaefer Printing Co. building from 1923, such as the big round metal sconces, which are a nod to the pleat of a Kelsey hand letterpress, and the mirrors are modeled after the original rounded windows. I love assisting in your experience and telling these stories without you even really knowing.
On her philosophy to styling your home. Fill your home with things you love. Objects and spaces speak for themselves. They have their own language. When you're creating a home or a space, pause and realize that each decision you make informs the next. We feel compelled to visit people and see inside their homes and spaces because it's a reflection of the individual. I believe these spaces I've created are a reflection of Doug — his story, what he responds to, where he's traveled, what's inspiring the food he's making.
Shaffer's favorite finds. Kelley Shaffer is creative, but that doesn't mean she works alone. Here are a few of her favorite local shops, artisans and suppliers.
– Antiques and decor: All Things for You
– Art: Andy Curlowe and Laura Naples
– Custom wood and metal works: Shred and Co.
– Electrical work: Globe Electric
– Remodeling: Keith Arian Construction
– Vintage home goods: The Helm Collective