Sara Lehrke was tired of the long drive from her home in North Ridgeville to her job in downtown Cleveland. The recent empty nester decided it was time for her and her husband Dale to make a move.

After searching downtown about a year ago, they fell in love with the Beacon, the first high-rise apartment building to be constructed downtown in more than 45 years. Perched on Euclid Avenue near East Fourth Street, the 29-story building offers sweeping views of downtown and Lake Erie.

Plus, it's a quick walk to Sara's job at the Cleveland Indians and mere minutes to Playhouse Square, where the Lehrkes are season ticket holders. "It'll be nice to leave a play and just have to walk 10 minutes down the road," she says.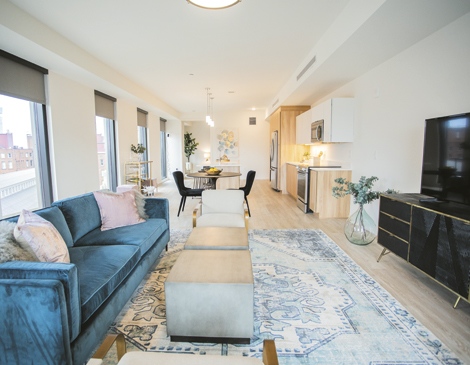 While location and walkability were the main draws to the building, which was developed by Stark Enterprises, the couple was also attracted to the Beacon's fully equipped 24-hour fitness center, the private terrace just outside their apartment and the rooftop lounge.

They also look forward to being closer to their daughter, who's lived downtown for several years. "Her experience made us decide that this is the right time and the right move for us," says Sara.

Open-Concept Floor Plans

Since the building is a new construction, it was easy to give each apartment an open-concept floor plan. "Since we have floor-to-ceiling windows around every exterior wall, it lets the views be the showstopper," says Rebecca Molyneaux, vice president of development at Stark Enterprises.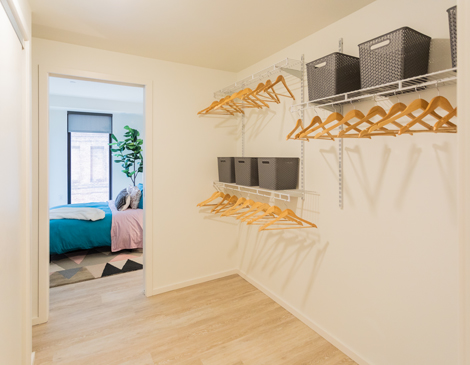 Walk-In Closets

Each apartment comes with a spacious walk-in closet tucked between its bedroom and bathroom. "Your closet is extremely important in apartment living," says Molyneaux. "That's where people want to put everything so they can keep everywhere else uncluttered."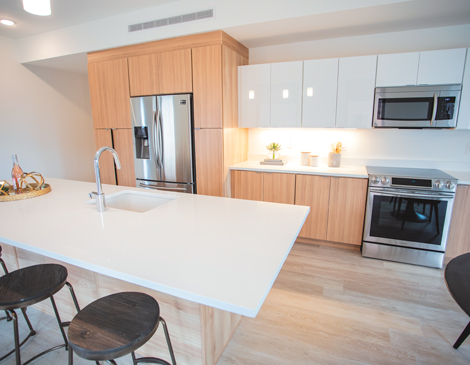 Eat-in Kitchens

Each apartment comes with an upscale eat-in kitchen for cook-at-home types. Residents choose from a blonde wood or gray finish on their cabinets to complement the quartz counters. "It's a beautiful contemporary look," says Molyneaux.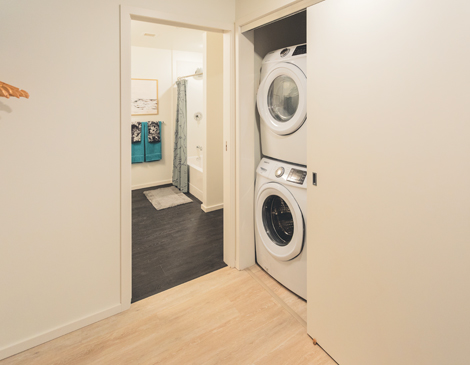 In-Unit Laundry

No need to schlep your dirty clothes to a communal laundry room. The Beacon's units each have a full-sized, front-loading washer and dryer in a closet off the bathroom. "We wanted to create amenities that the modern downtown apartment dweller is looking for," says Molyneaux.