Flag Halyard chairs frosted with soft, faux fur by a fireplace are reminiscent of s'mores and a cabin deep in the woods, but this Hudson home's living room retains a clean, mid-century-modern look.

Encouraged by her client's art-inspired lifestyle, Jen Lopez, owner of Jen Lopez Design, created an atmosphere that's versatile and simple. A concrete coffee table with a brass tray grounds the room. Perched on top of it, the sweeping, slender wings of the semi-circular sculpture sing in contrast. "I tried to take everything back to a really simple and quiet look," says Lopez. "It brings a sense of peace."

Initially, Lopez's task was to renovate the mudroom. But then her client brought up her aspirations for the kitchen and the rest of the house spiraled from there. Throughout the home, family heirlooms and souvenirs from camping trips reflect the traditional yet edgy personality of its owner.

Lopez made these talismans shine using an alabaster paint in every room to showcase the unique pieces, with the result being an outdoors-meets-gallery chic. "I knew we wanted things very simple and a little bit more modern and interesting," Lopez says.

Here's four rooms from this elegant home and the elements that went into it.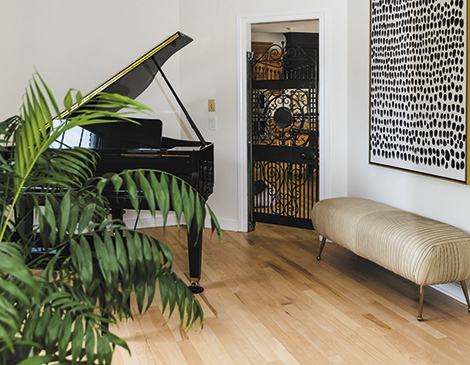 High Note
Lopez's revamp of the music room invites sweet piano melodies to envelop the space. Though she toyed with adding more furniture, the reduction of it elevated the interior. A piece of Pointillism artwork and a pleated ivory leather bench, modeled after a 1940s Scandinavian design, contribute to the simplicity. "I think it breeds creativity when it's quiet and it's minimal," Lopez says.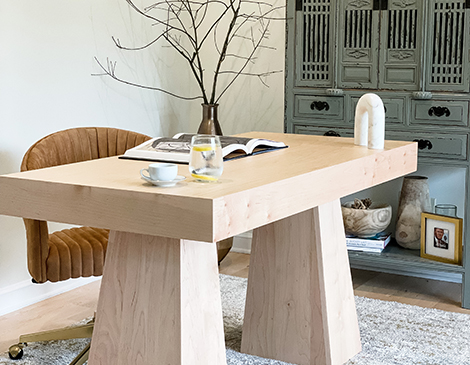 Keeping Interest
The spindly slate cabinet houses some of Lopez's client's favorite pieces; souvenirs her father brought back from the Vietnam War. The room keeps a visual and textural interest — from the vivid caramel suede chair to the wooden bowls on the bottom shelf — welcoming the cabinet into the fold. "It adds so much interest if you can mix those materials."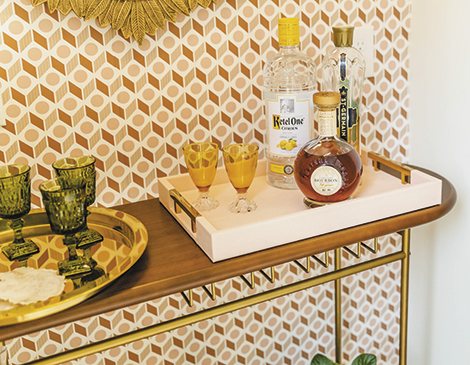 Cheers, Girls
When converting an office closet into a bar cart area, Lopez channeled her client's vintage energy. "She's got this really fashion-forward personal style, but yet loves a great vintage glass," Lopez says, adding that the green glasses belonged to her client's mother in the '60s. They sit atop a bar console made of brass, marble and walnut that pairs perfectly with the pearly pink retro wallpaper.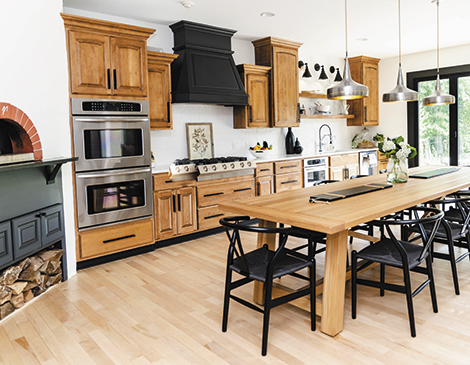 Dinner Served
The kitchen's subway tile brightens the space, while paying homage to the Old World aesthetic. "They are a bit more modern in their style, the shape of them, but the material feels more like something you would have found years ago," Lopez says. Natural light gliding from a pair of accordion doors onto a massive dining table peppered with wishbone chairs accentuates the room's new life.

jenlopezdesign.com