Comfort and sophistication blend seamlessly throughout this newly designed living room in Peninsula, Ohio. Interior designer Laura Yeager Smith wanted the space to flow cohesively with the rest of the home, while having its own inviting identity. Anchored with neutral walls and layers of blue accents, the room features a brick wall that complements the symmetry of the white lamps and artwork.

A striped navy blue rug and a simple pair of window drapes add texture to the space, while a soft, cream-colored couch and embroidered pillows keep the room cozy and welcoming. "What makes the space feel comfortable and balanced is having that spatial arrangement that is suited to the space itself," Yeager Smith says. "We wanted the space to feel really calm."
A feeling of soft ambiance and elegance envelopes you throughout the rest of this traditional-style home. Designed by Yeager Smith and her team, the goal of this home design was to be as welcoming as it is stylish. By utilizing common threads of deep blues, creams and warm wood tones, the entire home feels cohesive and calming.

"I would say comfort and function are the core of every home we design," Yeager Smith says. "Our goal for this specific project was to design a really well assembled home that was both sophisticated and comfortable." Here are four more rooms and the elements that brought them together.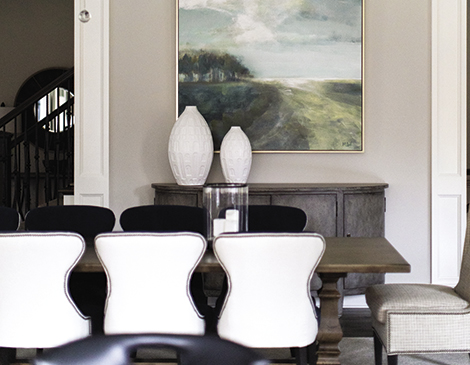 High Society
Due to its high-vaulted ceilings and traditional-style wood beams, the dining room feels ready for a grand dinner. To help balance out the space, oversized black iron light fixtures were added to provide light and scale. The higher host chairs and side chairs, which have contrasting inside and outside backs, juxtapose one another to add visual interest to the room. The large piece of art above the sideboard includes many of the soft colors featured throughout the home, while complementing the large handmade ceramic vases. "We didn't want the space to feel cluttered," Yeager Smith says. "We wanted really impactful items that were thoughtfully scaled."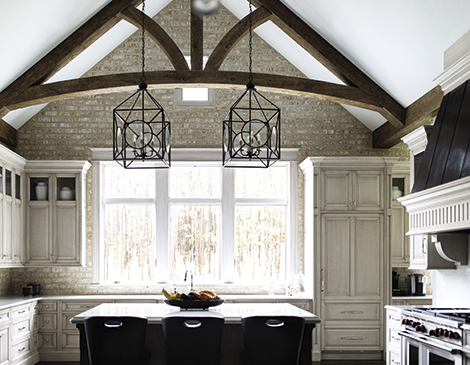 Old World
With a cream color palette and a picturesque view of the Cuyahoga Valley National Park, this kitchen feels anything but crammed. A prep kitchen that houses another sink and dishwasher was included to avoid clutter and make the space feel more open. Adding the tall, glass element to the top of the cabinets was a way to draw the eye up to the ceiling and grand light fixtures. The cream-colored vases complement the glazed finish on the cabinet, while a decorative island adds a sense of symmetry and practicality. "We wanted to repeat elements throughout the home in this space including the warm wood and wood trusses," Yeager Smith says.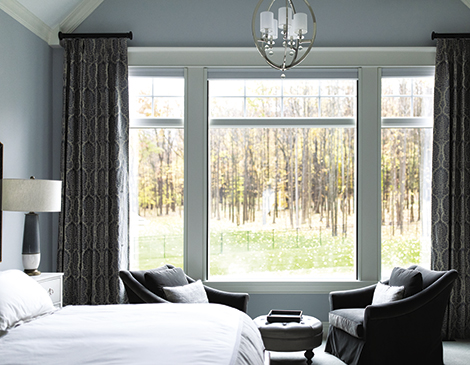 Mood Lighting
With calm colors, gentle lighting and a grand window to look out of, this bedroom is dedicated to rest and relaxation. A soft, calming color palette repeats throughout the room with a blue-gray shade on the walls and a tufted ottoman upholstered in charcoal leather. A high ceiling keeps the space open, and a cylinder-shaped light fixture imitates a look of a candle-lit chandelier. The embroidered curtains, made with a damask pattern, add elegance to a darkened room for a good night's sleep. "We wanted to create a space that felt really serene and relaxing for them to come home to," Yeager Smith says.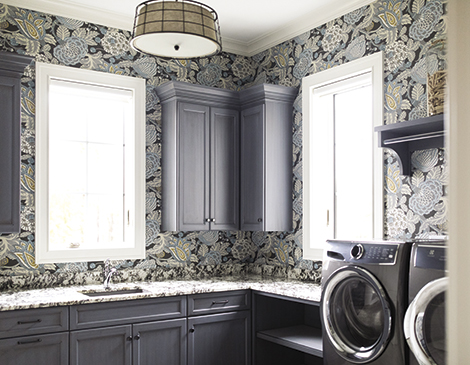 Spin Cycles
With the goal of making a mundane chore more interesting, Yeager Smith and her team added a large-scale floral wallpaper with blue-toned accents to create an element of charm in the laundry room. The cabinets are a blue-gray tone, which pair well with the blue, ochre, gray and charcoal colors in the wallpaper. Above the washer and dryer is a shelf with a hanging bar to dry clothes and a granite countertop to hold any laundry room essentials. "One of my favorite things to do is make utility rooms that are often overlooked more interesting," Yeager Smith says.

laurayeagersmith.com