A few years ago, architect Mark Reinhold's clients purchased a lakeside home in Rocky River. Although the house overlooked the water, the couple also wanted a fully equipped guesthouse closer to Lake Erie as a cozy getaway where they and their visitors could walk out and feel the waves lapping against the rocks. The good news was that a boathouse already existed on the property 50 feet below their home's grassy backyard. The bad news was that the 80-year-old structure was in total disrepair. "It looked like a double-wide that was falling apart," Reinhold recalls.

Still, the 21-inch concrete walls of the foundation were surprisingly strong. So Reinhold's clients decided to build on top of the original foundation, which limited the available space. The first floor was only 800 square feet. But with some creativity (the bathroom, for instance, is tucked under the staircase), Reinhold and the contractor, Oster Services, created a cozy coastal retreat that pays homage to its nautical heritage with fun accents such as a second-floor balcony designed to look like a ship prow and a boat-shaped kitchen island. Tucked into the hillside and paneled completely in wood, the place feels like a true lakeside sanctuary.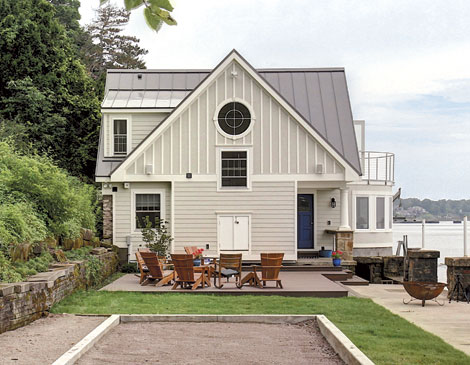 Rounded windows
Meant to resemble a ship's portholes, three round windows adorn the east and west side of the house. Sometimes in wintry weather when the waves crash onto the guesthouse's second-floor balcony, it actually feels like you are on a boat. "It's wonderful to be there in a storm," Reinhold says.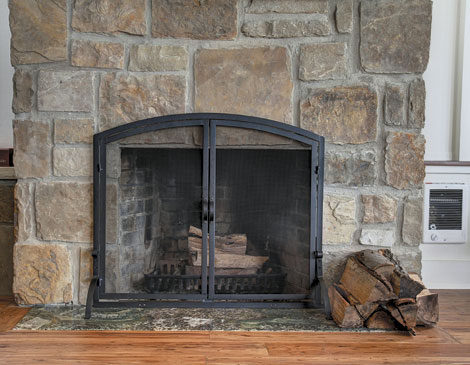 Fireplace
Reinhold salvaged the fireplace from the original boathouse and made it functional by putting in a new granite hearth and extending the chimney 20 feet to get it above the new roofline. Reinhold's clients loved that they were able to preserve the fireplace's original stonework. "It creates a sense of authenticity," he says. The fireplace serves as a central gathering spot on the first floor. "It gives the house a cozy feel, especially during our cold Cleveland winters," Reinhold says.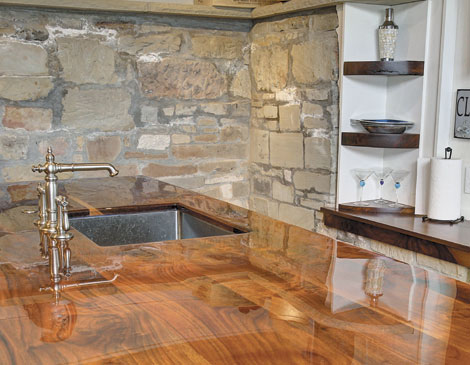 Island
The rich, lacquered 8-foot long island serves as the focal point of the boathouse's eating area. In keeping with the house's nautical theme, the "underside of the bar has a slight curve like the back of a boat," Reinhold says. Sustainability was also important to Reinhold's clients. The customized walnut used on the countertop matches the walnut the couple had used for their mantles and shelves, which were reclaimed from a barn door from the couple's family farm.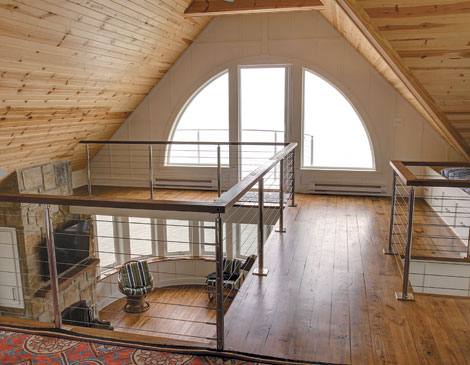 Exposed framework
There is no drywall anywhere in the boathouse. Instead, every room is paneled in wood, while the first-floor ceilings are made from Douglas fir. "We didn't want to cover up anything that was already beautiful," Reinhold explains. The overall effect is like entering a secluded cabin or a wooden ship.