Reminiscent of sun-kissed lawns, freshly watered plants and long hikes, the color green has become everyone's new comfort color. Interior designer Bridget Beverstock was drawn to it when she worked on a kitchen refresh for her clients' Ohio City home. The original lightwood cabinets received a splash of Sherwin-Williams' Dard Hunter Green, an earthy, refined shade that gives the space a refreshing pop.

However, working with a color like this requires intentional choices, as it needs something bright and warm to balance out the darker tones. Beverstock achieved this with fresh coats of Sherwin-Williams' Steamed Milk on the walls and incorporating brass finishes. She also utilized natural light and a series of warm kitchen accessories such as wooden bowls, a decorative rug and even a cozy table lamp to accentuate the color. "While green is bold, it's also very versatile," says Beverstock.

Having lived in and renovated older houses of her own for years, Bridget Beverstock made the leap to start her own business in February 2020. Although the future felt uncertain at first, it turned out people were itching to redo their homes, including the owners of this Ohio City kitchen — her first official clients. After moving from Washington, D.C., to the historic neighborhood, the couple was craving an upgrade, while also wanting to keep the charm of the room intact. "We didn't change the layout, or anything," Beverstock says. "It's just everything that you see with your eyes really just got an update." Here are four details that helped this kitchen come back to life.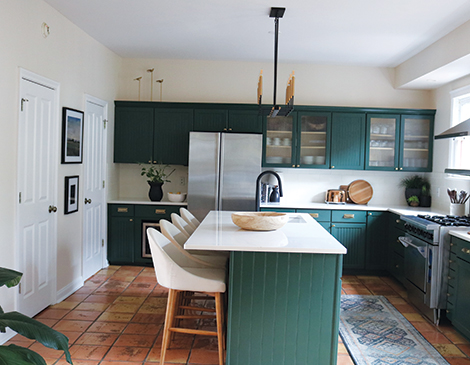 Floor Plan
A feature of the home's original layout, the brick-red terra cotta floors were one of the elements that remained the same, while also influencing the rest of the refresh. The green cabinets perfectly balance out the warm-toned floor. "I really tried to stick to the period of the house," Beverstock says. "The thing that was original was the terra cotta floors. They're beautiful, they're charming and I would take terra cotta floors any day."

Clean Slate
To balance out the bold green, Beverstock went with Sherwin-Williams' Steamed Milk on the walls, along with a simple white tile backsplash and seamless Calacatta Arno quartz countertops. "We were able to also take the window treatments off the windows in the kitchen to bring in more natural light," she says. "We used white subway tile, so that could help reflect the light coming in from the windows."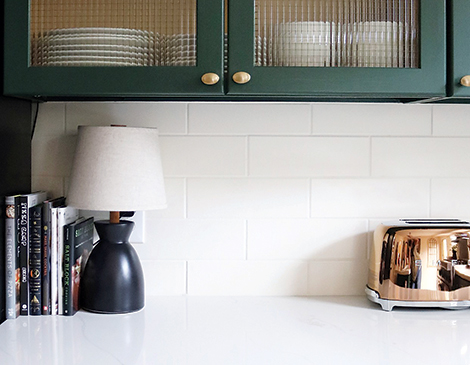 Brass Details
For warmth and a touch of elegance, Beverstock selected brass for the cabinet's handles and knobs. The metal evens out the cooler tones of the kitchen's main color, while also adding a bit of detailed pizzazz. "I just think it brings more character into a kitchen when you mix it up," she says. "It's a honey bronze color and they're really beautiful and just really complement the green."

Modern Fix
While the hunter green cabinets inspired feelings of a vine-covered cottage, other details brought in the right amount of modernity. Moving away from traditional silver, Beverstock opted for a black matte Delta faucet, while a striking industrial-inspired minimalist chandelier hovers above the island with hints of brass. "I thought, We have a lot of brass. Let's do a little more edgy or a little more bold with the black," she says.