The Rundown: The joke about Mentor residents is that they never leave the city limits. But why should they? The 28-square-mile "City of Choice" has big boxes and boutiques, chains and local eateries, industrial parks and nature preserves. "Once I hit Painesville, I turn around," laughs 30-year resident Meg Zoul. "People make fun of me, but everything I need is here." But underneath the big suburb facade is a web of tight-knit communities. "Our neighbors are our best friends — we go on vacation with them, our kids are friends," says Zoul.

Neighborhood Profile:
Midrange • East
2017 Total Home Sales: 458
2017 Median Home Sale Price: $194,950
Education Ranking: 28
Safety Ranking: 50
The Vitals: Mentorites often become lifers, as the suburb ranks in the top 20 in owner-occupied housing. Besides amenities, the eighth-lowest property tax in our ratings makes staying affordable and advantageous. "As a teacher, I'm blown away by the schools," says Lanese Nobbe, who's lived in Mentor for three years. "They are really innovative, as far as latest technology and approaches, and they have a culture of empathy based on the motto, 'Choose Kindness.' " The high school also offers a top-notch special needs program and a football team that appeared in the 2017 Division I State Championship game.
What to Do: Mentor doesn't quite get its due as a beach town. But at a mile long, Headlands Beach State Park is the largest natural sand beach in the state. "Every day I feel like I'm coming home to an island, and every night I see a gorgeous sunset," says Zoul, whose house sits on the shore. Summers of boating, sandy cookouts and early morning fishing are the childhood norm in Mentor.
The Hangout: Since 1969, Longo's Italian Restaurant & Pizzeria on Lakeshore Boulevard and Mentor Avenue has been Mentorites' Friday pizza spot. It feeds high school athletes after games, and its logo backs little league jersey across town. "Some of the best advice my dad gave me was to always support the community that supports you," says co-owner Joe Longo, whose father started Longo's. "Every day my sister and I see familiar faces and hear stories that start with 'I worked for you 15 years ago.' "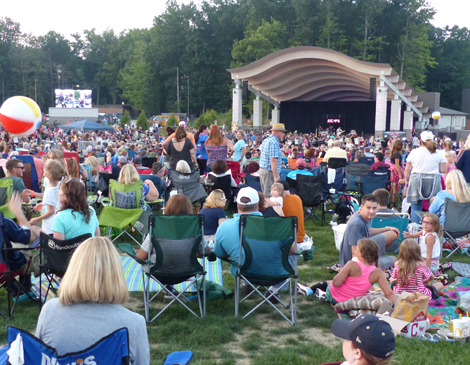 Secret Find: Mentor music fans have already given Mentor Civic Amphitheater a nickname: "mini Blossom." Since opening last Fourth of July, the venue has hosted theatrical performances, Top 40 hit makers and various tribute bands as part of the free weekly Mentor Rocks Concert Series. This summer, it hosts a Fourth of July fireworks show with Soul Asylum and tributes to Journey, Bruce Springsteen, Johnny Cash, Pearl Jam and more. The amphitheater features a 3,000-square-foot stage, LED lighting and two 14-by-7-foot video screens that cast the performances for rockers sitting in the back.
Talk of the Town: While commuters who use Route 2 and 615 might be concerned, shoppers are psyched about Mentor City Council's approval of the 172,000-square-foot City Market shopping center on Tyler Boulevard and Center Street, expected to be complete by October. Anchored by a 55,000-square-foot Giant Eagle, which will sit in a more convenient location for most residents than the store on the Mentor-Painesville border, the plaza's plans show additional space designed specifically for retailers.
Neighbors New & Old:
"Our realtor convinced us to look at this house. As we drove through this beautiful neighborhood, all kinds of people were outside — children playing catch, an elderly lady talking to a young mom — it was perfect. I sit in the backyard and all I can hear is birds chirping, and I still can't believe I'm in Mentor." — Lanese Nobbe, 39, a Chardon native who swore she'd never live in "overcrowded, traffic-filled" Mentor
"As overcrowded as people say Mentor is, there's nature and animals everywhere. You can go to a park or the beach and walk for miles. I just don't see that being common in every single city, especially with all the amenities we have, and I can't imagine not having that." — Meg Zoul, 48, a 30-year resident currently living the beach life in a waterfront house near Headlands Beach State Park