The Rundown: With its pastoral landscape, 2-acre lots and a median home sale price of $437,000, the highest of any suburb on our list, Moreland Hills may seem unapproachable to many. But the mostly residential town of about 3,300 is more welcoming than it gets credit for, says Mayor Susan Renda. "There's a misconception that we're snobby, which is not true," she says. "I know almost every resident by name. I love our small-town feel." Maybe that's because until recently, there wasn't much reason to visit. But with the additions of ML Tavern, Flour Italian Kitchen and Fringe Boutique, as well as the forthcoming opening of Luna Bakery, Moreland Hills is quickly becoming a not-so-hidden gem.
Neighborhood Profile:
High-End • East
2017 Total Home Sales: 52
2017 Median Home Sale Price: $437,000
Education Ranking: 10
Safety Ranking: 4
The Vitals: Buying into Moreland can be a lofty investment, but it's one that pays off. Orange Schools, which about 60 percent of Moreland Hills children attend, is a top-10 school district on our list, and the city is among the safest in Northeast Ohio. The schools offer small student-to-teacher ratios, great AP classes and a host of after-school programs. "It's like getting a private school education for free," says Renda.
What to Do: A walk through South Chagrin Reservation quickly makes you forgive the village's lack of coffee shops or grocery stores. Stretches of untouched green space and thick, wooded trails along the Chagrin River create a paradise for nature lovers. "Our natural topography, which includes rolling hills, ravines, waterfalls and a lot of trees, is just stunning," says Renda. "Even as you drive down Route 91, the tree canopy lets you know you've entered Moreland Hills."


The Hangout: When fall Fridays roll around, you'll find locals swilling pints at Flour. One of the few places to eat in Moreland Hills when it opened eight years ago, the modern Italian joint with wood-fired pizza and fresh hand-cut pasta has quickly developed a following of regulars. A half-mile walk from the football stadium at Orange High School, this upscale eatery on Chagrin Boulevard turns neighborhood bar when varsity football season arrives. "People even leave their tabs open and come back during halftime," says co-owner Lisa Page Minnillo.
Talk of the Town: In a town of mostly 2-acre lots, Moreland Commons, a luxury condominium development on Chagrin Boulevard near Orange High School, is a welcome addition for Moreland Hills lifers. Still in the development stage, the 59-unit complex from Omni Group Development Co. spans 21 acres and includes 41 single-family detached homes and six townhouses that contain three residences each. "This is going to offer an alternative for those of us looking to downsize as we get older," says Renda.
Signature Event: The Polo Field hosts various horse and dog shows throughout the summer. But none are as prestigious as the Cleveland Grand Prix, part of the Chagrin Hunter Jumper Classic, which brings out more than 600 horses and an average of about 10,000 spectators to the tiny town. Debuting in 1965 as the first jumping grand prix in North America, it is the circuit's premier event.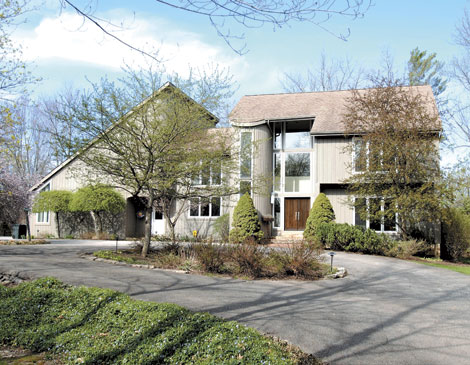 Buy It Now: Listed at $889,000, this four-bedroom, six-bathroom contemporary home is exactly the type of country paradise Moreland Hills offers. On a serene, tree-lined 3-acre lot, the Miles Road abode is barely visible from the street. Its ultra-modern 4,943-square-foot open floor plan features a decadent wet bar in the living room, a kitchen with sprawling granite countertops and stainless steel appliances, dark hardwood floors and a two-sided fireplace that separates the living and dining rooms. Accented by vaulted ceilings, the back wall of windows and sliding glass doors offers a breathtaking view of the wooded property, which includes a private tennis court and a large two-tiered wooden deck.