The Rundown: Residents here know what you think of their city and they're ready to flip the script. Sure, Cuyahoga County's largest suburb — 80,088 people strong — has struggled to break free from its worn-down blue-collar, pink-flamingo-loving persona. But with an influx of new businesses and residents who flock to its affordable mix of single-family homes, the inner-ring suburb is emerging as a hip locale for young professionals who embrace the city's strong ethnic roots and blue-collar attitude. "Parma has come such a long way, and it's just exciting to be a part of the efforts to change the narrative," says Mayor Tim DeGeeter. "I feel proud every time I drive by my name printed on the sign welcoming everyone to this great community."

Neighborhood Profile:
Affordable • West
2017 Total Home Sales: 1,303
2017 Median Home Sale Price: $110,000
Education Ranking: 45
Safety Ranking: 65
The Vitals: With a median home sale price of $110,000, Parma is a magnet for first-time homebuyers. Just consider that 1,303 homes were sold in 2017 — the highest among Cleveland's suburbs. Drive through its many developments and you'll find bungalows, ranches and split-levels galore thanks to a post-World War II building surge. "We have a sense of community," says Jackie Baraona, founder of the Young Professionals of Parma. "We just want to see it grow and be a better place."
What to Do: What originally started as a plan to turn a landfill into more green space has become a hub of outdoor activity and conservancy for residents. West Creek Reservation, part of the Cleveland Metroparks, offers 326 acres of cycling and hiking trails, and the Watershed Stewardship Center, the Metroparks' first facility dedicated to scientific research. "It's an oasis, an escape from the stresses of the hectic lives around us," says Parma city councilman Jeff Crossman.
The Hangout: In a sea of corner bars, the Little Birdie Wine Nest taps into the artsy side of Parma. The almost 2-year-old gathering space boasts a chic rustic vibe with reclaimed wood floors, cozy vintage furniture and art by local residents. Relax with vino during a tasting or get creative with a do-it-yourself craft class. "The super cozy feel reflects Parma's own super cozy feel," says owner Robin Schulze, a lifelong Parma resident. "I wanted to show other business owners why it's important to open a space right here in Parma."
Talk of the Town: For a community that's never really had a downtown identity, there's a push for "The Crossroads of Parma." The master plan, which earned a $50,000 grant from the Cuyahoga County Planning Commission in January, would provide a framework to connect the Shoppes at Parma, library, city hall, local hospitals and the Day Drive corridor by making the downtown more pedestrian-friendly and bike-friendly — therefore making it a destination for residents and visitors. "It's exciting to consider what can happen when this area comes alive," says DeGeeter.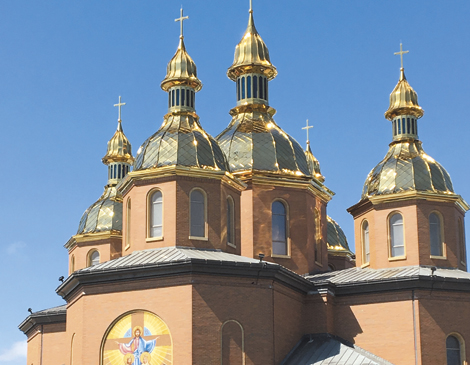 Signature Event: Within sight of the majestic golden domes of St. Josaphat Ukrainian Catholic Cathedral, Parma holds its annual Ukrainian Independence Day Parade and Festivities every August. Celebrating the 1991 establishment of Ukraine's sovereign state, this revelry shows off elaborately decorated floats decked out in the traditional colors of blue and gold, a lineup of vintage and classic cars driving down State Road and a full array of treats such as chocolate babka and paczki.

Neighbors New & Old
"From the plastic lawn flamingos to the neon signs to the best pierogies around, Parma is such a great place to call home." — Jackie Baraona, 29, the founder of the Young Professionals of Parma and a graphic designer for the Cleveland Metropolitan Bar Association, moved to Parma in 2014
"I can catch a baseball game in the morning, attend a fish fry in the afternoon and watch my kids play in the yard all evening. It's an incredible place to raise a family." — John Thomas, 51, the bailiff to Judge Michael P. Donnelly, has lived in Parma his entire life