When Joanne Ketcham's 7-year-old daughter began reading street signs and reciting the words on restaurant menus, she knew that a whole new world had unlocked for her girl — and Lawrence School's Lion's Leap camp was the key.
"Her confidence and self-esteem came back, and we hadn't seen that version of our kid since preschool," shares Ketcham, relating how dyslexia had challenged her daughter's reading development to the extent that she "started to fade" at school. She just didn't feel good about herself.
Ketcham heard about Lawrence School camps from another parent and enrolled her daughter last summer, before entering third grade. The four-and-a-half-week enrichment program combines work and play and gives campers in first through sixth grade a leg up on reading and math.
"A summer of fun is great and so important, but if you are not continually practicing skills, you do forget them," says Amy Erich, director of literacy development at Lawrence School. "When you come back to school, you have to chisel away that rust before you can make progress."
In the case of Ketcham's daughter and others at Lion's Leap, the program prevents rust and offers a boost to help catch kids up in areas where they are lagging.
"When they go back to school, they can jump in and experience growth," Erich says.
Ketcham's daughter went to sleep-away camp before starting Lion's Leap, so her parents built a summer that combines fun and learning. With the range of camp options available today, children have opportunities to pursue interests, explore new hobbies, go on adventures, up their sports game and get lost in nature.
"Camps are not one-size-fits-all," says William Champ, University School's director of summer programs and after-school adventures.
This summer, the school will offer more than 71 different camps, and programs are built by staff members who turn their own passions into weeklong experiences for kids. For example, one teacher runs a triathlon camp, and another organized a camp called "Election 2020," designed to educate kids about the upcoming election cycle.
Mindy Streem's two sons, ages 7 and 9, learned to swim and went on field trips through a six-week day camp at University School.
"My son brought home a full-fledged beautiful birdhouse he built in the wood shop," she says. "And because they were in camp the whole six weeks, they built relationships with other children and we met their families."
Here's a sneak peek of some hidden gem camps, popular favorites and interesting experiences your children can have this
summer.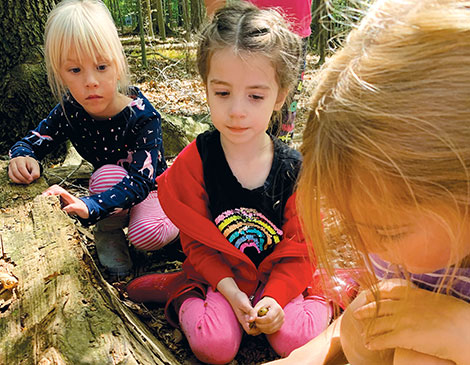 Techie Adventure

The additive manufacturing program at Cuyahoga Community College is home to the Ideation Station and Nuts and Bolts Academy, which offers camps for ages 9 to 18.
"We like to teach students beginning at a young age how lean manufacturing and engineering is really cool — it's product development," says Alethea Ganaway, program manager.
Kids learn to use a vinyl cutter, 3D printer, laser engraver, CAD software and other tools to make anything from cornhole boards to guitars, T-shirts and vases.
Unlike many other STEAM camps, this one is held in one of Northeast Ohio's five designated FabLabs, which means there is more equipment and resources than a typical makerspace, Ganaway explains.
Because of this, campers learn hands-on skills they don't get in an everyday
classroom.
"They get exposed to the highest level of equipment used in the industry today, and they see how fun and creative engineering and manufacturing can be," Ganaway adds, relating that these types of experiences can open doors to possible careers. "We have a lot of repeaters in this camp, which shows us the impact we are making on students."

Blaze a Trail
While there are hundreds of camp options for kids in elementary school or older, the options are more limited for the preschool set.
Hathaway Brown's Broad Horizons program and the new Tiny Trailblazers camp fills this in-demand niche.
Designed for 3- to 5-year-olds, Tiny Trailblazers is nature-based, interactive and focused on building social-emotional skills.
"Some children at this age have a hard time with separation," says Kristin Kuhn, director of early childhood education at Hathaway Brown. "We want the children to have fun and explore a new space, meet new friends and teachers. Making connections is a driving force."
Centered on play and experiential learning, Tiny Trailblazers combines outdoor and classroom activities: Unstructured time on the playground and in the field spaces, and formal playtime in the rock garden and bird sanctuary. Each week of camp has a "storyline" theme, such as the ocean.
"We introduce the theme through a story, and then we may design an ocean setting in the classroom," Kuhn says. "At the end of the week, we will culminate that story with a celebration."
Since every week's storyline is different, families can enroll their children in multiple sessions and their little ones will be exposed to a range of topics.
Campers also gain access to Hathaway Brown's library, dance studio, atrium and gymnasium.
"Having this larger campus available to us is really exciting for them," Kuhn says.

Game Theory
For a child who loves the world-building videogame Roblox and wants to learn to make their own game, the Roblox 3D Game Development: Adventure & Racing Games camp through Summer at Laurel teaches the Roblox Studio game creation engine and Lua scripting language.
Campers master coding concepts so they can create loops and functions. They build their own adventure map with a new challenge every day.
If your tiny gamer is more into Minecraft, Laurel's Minecraft Mobs & AI Mod Creation weeklong camp teaches them how to make custom characters and use artificial intelligence programming so the characters can react in different situations.
Specifically for girls, a Dash Into Robotics! camp for third to fifth graders focuses on innovation, creativity and design. Girls program a Lego Mindstorm robot, design mazes and program a Wonder Workshop Dash robot.
"[We] use technology in meaningful ways so girls can get involved in this type of thinking at a young age," says Miriah Seckel, director of Summer at Laurel.
Girls may think about robots differently than boys do, Seckel says, and they sometimes use robots differently.
"We will dress robots up and the girls have to code the robots to move in a fashion show," she says.
Overall, camps like this give kids an outlet during the summer to explore their creativity and try new things.
"It's an opportunity for kids to learn on their own without us hovering over them, and it's incredible what they are capable of," Seckel says.

On the Fly
All kids need to cultivate resilience skills in order to deal with failure and tough times. According to St. Ignatius High School fine arts teacher Jonathan Jarc, working with drones will teach you a lot about failure.
"You know the drone isn't going to work the first time; that's almost always the case," says Jarc, who oversees the school's MakerSpace. "You'll have to tweak something or fix a part — do something differently. Continuing to build that recovery from failure is valuable for kids so they can deal with frustration and learn to problem-solve."
The building process, by nature, fosters resilience.
"Students will get their hands on actual drone frames, motors and controllers and figure out how to put them together," Jarc says, explaining that campers will be given an easy-to-assemble kit so they can experience building a drone from scratch.
The drone camp at St. Ignatius is new this year for girls and boys age 9 to 11 who are entering sixth to eighth grades. The camp is based on an avionics and drone-building elective at St. Ignatius.
"We have students in that sweet spot of wanting to be engineers and wanting to do something super-creative," Jarc says.
Building these drones fills both buckets.
On the last day of camp, the kids will compete against other schools' camps in a drone obstacle-course race, using the units they build during the summer.
"The way these races are structured, there's a pilot and a first-person observer, along with others who are looking out for traffic," Jarc says of the teamwork involved. "You have a pit crew — someone responsible for changing batteries or broken propellers."
Communication skills are an ancillary takeaway from a camp like this, Jarc adds.
"The camp gives students a direct connection to the creative process and pre-engineering/design thinking," Jarc says. "It's a little bit of everything."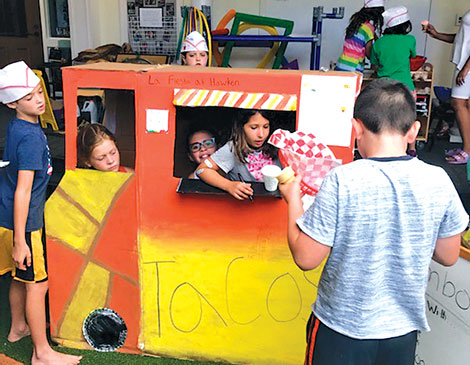 What's Cooking?
For young foodies ages 8 to 13, Hawken School's culinary camps include a range of creative offerings, including Food Truck Challenge.
Campers will design a truck to build out of cardboard, develop a menu and work in teams to prepare food.
At the end of the week other campers get to peruse their food trucks' offerings and enjoy samples.
For kiddos with a sweet tooth, Jr. Chefs: Cupcake Challenge for ages 8 to 13 teaches baking through themed days, where campers work together to bake their best.
"Throughout the week, they learn different recipes and create elaborate cupcakes," says Mark Nestor, director of auxiliary programs at Hawken. "On Friday afternoon at the end of camp, they break into teams and have a competition."
Inspired by the Food Network show Guy's Grocery Games, Grocery Games camp for ages 8 to 13 partners kids up to prepare one-of-a-kind dishes after shopping for ingredients. Every day, there's a new challenge.
"The camps are based at our Lyndhurst campus, where we just renovated the dining hall last summer," Nestor says. "It's a nice, new space for the kids to enjoy."

Letter Interest
In addition to Lawrence School's Lion's Leap, Alphabet Adventures camp is geared for younger kids. Held twice weekly for four weeks, it focuses on teaching pre-reading skills such as letters, letter sounds and letter formation.
"The children don't even realize they are learning because there is a lot of fun built in," says Erich, noting that lessons involve singing, dancing, dressing up as characters or writing out letters using shaving cream or rice.
Alphabet Adventures is geared toward preschoolers or children entering kindergarten. The purpose is purely enrichment, using strategies that Lawrence School implements in its school year curriculum.
Specifically, the camp uses the Orton-Gillingham methodology, a multi-sensory approach that encourages the kids to connect sounds and letters.
"They also learn foundational kindergarten skills like sitting to listen, raising their hands," Erich says.
And, by school's start, they're letter-ready.
"They're ready to take off with reading," Erich says.




Basic Training
The Swim! Bike! Run! triathlon-inspired camp for third through eighth grade students at University School modifies the traditional race's distance and rigor to suit kids' abilities.
Campers swim in the school's pool, train on the track and bike on campus.
"But the teacher also takes the students to swim in a pond so they can feel what happens in a real triathlon," says William Champ, director of summer programs and after-school adventures.
Students learn to transition to and from the different activities. They don't race each other — they focus on personal improvement and mastering skills.
"If a kid is not a strong swimmer, he might swim one lap but then bike for longer," Champ says.
The camp builds self-confidence and instills a sense of accomplishment.
"My daughter participated in the camp last summer, and she got better at biking because of it," Champ says.
A pizza party celebration at the end of camp is a reward for their hard work, but some kids have continued after camp's end.
"There are kids who have done the camp for multiple years, and they go on to compete in real triathlons," Champ says.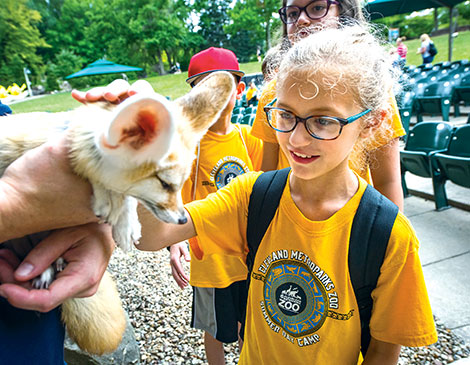 Wild Time
Cleveland Metroparks Zoo's camps offer a close-up experience with animals, an introduction to conservation and an escape into natural worlds like the jungle or the Sahara.
Weeklong sessions all summer long cater to ages 5 to 8, with separate camp options for 10- to 14-year-olds who can enroll in Conservation Leadership Camp.
Camp topics range from animal classification to life cycles, so campers who participate in more than one week can learn different concepts, says Vicki Searles, director of conservation education at Cleveland Metroparks Zoo.
This year, the zoo brings dinosaurs into the mix as a new subject.
"We'll start with animals that have gone extinct, then move to endangered animals and the ones we have in our zoo and what we can do to help them," Searles says of teaching conservation.
Getting a behind-the-scenes look at zookeepers and animals is a thrill for campers.
"They get to see our ambassadors and animals play games, and they can learn firsthand what it takes to care for them and what it's like to be near them," Searles says. "It's a great camp for kids who have a special love for animals."
In fact, some zoo volunteers and employees are former campers.
Meanwhile, teens ages 13 to 17 can apply for the Zoo Crew, which conducts conservation projects in the field, such as stream and beach cleanups. The program requires teacher recommendations, and the zoo selects candidates who are passionate about conservation and animal education.
Crew members commit to one day per week all summer, and they assist the zoo's education division.
"We want to provide this age group the ability to have a voice and make a difference," Searles says. "They learn to lead, they learn presentation skills, they are trained in all areas of our conservation program and talk to our guests about it."