Hula-Hoops to make space for social distance, pool noodles to tag a fellow camper — Julie Billiart Schools rolled out a creative version of COVID-19 health and safety protocols last summer to give students and parents peace of mind without taking the fun out of its program, Beyond Camp.
Three of Ely Whitaker's children, ages 10 and 7, attend Julie Billiart Schools. Moving back into an in-person setting last summer after quarantine was a priority for everyone in the family.
"We had been off for so long and we wanted to focus on the social skills piece," Whitaker says.
For Whitaker, it was important to prevent the summer slide by allowing her kids to be with their peers. The younger twins struggled to tolerate masks, so Whitaker let them choose their favorite hats and attached shields to them. Her oldest, with some practice, was able to wear a mask with success before heading to school.
"They found ways for the kids to social distance and still interact," she says. "It was inventive."
Before the start of camp, Julie Billiart Schools, designed for students with learning differences, had promoted one of its intervention specialists to serve as a virtual learning specialist to help families access e-school technology.
"Our COVID-19 response team looked at what happened in the spring and surveyed our families to figure out what resources to put in place so we could safely bring kids back," says Samantha Voshall, director of marketing for Julie Billiart Schools.
The summer Beyond Camp experience was the school's entry to in-person learning before welcoming students back into the building in the fall. Whitaker had no hesitation about sending her children to camp last summer, or back to in-person classes. And she'll take the same approach this summer.
"The children love to hang out with their friends from Julie Billiart, so that is a priority," she says, highlighting the intervention and academic components are just as crucial.
Still, this year, camps are entering another season in which a "new normal" requires more experience operating safely in-person and online. After testing virtual summer programming in 2020 and fine-tuning technology, many camps are offering both options to meet the ongoing demands of live experiences and effective online instruction.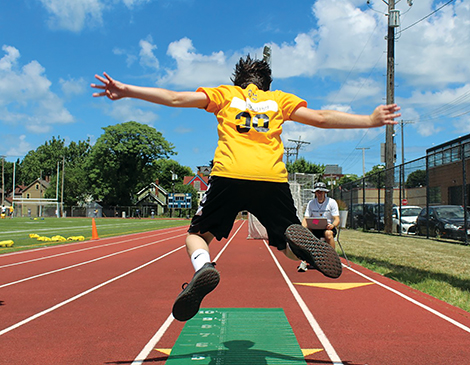 The New In-Person Camp
Last year marked the 52nd anniversary of St. Ignatius High School's summer enrichment program.
"Flexibility has been the name of the game since COVID came about, especially for schools and camps," says Brian Martin, assistant principal for student life and director of the summer enrichment program at St. Ignatius. "We had to rethink everything about our summer program — every detail that we normally would have done."
St. Ignatius examined its campus, top to bottom. From safety procedures to facility usage and staffing, the school reimagined camp and rolled out an in-person version for 400 rising eighth-graders by expanding its footprint. They opened nearly all the classrooms and utilized the gymnasium and other community spaces on campus as additional work areas. Class sizes shrunk and activities such as football and hockey were made COVID-safe.
"With floor hockey, we'd do only penalty shots," Martin says. "It was about rethinking how you can still have some fun but in a way that we are not nearly as crowded in the past."
During last year's camp, Martin says students were obviously hungry for social interaction after a spring studying online and staying at home.
"They were coming off of three months of total isolation, so the personal interactions were so important for them and parents," he says.
St. Ignatius offers a catalogue of camps, from drone-building to athletics. Heading into the 2021 camp season, Martin acknowledges that flexibility will continue to be crucial to offering a wide variety of experiences.
"Summer camps, by definition, are not designed for social distancing — the whole point is to get kids connected through interaction with each other, so one of the biggest lessons we learned was finding ways to permit and encourage that in a safe way," he says.
Surveying parents helped the school make decisions concerning in-person meeting, and while a lot of 2021 is yet to be determined, Martin hopes the COVID vaccine's arrival allows for the continuation of more traditional programming.
"Like most camps, we are having to look at it two ways," Martin says. "Giving students a sense of feeling rooted in something is critical for them right now, and in a lot of ways, this year is going to be more important than ever for summer camps."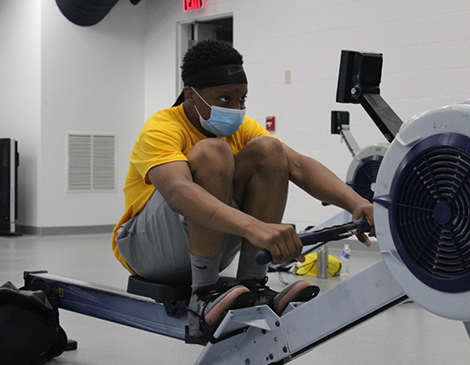 Virtual Success
During the last year, many camps have dedicated time and resources toward rebuilding or editing their program lineups. Such was the case for Camp Invention through the National Inventors Hall of Fame in North Canton. The program, offered at a variety of locations such as Buckeye Elementary School in Painesville and Pleasant Valley Elementary School in Cleveland, typically provides campers with an assortment of materials to build, create and contrive a number of inventions through hands-on in-person instruction. Last year, organizers transitioned to offering robust virtual lessons that allowed campers to participate from home through online sessions with materials being shipped directly to their front doors.
"This past summer, we were able to experience and discover learning platforms and see what it's like to run a camp with masks on and social distancing," says Krissy Hostetler, National Inventors Hall of Fame education specialist. "These experiences can successfully be delivered via Zoom."
Students enrolled in the program are able to expand their sense of exploration through a number of modules that allowed them to build their own solar-powered robots, power simple machines and build catapults for rubber duckies. These experiences will continue to be offered this summer, both in-person and virtually, and Hostetler stresses that parents are being given a choice through what she calls a "peace of mind promise." Parents can secure a spot for their children in camp now, and they can choose to change the format from in-person to virtual, or vice versa, up to six weeks before the program starts.


"It's hard for parents to know what is going to happen," Hostetler says. "That allows parents flexibility if they know they want their child to go to camp but are not sure if they can do in-person or online."
This year's camp theme is Recharge, and there are four modules: SolarBot, Open Mic, Duck Chuck and Road Rally. With SolarBot, campers will build a cricket robot while exploring crickets in nature. Open Mic gives children a wireless microphone and highlights Bluetooth and microprocessor technologies. During Duck Chuck, students build a catapult for rubber duckies. And Road Rally focuses on assembling a basic vehicle kit — while exploring how a green sea slug, known for absorbing DNA from algae, functions similarly to solar power.
"The kids truly experience building and prototyping, just like they would in person, with a teacher online to continue offering support," Hostetler says.
At-home campers will work through activities in teleconferencing apps such as Zoom, sharing ideas and receiving guidance from camp counselors as they build and discover. And as for students who choose in-person instruction, designated sites such as Buckeye Elementary School or other participating schools will function as gathering places where safety protocols are in place.
"We really do want it to be just an array of different ideas that might spark something for everyone," says Hostetler. "You can imagine every day they spend about an hour in each of the modules, and then the next day builds on the previous day."

Open Discussions
When deciding on whether to approach a virtual camp experience, families should consider how much parental involvement might be required. A child's age also plays a role in how independent a virtual camper can be.
The Nature Center at Shaker Lakes introduced a virtual camp last summer for kids
3 1/2 to 15, which attracted Tim Shepler and his then 6 year old son, Lucien. Every Thursday, they'd go to Shaker Lakes to pick up an activity packet. Virtual meetings were held on Mondays and Fridays as a kick-off and wrap-up to each week where students could connect with camp counselors.
Initially, Shepler figured he'd work from home while his first-grade son enjoyed the camp activities. But it didn't quite work out that way, and he's glad.

"I was looking for something for him to do outside, and it was nice to spend time with him to do these activities," he says. "Originally, I thought I can work, and he can do the camp, but it was nice to have that interaction, and it worked out really well because it was a good bonding experience."
The two connected over daily hourlong activities such as scavenger hunts, "gross-ology" like digging for worms, and exploring the bones inside of an owl pellet. Looking back on the photos Shepler took, the virtual camp experience filled the summer with interesting adventures that they wouldn't have pursued otherwise.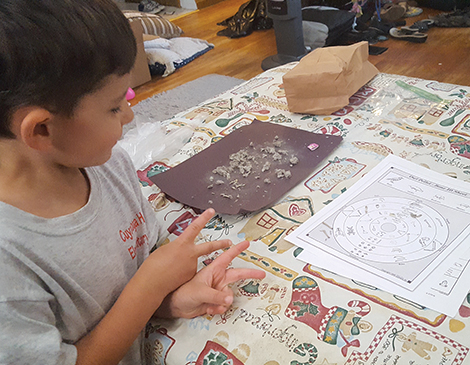 "It's not like you have to know specifics about insects or know specifics about plant life," says Shepler. "You're just going out and interacting [with nature] on a very basic level."
During one lesson, the father-son duo had to work together to build a race course for pill bugs using cups and cardboard containers. The Nature Center at Shaker Lakes camp supplied all of the materials, while they gathered the insects from their backyard.
"We had a roly-poly and earthworm race each other," Shepler says, relating how these hands-on outdoor activities were a welcome break from the screen indoors.
And Whitaker, who chose in-person instruction at Julie Billiart Schools last summer, agrees that time spent outdoors is crucial for her children in the summer.
"Outdoor games, watersports, some jogging with a color run — outdoor time is really beneficial," she says.
Overall, according to Lauren Schmidt, camp and school program coordinator of the Nature Center at Shaker Lakes, the need to adapt summer camps for COVID is opening up opportunities for more students to participate. With this newfound flexibility, parents, teachers and students alike are broadening their horizons on what it means to work together, explore and learn about the world.
"There have always been kids that because of their own health issues were not able to attend a traditional summer camp, so this is a way for those families to get involved," she says. "And it is not just limited to the Cleveland area. A camper that lives in Florida can conceivably do the virtual camp with us, or kids from other parts of Ohio."