As the executive director of America Scores Cleveland, Debi Pence-Meyenberg spends most of her workday teaching poet-athletes as part of the nonprofit's mission to inspire inner city youth to lead active and creative lives while improving literacy and communication skills. This Friday at 7 p.m., the rest of Cleveland will get to see the work of those poet-athletes with America Scores Cleveland's Inspired Art, a livestream fundraiser done in collaboration with more than 50 local artists.
While Inspired Art will be less than one hour long, the event has been 10 months in the making and was started last fall as part of America Scores Cleveland's fall curriculum. Along with participating in organized soccer teams, students in kindergarten through eighth grade involved in the program learned how to write poetry from last September to November before turning in a final poem at the end of the season. In January, Pence-Meyenberg sent those poems out to 125 local artists with a simple question: do any of these poems speak to you? In response, more than 50 artists created work inspired by those poems featuring unparalleled range on a variety of topics, from growing up Black in America to specific dreams they hope to achieve in the future.
"Whether they're preforming a poem on stage or scoring a goal, we're going to be there cheering them on and empowering them," Pence-Meyenberg says. "We're trying to provide these students with experiences that will help them become our future leaders."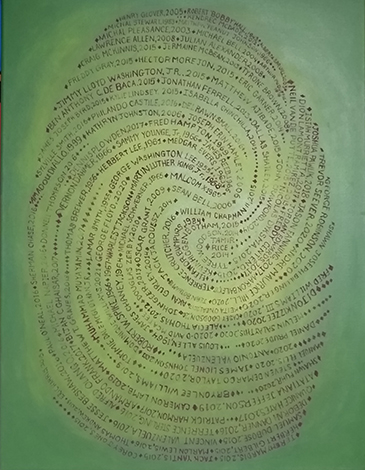 Gabrielle Lawrence's "Fingerprint" features a painting of a thumbprint comprised of names of people of color who have been killed by police. And Katherine Check's "She is London" is an abstract painting depicting the wildness of the mind while Lasaundra Robinson's "My Rainbow" unveils the beauty of Blackness. Every piece in the selection presents an important story that was helped told by Cleveland's youth.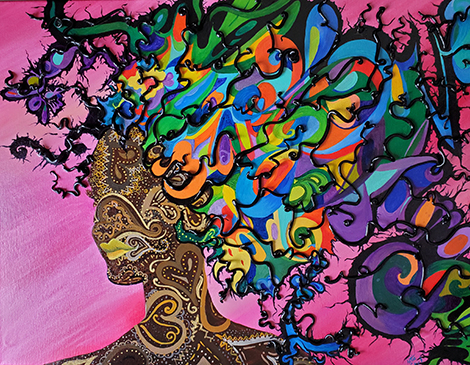 "Doing these poems really empowers these kids and helps them realize that they do have a voice," Pence-Meyenberg says. "This shows them that people will listen if they use their voice."
All the work will be available for purchase in an online silent auction running all week with the proceeds from the auction going towards the program's literary arts initiatives. WKYC Channel 3 co-anchors Jason Frazer and Romney Smith will host the livestream event, which will feature remarks from Pence-Meyenberg and artist Gwendolyn Garth along with a selection of poet-athletes reading their work.
"All of the art included is extremely powerful," says Pence-Meyenberg.